Our favorite pop queen finally came through Houston this week and we got to be there! The SOUR Tour was everything we needed and more: with high energy, dancing, and even confetti at the end. 👀
[apple_music_ad artist="Olivia Rodrigo"]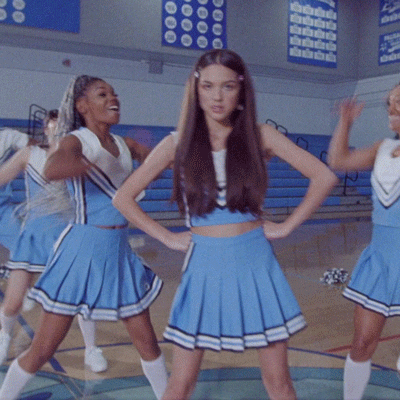 Holly Humberstone
As major fans of Holly Humberstone, we were stoked to hear that she'd be opening for Olivia on her tour. Even with some technical difficulties, Holly played her heart out and showed Houston just how talented she is.
Our favorite songs from her set were: 'London Is Lonely,' 'Falling Asleep At The Wheel,' and 'Friendly Fire.'
Olivia Said It Best, It's 'brutal' Out Here!
After an incredible set from Holly, the crowd was hyped and ready for our Sour Prom Queen! Miss Olivia herself opened with her smash hit, 'brutal' and the crowd was immediately ready to scream their lungs out. Don't get us wrong, we were also screaming along with the rest of the crowd!
Olivia played the entire SOUR album, with some fun covers interspersed in between. Notably, she sang a cover of 'Complicated' by Avril Lavigne and 'Just A Girl' by No Doubt. Being one of the older fans in the crowd, those two covers made our inner tween heart soar.
In true Texas fashion, Olivia was handed a pink cowboy hat and wore it during parts of the show. We definitely need to get ourselves one, so we can match and look as cute as she did!
"I saw Olivia Rodrigo wearing a plaid skirt and a cowboy hat. So I bought a plaid skirt and a cowboy hat."
'All I Want' Is For Olivia To Come Back!
In conclusion, the SOUR Tour was everything we wanted and more from Olivia. Her energy was contagious and everyone got to sing out their heartbreak right along with her. It was definitely worth the wait to see her live and in person. And we cannot wait to see her again in the future. Confetti and all!
Check out our gallery from the show below!
Have you been to the SOUR Tour? If you haven't, make sure to get your tickets here. You will not regret it!
What's your favorite song from each of these artists? Let us know in the comments below or chat with us on Twitter and Instagram.
Want more live reviews? We got you!
TO LEARN MORE ABOUT OLIVIA RODRIGO:
INSTAGRAM | TWITTER | WEBSITE | YOUTUBE
Brittaney Penney
Co-Owner + Lead Photographer of The Honey POP. Lover of Dr Pepper Zero, Christmas lights, and cross-country road trips.