Lizzo was announced as TIME's Entertainer of the Year, and she deserves it SO much! Not only has she been dominating the charts with hits 'Truth Hurts' and 'Good As Hell,' the latter one even got a new version with Ariana Grande! It's clear that Lizzo is amazing in the studio recording her songs, but did you know she's a phenomenal performer as well? If you didn't know, you know now, especially since TIME named her Entertainer of the Year.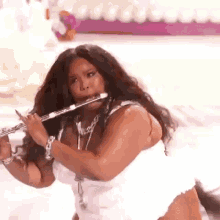 So, maybe you're wondering what makes her such a great performer? I wondered that exact thing before I saw her in concert. Now that I have, let me tell you, she's unbelievable live. Here's a few reasons why Lizzo's worthy of the title "Entertainer of the Year":
Her INCREDIBLE voice
If you hadn't seen her live or listened to much besides 'Truth Hurts,' you might not know of her powerful voice. Yeah, you hear it a little as she belts "feelin good as hell," but that's not the last of it. Lizzo is a total powerhouse on stage with her vocals, I got goosebumps as she sang "I'm cryin, cuz I love you."
Lizzo is so impressive with her voice that even when you listen to the 'Good As Hell' remix with Ariana Grande, you can hear Lizzo shine throughout the whole song. When she sings it live, she's got dancers with her but she still shines (not just because of her usually shiny outfits on stage). And so, if you ever get the chance, see Lizzo sing live. Even if you don't, you can still appreciate her vocals on every song. After all, her voice is SO powerful, and the message behind her lyrics is so empowering.
Also worth mentioning is that Lizzo doesn't just sing, she brings out her flute on stage and plays it at each show! Having the strong and powerful voice she has and playing the flute definitely adds to her being an amazing entertainer.
Her Outfits on Stage
Okay, I was going to put 'costumes' instead of 'outfits' but we all know that Lizzo doesn't play a character on stage, she wants to feel good on stage and make everyone in the crowd feel good. The way she dresses has been received in many different ways, but Lizzo keeps being herself and expressing herself within her outfits on and off stage. We love a queen who doesn't care what haters think, just do you boo!
Lizzo Empowers and Inspires Us (and herself)
Recently, during Lizzo's set at the Q102's Jingle Ball, Lizzo had us all saying "I love you me" and "I am my inspiRATION" (extra emphasis on the -RATION to add some power). She told us it was a shameless place and we could dance and wiggle as we wished (and I did.) Lizzo was obviously dancing and having the time of her life, so everyone in the crowd felt they could too!
Her lyrics stand for themselves. That's all I need to say if you've heard her songs, but I'm still going to say more because I need a reason to talk more about Lizzo. She tells us all what we want to hear, so basically she's that best friend you need when you want to feel good. In 'Good As Hell,' she has LOTS of advice worthy of being quoted a million times. For example: "You know you're a star, you can touch the sky, I know that it's hard but you have to try" and "Boss up and change your life, you can have it all, no sacrifice." I don't know about you, but I think I'm going to go boss up and change my life.
Lizzo Works So Hard to Have What She Has
Lizzo is so open about her body and how she accepts and loves who she is, but that's come after a struggle to find that acceptance. We're so glad she has because it definitely helps so many people. Lizzo has also previously stated that she almost quit music when 'Truth Hurts' didn't take off, but she kept going. Imagine how hard it must be when you want to make it in the music industry and your biggest and best song isn't a hit, but little did she know it would be a huge song in 2019.
So many things have gone into creating the amazing atmosphere she keeps at concerts, and it's inspiring to think that Lizzo went through all of that and is now stronger than ever. A good entertainer will need to know the good and the bad of the music industry to find out what makes good into the best, and it seems Lizzo has mastered that.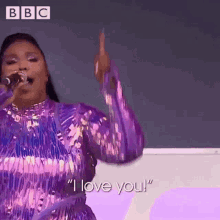 So, the point of all this, is that Lizzo is now TIME's Entertainer of the Year and she truly deserves it. Not only does she deserve it, she earned it. Being Entertainer of the Year must be hard, but Lizzo makes it look so easy. Can I just take a moment to thank Lizzo for everything she does for people, and for putting on amazing shows? Can I go see her live and scream "Thank you Lizzo" and "I love you Lizzo" again?
To learn more about Lizzo:
Website | Twitter | Instagram | Facebook | YouTube
Featured image source: pitchfork.com