"Someday, someday, I'm gonna be the next big thing," MAX sang back in 2012 for the Nickelodeon movie Rags, and if you look at where he's at now, we'd say he's made it! Right now he's got a North American tour about to start on May 19, and an album that goes by the name of Colour Vision to be released May 22! Plus he just released a single, 'Where Am I At.'
'Where Am I At' is a heartbreaking pop ballad, showcasing the epic vocals and strong falsetto MAX has. The music video is simple yet powerful, simply showing pure emotion and vulnerability as the lyrics sing of losing someone you love.
When speaking of the meaning of the song, MAX said "'Where Am I At' is about the moment you realize you will never hug, never talk with, never say I love you to someone that means everything to you. The moment you know they're truly gone and all that's left of them is what you remember. I didn't know who I was anymore knowing I'd never be able to see her again."
You can stream the song here, and watch the video below!
Tour Dates, Information, & Songs We Hope To Hear
The tickets to his North American tour go on general sale March 6 at 10 am local time, and fans have access to the pre-sale starting March 2, 10 am local time. If you're a Citi cardmember, you have access to purchase pre-sale tickets starting March 3 at 10 am local time. Plus, Spotify will have a fan-first pre-sale starting on March 4 at 10 am local time, and Live Nation will also have a pre-sale March 5 at 10 am local time! So many pre-sales and then there's the general sale, so you've got lots of chances to get tickets as soon as possible! Check out the tour dates below and buy tickets here!
May 19 Tue House of Blues San Diego San Diego, CA, United States
May 21 Thu Fonda Theatre Los Angeles, CA, United States
May 23 Sat BottleRock Napa, CA, United States
May 24 Sun August Hall San Francisco, CA, United States
May 26 Tue Neptune Theatre Seattle, WA, United States
May 27 Wed Commodore Ballroom Vancouver, BC, Canada
Jun 2 Tue Paradise Rock Club Boston, MA, United States
Jun 3 Wed Theatre of The Living Arts Philadelphia, PA, United States
Jun 6 Sat Governors Ball New York, NY, United States
Jun 7 Sun Bunbury Music Festival Cincinnati, OH, United States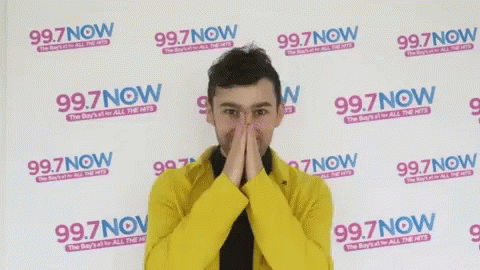 We're stoked to see MAX on tour (the gif above is literally us rn), and now we're here wondering what songs he'll sing. We can easily expect him to sing 'Where Am I At' and 'Love Me Less,' along with most or all songs from his upcoming album, Colour Vision. Some songs we're hoping to hear otherwise include 'Gibberish', 'Lights Down Low', 'Team', and hopefully, 'Someday' (from Rags.)
Are you loving 'Where Am I At?' Will you be seeing MAX on tour? Let us know what songs you'd like to hear him perform live by dropping us a comment or head over to our Twitter @TheHoneyPOP and let us know!
If you love the honey-sweet style we bring to pop culture, then check out some more of our articles here!
To Learn More About MAX:
FACEBOOK | INSTAGRAM | TWITTER | WEBSITE | YOUTUBE
Featured image source: Image from video for 'Where Am I At'