Princess Pia Mia is a bona fide baddie with a voice that could make the angels jealous. The 23-year-old island ting has proven over the years that she has superstar qualities. That's why we are here to bring this star the hype that she deserves. Here are five reasons why everyone should stan Pia Mia!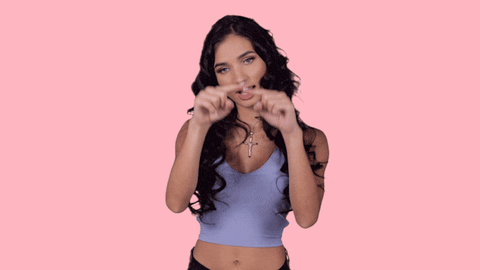 She Can Remake Any Song Into a Bop of Her Own, and Slay It
She may call herself a princess, but Pia Mia is the queen of sampling. Her latest single, 'Princess' was inspired by Chris Brown's 'Kiss Kiss' featuring T-Pain. One of her biggest hits, 'Do It Again' is a remake of J Boog's 'Let's Do It Again.' She's even channeled an OG R&B vocalist, Mary J. Blige with a sample from 'Real Love' to create her song 'Feel Up' featuring YG!
Pia shows everyone that she create her own unique sound, but also take inspiration from fellow artists to put a spin on classic songs. It takes a whole new level of creativity to successfully turn elements from widely known music into something that ultimately becomes unique. This super talent brings us back to our childhood favorite songs, which is an added bonus! Thank you, Queen!
She Is a Woman of Many Talents, Including Writing
Get you a girl who can do both! Not only is Princess Pia a phenomenal singer, but she is also a talented writer. She is currently writing a fictional book called The Princess Diaries-Sand, Glitter & Silicone on Wattpad. Her passion for writing goes back to when she was just eight years old. During the quarantine, she decided to return to her childhood hobby of writing, thus The Princess Diaries was born!
She Knows What She Wants, and Always Goes For It
Pia has always been a go-getter. As a young teenager, Pia moved with her mother to Los Angeles from the island of Guam to pursue music. In 2013, she was signed to Interscope records. Since then, she's had to navigate the music industry, dealing with obstacles like music delays that limited the audience she was reaching. Eventually, she decided to go the independent route in order to release more music until she finally found a fit at a major record label that she was happy with. Now she is signed with Electric Feel Entertainment and Republic Records, and she is thriving!
She's a TikTok Queen
Stranger Things star, Noah Schnapp created a dance trend to 'Do It Again' on TikTok. To summarize the aftermath, it became a trend very quickly. With some of the biggest users like Charli D'amelio on the app using the audio, Pia's song quickly entered back into our hearts. As it should. Even Princess Pia herself has taken part in this dance craze! Make sure you give her a follow on TikTok.
She Truly Loves Her Fans
Pia makes it a priority to interact with her fans as much as she can. Whether it's replying to tweets, interacting with TikTok comments, or baring her soul on her creative projects, Pia Mia makes sure that her fans know they are a major part of her life. Next time you're scrolling through her social media accounts, check to see which fan she's retweeted or what time she's planning on going a livestream to talk to everyone! We promise with Pia, interaction with her supporters is frequent.
What other projects do you hope to see from Pia? And what do you think of her song, 'Princess' so far? Make sure to let us know in the comments or online on Facebook or Twitter at @TheHoneyPop!
TO LEARN MORE ABOUT PIA MIA:
FACEBOOK | INSTAGRAM| TWITTER
Featured Image Source: Solmaz Saberi