It's no secret that Little Mix are complete style queens! So since it's Jesy Nelson's birthday, let's take a trip down memory lane and re-visit our top 5 Jesy Nelson outfits …
Brit Awards 2019
Remember how we all freaked out over the girls' STUNNING dresses on the red carpet? Well, we couldn't be more in love with this sexy yet sophisticated black lace number. When a dress code is: dress to impress, we can always count on Jesy to deliver the goods.
Pretty Little Things Photo Shoot
We screamed in excitement when all the photos from the Little Mix Pretty Little Things photo shoot hit the internet. We even wrote an entire wish list for it! We're still screaming about just how HOT Jesy looks in this double denim ensemble. From the fluffy jacket that looks so soft, we want to curl up in it, to the coolest denim bra you could ever wear. This was (and still is) an outfit that gets the THP seal of approval!
'Me Sunday Best'
When Jesy captioned this 'Me Sunday Best' we couldn't help but agree! While Little Mix is known for their iconic outfits, this is by far one of the most iconic Jesy looks. From the power suit, and dress, to those thigh-high white boots, we wish we could pull this off like her!
The Fire Leotard
A leather leotard has always been a staple in Jesy's stage outfits. But add that with some flames and fire tipped thigh-high boots, and you're onto a winning look! Taken just before their 2019 Autumn tour, this was one of Jesy's fiercest stage looks, and we're so here for it.
NTA's 2020
Who doesn't love a red dress on a red carpet? Jesy wore this on the night she won a National Television Award in the UK for her documentary! We all remember the photos of this exceptional night hitting Twitter, and the sheer beauty of this look is unparalleled.
What's your favorite look from our list? Think we've missed another iconic outfit? Be sure to let us know in the comments below, or by tweeting us @TheHoneyPOP!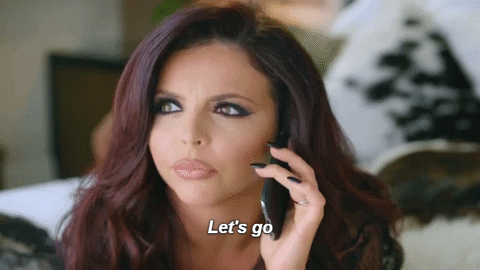 Looking for more Little Mix? We've got you, lovely
To Learn More About Little Mix:
TWITTER | INSTAGRAM | FACEBOOK | WEBSITE
Featured Image Source: BACKGRID