It's hard to believe it, but we're here to talk about State Champs Tenth Anniversary Celebration. Whether you've been into them since the start or you're more of a new arrival, it's all good, we know you're here to stay. To celebrate, the band will be throwing an online "Variety Show" of sorts. In a celebration for both the band and fans, this will take place on June 22nd. In other exciting news, it is also the launch of the upcoming State Champs Unplugged EP. The EP is due August 14th via Pure Noise Records.
Passionate, Versatile, Pop-punk Tunes
The first taste of new music from State Champs since the 2018 release Living Proof, and it's sure to be delicious. Derek DiScanio (Vocals), Tyler Szalkowski (Guitar), Ryan Scott Graham (Bass), and Evan Ambrosio (Drums) are the men behind the magic. Each one of them sincere, passionate, and nearly perfect at what they do. Embracing their idea of delivering their music to as many people as possible. Their established scrappy pop-punk sound has landed them on pop arena tours, metal tours, and small capacity bar shows (its true …we've been there.) Versatility and an all-around good time, this band is easily a fan favorite.
We already know State Champs knows how to deliver us fire acoustic tunes. So we have no doubts that we're in for a killer EP with this one. Much more than stripped-down reimagined bangers that we know and love. The EP offers up four brand new tracks specifically designed for current settings, plus a rework of hit 'Criminal' and a totally innovative spin on 'Dead and Gone.' Showing their ever-evolving versatility, the band shows influences from every genre from pop to country. All while staying true to roots of the influence that made State Champs happen.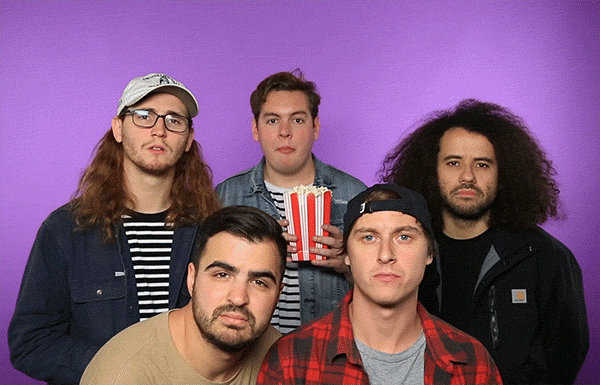 State Champs Teaches Us to Educate, Support & Change
For the past weeks, we've watched as the world fights for change. The change is happening, but our efforts can't stop. The time is now for us to come together and fully accelerate our actions, be allies. It's been a beautiful sight to see our favorite artist become so proactive on such an important cause. It's very clear State Champs is one of them. Partnering with Headcount, State Champs will offer a 50% discount on tickets for the live stream for all fans who register to vote. Don't worry, youngins, for all those not of age to register, you can still pledge with HeadCount and receive the discount while being active!
Support the Black Lives Matter Movement
In addition to the partnership, State Champs unveiled that they will use their massive platform to champion the Black Lives Matter movement.
"There's an incredible movement happening right now in our country and throughout the world. Black voices that are tired of the injustice, the discrimination, the inequality, louder than ever in a choir fighting to be seen and accepted without prejudice, and it's long overdue," shared the band on social media. "We are excited to lend our voices and support alongside those protesting, donating, making petitions, gathering and distributing resources, and raising awareness. It's time to listen, learn, and act because it's time for a change."
Fans can head to State Champs official website for a limited edition t-shirt where 100% of proceeds will go to Black Lives Matter. As well as the opportunity to win unique pieces of State Champs memorabilia through raffles. These six items from the champs vault will have 100% of proceeds going to the following organizations:
---
NAACP – National Association for the Advancement of Colored People
---
State Champs, the champs of change. We're proud to be fans of bands that use their platform to educate, support, and change the world.
Hit us up in the comment section or on Twitter @TheHoneyPOP and tell us all the reasons YOU stan.
To learn more about State Champs: FACEBOOK | INSTAGRAM | TWITTER | WEBSITE | YOUTUBE
Featured Image Source: Beth Saravo