Late to the game on this one, but no less love does it deserve. Neck Deep, one of our very favorites here at THP premiered as a super-exclusive video via Twitch.
The new single, 'Fall' premiered originally on June 17th, 2020. Gracing us with a super sick team-up between bandmates and a stacked line up of independent skaters. Maybe you caught the premiere on Neck Deeps Twitch channel, but we recommend you take a peek, right here, right now:
Neck Deep – 'Fall'
Pop-Punk posse Neck Deep's single 'Fall' is off of the upcoming-very-much-anticipated album. Pleasingly paired video with bad-ass footage of captivating skaters. Ones like Cordano Russell, Bone Stalone, Alex Dechuna, Jerrod La Rue, Tommy Corbridge, and Roxana Howlett. Also included is bonus footage of the mates of Neck Deep. Skating, biking, and soaking up all that is touring life while making rounds around the world the past years. A chorus that dreams are made of, Neck Deep welcomes the summer season and showcases Neck Deep in their natural habitat.
Neck Deep's 'Fall' is a song all about excess, release, and, most importantly, escape. We all use music as a way to escape, so we find this song exceptionally relatable. Although sometimes, we find coping in unhealthy habits like substances and various social situations that liberate us from the constant struggles of life. Focusing on characters created within the album, this song paints a scene. One where Jet meets his love, Alice, for the first time. Following twisting tale of a wild night of blossoming love filled with excess, escapism, and the come up and come down that those feelings bring—a modern-day love song, full of life, discoveries, and epiphanies.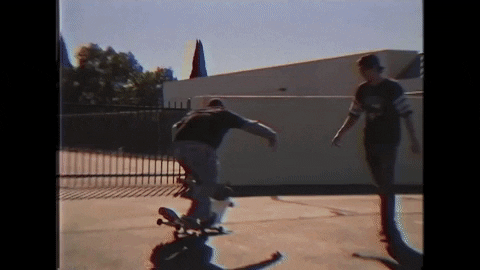 Channeling Nostalgia – Igniting Excitement
While the band's original intent was to create a video to showcase this love at first sight, COVID-19 restrictions made it challenging. So instead? The group says, "We looked at some of the things we love most: f*cking around on tour and skateboarding. We decided to reach out to skaters that we have met along our touring journey, that we believe deserve some recognition, and give them a platform to display their amazing talents. We also dug into our archive of tour footage and put it to good use." Allowing us to see inside the world that is Neck Deep. With an added bonus opportunity to catch some bad-ass skaters worthy of our attention. Channeling nostalgia for better days, but igniting the excitement of potential regularity.
Good-hearted fun, that's what both the song and video hold—bringing a smile to the faces of fans, with a trace of normalcy. We appreciate Neck Deep, for all they are, and for all they are destined to be.
Stay tuned as we cover the release of their album All Distortions Are Intentional'. Arriving on shelves and streaming services on July 24th, 2020.
See Also
Let us know your favorite single from the album so far! Did you 'Fall' for this one? Comment down below or holler at us on Twitter @TheHoneyPOP
To learn more about Neck Deep:
FACEBOOK | INSTAGRAM | TWITTER| WEBSITE | YOUTUBE
Featured Image Source: Joshua Halling