Always wondered which member of 1D's crew you are? Well now you can find out!
Choose a One Direction Album
Daniela Jalo via We Heart It
Joe Okpako via Capital
Pick a Late Night Chat Show
Which Member of One Direction's Crew Are You?
Caroline Watson (Stylist)
Just like Caroline, you're friendly and stylish but you don't take nonsense from anyone. You work hard but also play hard!
The Band (Jon Shone, Sandy Beales, Josh Devine & Dan Richards)
Just like Jon, Sandy, Josh and Dan, you're the unsung hero of your friendship group! You're a powerhouse of talent, even if you feel like you're under appreciated at times.
Mike Clegg (Production Manager)
Just like Mike, you're the brains behind any operation! Without you, there wouldn't be a show. Truth is that you're awesome and here at The Honey Pop we think you're one of the coolest people going!
Lottie Tomlinson (Make-Up)
Just like Lottie, you won't take no for an answer! You'll work hard to get opportunities, even if they're not paid, just so you can show the people that count that you know your stuff. You're a self built icon who's worked for their success and soon all your hard work will pay off!
Sarah (Catering)
Just like Sarah, you're the self identified mum of the group! You're not only an excellent cook but you're also an excellent listener. You might be an old soul, but you're still down for an adventure whether that's having sandwich competitions or travelling the world!
Paul Higgins (Security & Tour Manager)
Congrats, you're the man on tour with all the power! Just like Paul, you're organised and take your job seriously. But don't be fooled, that doesn't mean you don't have a sense of humour.
Ben Winston (Film Director)
Just like Ben, you have an eye for creativity. You're constantly figuring out new ways to create new things and you'd do anything for *that* shot! Keep on creating but don't forget to take a moment to yourself every now and again too.
Lou Teasdale (Hair)
Just like Lou, you're super talented, caring and always treat people with kindness! When in doubt you're good at following your intuition and you love passing on your knowledge to others!
Which crew member did you get? Be sure to let us know in the comments or tweet us @TheHoneyPOP! You can also hit us up on Facebook and Instagram!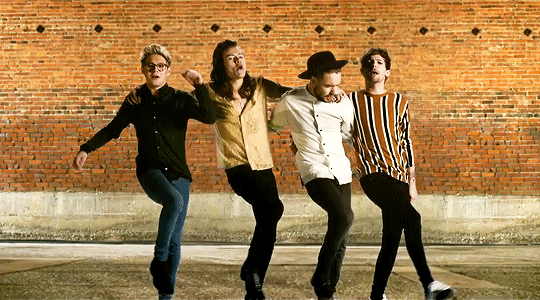 TO LEARN MORE ABOUT ONE DIRECTION:
FACEBOOK | INSTAGRAM | TWITTER | WEBSITE | YOUTUBE
In the mood for more fun content? We got you!
Want more One Direction Content? Click this link.
Featured Image Source: Getty Images via MTV