Welcome back to The Rap Up, where we, at the Honey POP, give you the hottest hip-hop/R&B releases from the past week! We know you missed us, and best believe we have new Summer jams waiting for you! Are you ready for the awesomeness?
Let's dive right into these new releases!
Cardi B & Megan Thee Stallion: 'WAP'
Cardi B linked with hot girl coach Megan Thee Stallion in their new single 'WAP' (We're not gonna tell you what it stands for, you can look it up yourselves 😉 ). We all knew both women would go OFF in a collab together, but the single and music video will be talked about for the rest of 2020. From the choreography, the hair & makeup, the outfits, to the beautiful women that joined in (such as Normani and Kylie Jenner), it's simply iconic. Female rappers are not ashamed of talking about their sexuality, as it's what men have done for decades, and we love to see it!
You can stream 'WAP' on all platforms here!
Juice WRLD & The Weeknd: 'Smile'
Juice WRLD's team released one of his new singles 'Smile,' which features The Weeknd. If you compare the vibes and sounds of the two artists, you'll see why this collab is yet another dream team. The Weeknd's soulful, melancholic vocals combine with Juice WRLD's emo-rap, and we're living for it! Although there wasn't a real music video (for very obvious reasons), they did edit a cool video of an artist painting the two pictures of the two men, and it's fabulous. Juice WRLD proves to us through this single that legends truly never die.
You can stream 'Smile' on all platforms here!
DaBaby: BLAME IT ON BABY (DELUXE)
DaBaby is back with the deluxe version of his album BLAME IT ON BABY. We've had nothing but great things to say about the original version, and the same can apply to the deluxe! The cover art is everything and so are the extra 10 songs he added to the beginning of the album. The second his released 'Peephole,' we knew that we would have a lot to look forward to!
You can stream the deluxe version of BLAME IT ON BABY on all platforms!
NLE CHOPPA: TOP SHOTTA
Rapper NLE Choppa released his highly anticipated album TOP SHOTTA. With features from Mulatto, Roddy Ricch, Lil Baby, and Chief Keef, the album contains many of your favorites including 'Shotta Flow' 3, 4, and 5 and the recent release 'Narrow Road.' Expect to hear never-ending bursts of energy through his rap and hard-hitting beats throughout this project; it is titled TOP SHOTTA, after all.
You can stream TOP SHOTTA on all platforms here!
Rod Wave: Pray 4 Love (Deluxe)
Four months after its initial release Rod Wave also released the deluxe version of his album Pray 4 Love. Also giving his fans 11 brand new tracks, (specifically to feel heartbroken over a nonexistent relationship), Rod Wave still manages to combine R&B and trap successfully. If you need some songs that will make you both hype and in your feelings at the same time, Pray 4 Love is the album for you.
You can stream Pray 4 Love on all platforms here!
IDK, JID, DJ Scheme & Kenny Mason: 'Cereal'
If you're in the mood for rap that contains the smooth, fast rhymes that gets everyone hype, you need to check out 'Cereal.' Rapper IDK collaborated with rappers JID, Kenny Mason, and DJ Scheme and created something fire. Their flow and bars throughout the track are out of this world, and it's somewhat entertaining to watch him sit there eating a bowl of cereal.
You can stream 'Cereal' on all platforms here!
Victoria Monet: Jaguar
Victoria Monet finally released her new project JAGUAR, and let us say that excited is a complete understatement. Her alluring vocals and relaxing production makes the entire sound pop; her influences from funk and neo-soul gives us 90s/2000s vibes (you'll especially feel this way if you check out her current music videos for the tracks such as 'Ass Like That' and 'Experience'). We can't wait to hear more from this queen!
You can stream JAGUAR on all platforms here!
Tiana Major9: At Sixes & Sevens
R&B artist Tiana Major9 released her new EP At Sixes & Sevens. Featuring his past single 'Collide' (featured on the Queen & Slim Soundtrack), this sound of this EP is so breezy, as she effortlessly belts out beautiful notes and harmonies. Not to mention, she includes interludes that give her and her listeners positive affirmations, which is something a lot of us could use right now. If you don't know by now that Tiana Major is worth adding to your R&B playlist, then what the heck are you waiting for?
You can stream At Sixes & Sevens on all platforms here!
EARTHGANG: 'Top Down'
Last, but not least, EARTHGANG just dropped their humorous, creative music video for their single 'Top Down.' The video originally premiered on Adult Swim and couple days before (which seems like the perfect fit if you watch the video), and we hope it made the viewers love the track as much as we do (It'd be hard not to with their original production and catchy hooks!). If you are, the single is featured on their album Mirrorland. Be sure to check it out if you haven't already!
You can stream Mirrorland on all platforms here!
Rapping It Up
We have so many tracks to listen to on this week's Rap Up! Unfortunately, it's time for us to wrap things up, but have no fear! We'll be back next week to give you even songs that'll put you on cloud nine. Or put you in your feelings. Or both.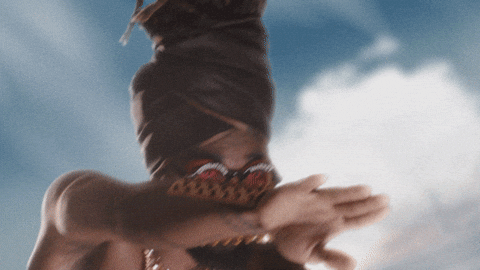 What do you guys think of this week's Rap Up? Which release was your favorite? Comment your thoughts down below, or feel free to tweet us @thehoneypop on Twitter!
We will be back every Sunday to give you the new Rap/R&B feels you have been searching for! In the meantime, you can check out our Hip-POP & R&Bee category for more!
Featured Image Source: Yasmin Keskin