Tender and fully woven with emotion, Katy Perry has decided 'What Makes A Woman' in her latest single. Just a week before the slightly-delayed release of her fifth studio album Smile, the song was a bit of a gift for her patient fans (or 'KatyCats'). Having offered snippets of the track during her 'Smile Sundays' livestream, fans were already hyped about its release. You can take a listen below!
'What Makes A Woman': The Breakdown
Though slow and sweet, the track presents a flurry of questions about past and present perceptions of femininity. Perry is able to answer them herself, suggesting the song resulted from a train of thought she just had to write down. Tying up the song with a bow, she croons, "Is it the way we keep/the whole world turning/in a pair of heels?/Yeah, that's what makes a woman."
If you're female and you have the same questions, you may need a few tissues by now! The song's release was accompanied by an intimate acoustic performance, which you can watch below:
Her Sweet Acoustic Rendition: The Breakdown
Perry has dedicated the track to her unborn (though due very soon) daughter, so… that's adorable! As it couldn't have been easy to perform while this pregnant, please notice her dedication to wearing heels just to make the final lines all the more relevant. Reminds us of the good old days – classic Katy with her acoustic guitar and a heart-wrenching story of a song.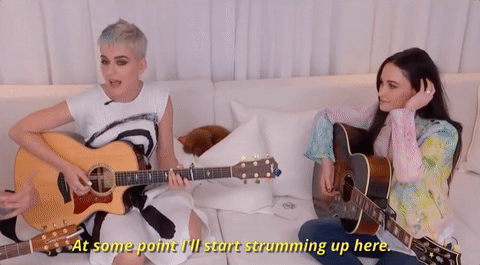 So, what do you think of 'What Makes A Woman>?' Have you been listening to the new singles of the Smile era so far? And how about that soft, acoustic serenade? Tell us what you're smiling about in the comment section below, or tweet us @thehoneypop!
TO LEARN MORE ABOUT KATY PERRY:
FACEBOOK | INSTAGRAM | TWITTER | WEBSITE | YOUTUBE
Featured Image Sources – 'Katy Perry – What Makes A Woman (Acoustic Video)' via YouTube/ Katy Perry – 'Smile' Album Artwork via katyperry.com