Only during the cruelest of summers, Taylor Swift's folklore spends 6 consecutive weeks at #1, leading the Billboard 200. This feat was last achieved in 2016 when Drake's Views reigned over the charts. A frequent visitor of the prime slot, Swift is getting nice and cozy in her favorite cardigan at the top of the charts.
Taylor's 'august' Was Better than Yours
When she started this album with 'the 1' – we should've known. James, Inez, and Betty would be fully impressed (and probably confused about the fact that their tragic love triangle is sitting atop every Official Album Chart)! The album held:
#1 for four consecutive weeks in Australia (and is the only female artist to achieve this since February 2019)
#1 for three consecutive weeks in the UK (and is the only album to achieve this in 2020)
#1 for three weeks in Canada
#1 for four non-consecutive weeks in Ireland
(Overall, it reached #1 in 90 countries worldwide!)
Stood On The Cliffside, [Streaming] Give Me a Reason
Only Taylor Swift's folklore spends 6 consecutive weeks at #1. At almost 3 million worldwide album equivalents and 2 billion streams in just over a month, she may or may not have broken some streaming records. Okay, okay – she smashed the charts like the 'mirrorball' she truly is. She managed to achieve the following:
Broke the global record for first-day album streams on Spotify by a female artist with 80.6 million streams
Earned the most-streamed pop album on Apple Music in 24 hours with 35.47 million streams
Set the U.S. and Worldwide Amazon Music Indie/Alternative Streaming Record
Had the biggest first-week album streams by a female artist in the UK in 2020 (which was also the biggest first-week of her entire career in the UK!)
You Put [cardigan] On, and Said It Was Your Favourite
Her lead single is achieving all of the success we'd expect from a Taylor track – except this one came out of nowhere! Just barely any announcement, absolutely no promotion, and look at what 'cardigan' has garnered:
Debuted #1 on Billboard's Hot 100 and the Global Spotify chart
Claimed the most daily Spotify streams in 2020
Was the most-added song at Top 40 and Hot AC radio airplay charts nationwide
Added straight to the A-list on BBC Radio 1 in the UK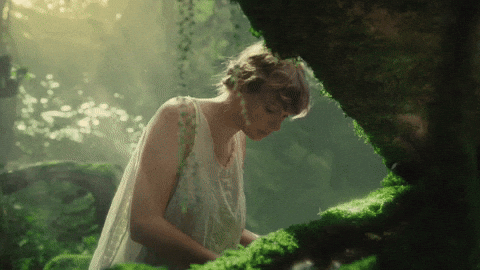 If you couldn't tell, there are Swifties here at THP. So when we say, "tell us your thoughts in the comment section below or tweet us @thehoneypop"… we invite the hottest of takes. Tell us how folklore ranks against the rest of her discography – which era do you stan the most? How many of these streams and sales could personally be attributed to you? Throw on your cardigan and get typing!
Need more TSwift content? Maybe a quiz to take the edge off?
To learn more about Taylor Swift:
FACEBOOK | INSTAGRAM |TWITTER | WEBSITE | YOUTUBE
Featured Image Source: Taylor Swift – 'cardigan (Official Music Video)' via YouTube