When British glam-rockers The Struts declare these Strange Days and then execute an isolation album release, you know times are truly wild. In the wake of their Make It Big Tour 2020, the boys chose to take on lockdown together and make it… an album, instead! Dripping with luscious attitude and anthemic wit, the 10-track project is truly 'Another Hit Of Showmanship' from the time-warped foursome.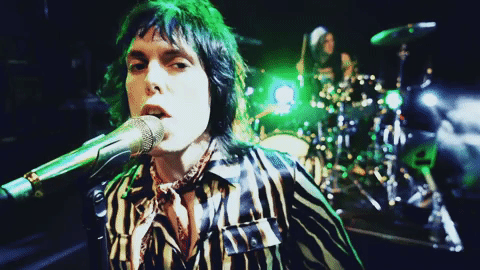 The Band That Everybody Wants
Unfamiliar with The Struts? To emphasize just how quickly they dazzled everyone: they opened on tour for The Rolling Stones before they even released their first album. Their debut album, Everybody Wants, arrived in 2016, followed by YOUNG&DANGEROUS in 2018. Their sound has heavy influences from the glam-rock scene of the 1980s. It makes sense because when frontman Luke Spiller ascends his vocal register over heartfelt rock choruses, sometimes, we catch a glimpse of Queen's legendary Freddie Mercury.
Mark the Calendar, These Are Strange Days
With the release of their third album, The Struts have solidified some of the vital pillars of their music: big choruses, brazen vocal delivery, and a flash of electric guitar solos. Standout tracks include:
'Strange Days (with Robbie Williams)': The surprisingly-relaxed title-track is an anthem for those of us living through the COVID-19 pandemic, racial inequality protests, political strife, and climate-induced natural disasters.
'All Dressed Up (With Nowhere To Go)': Taking off with the roar of a motorcycle, the lyrics dress the listener in the finest of vintage attire while the beat bumps up against the bedroom wall, confining us to our self-isolated dance parties.
'Another Hit Of Showmanship (with Albert Hammond Jr)': This is a song to play when you're trying to cheer someone up – if they're not feeling it immediately, tell them to wait until the chorus hits. It's almost clinically impossible not to dance!
What are your thoughts on the new project? When The Struts declare Strange Days with an isolation album release – do you scream, or do you squint? We want to hear your thoughts! Tell us in the comment section below, or tweet us @thehoneypop! You can also reach out to us on Facebook or Instagram!
Need more music in your playlist? Check here!
To Learn More About The Struts:
FACEBOOK | INSTAGRAM | TWITTER | WEBSITE | YOUTUBE
Featured Image Source: 'Strange Days' Album Artwork – The Struts via Website