It's safe to say that at The Honey POP, Michael Clifford is simply one of our favorite people. So, we decided it was time to get in our feelings and give you the rundown on ten of the many times he has stolen our hearts. Some sweet, and some funny, and some just Michael being his true adorable self!
1. Real Bands Save Fans, Real Fans Save Bands
Everyone knows the most iconic thing that Michael has ever tweeted is, "Real bands save fans, Real fans save bands." This tweet has become a staple in the fandom, being used on unofficial merch, Twitter headers, and more. It's also a very true phrase and means so much to the fandom as a whole.
2. When He Lends A Listening Ear
For mental health day in 2017, Michael decided to open his Twitter DMS for anyone out there who may need an ear. And he didn't stop there; he even read and responded to as many of the messages as he possibly could. Now, Michael has a phone number that fans can text, and sometimes he responds. When he can't reply individually, Michael uses the phone number to send out stream updates, pictures of his dogs Southy and Moose, and just updates on life.
3. Any Time We've Seen Him With Kids
We've all seen Michael with Lux back when the boys toured with One Direction, and we've seen Michael teaching kids music in Bali, but one of our favorite Michael with kids moment is when he met sweet baby Sydney in Minnesota at the World War Joy tour last year.
Images courtesy of @Heymikeyilikeit on Twitter
4. Every. Single. DogDad. Moment.
Literally, every time he's seen with the dogs, it melts our fangirl hearts. Whether it's the post when he announced that he and Crystal adopted Moose or a photo of him with South, seeing Michael be a dog dad is the softest thing, like … ever.
5. When He Became A Real Life Prince Charming
It was an awesome surprise that Michael was the first member of the band to get engaged, but it certainly is one of our favorite moments! It was a beautiful night in January of 2019 that Michael popped the question to the beautiful Crystal Leigh, in front of a gorgeous sunset in Bali, where the two fell in love. Is it just us, or was Michael really a prince declaring his love for his princess in those photos?
6. The Time He Talked About His Guitar Creation With Gibson
Michael's signature Gibson guitar was announced last January, and he spoke with Gibson in a 23-minute interview. In the interview, he talked about how incredible this is for him and how passionate he is about the guitar. You can watch that video here:
7. When He Paid For A Fan's Cat's Surgery
In 2018, 5SOS stan Brooke Denning created a gofundme to help raise money to pay for her cat's eye surgery. She tweeted the link, and much to her surprise, Michael donated the remaining $765 needed for the cat to have surgery. Brooke tweeted the exciting news and a screenshot of the donation and the message Michael left on the fundraiser. We stan a kind, loving, generous soul!
8. Interacting With Fans On Twitch
Michael has gone live on Twitch quite a lot this year and interacted a lot with fans, from shouting out group chats to wishing fans happy birthday; many memories were made on stream with Michael. You can follow Michael on Twitch by clicking here.
9. This Entire Make-A-Wish Interaction
On April 19th, 2018, 5SOS fan Melanie met the band through the Make-A-Wish foundation. Melanie said the moment that stood out to her the most in her experience was when Michael remained focused on her the entire time, and he even remembered her dog's name and asked her to hug the pup for him. Photos, like the one below, of Melanie's meet & greet with the boys blew up on Twitter, and we at The Honey POP can see why! The admiration in Michael's eyes is very apparent, and it isn't just Melanie's experience that showed how much Michael adores the fans.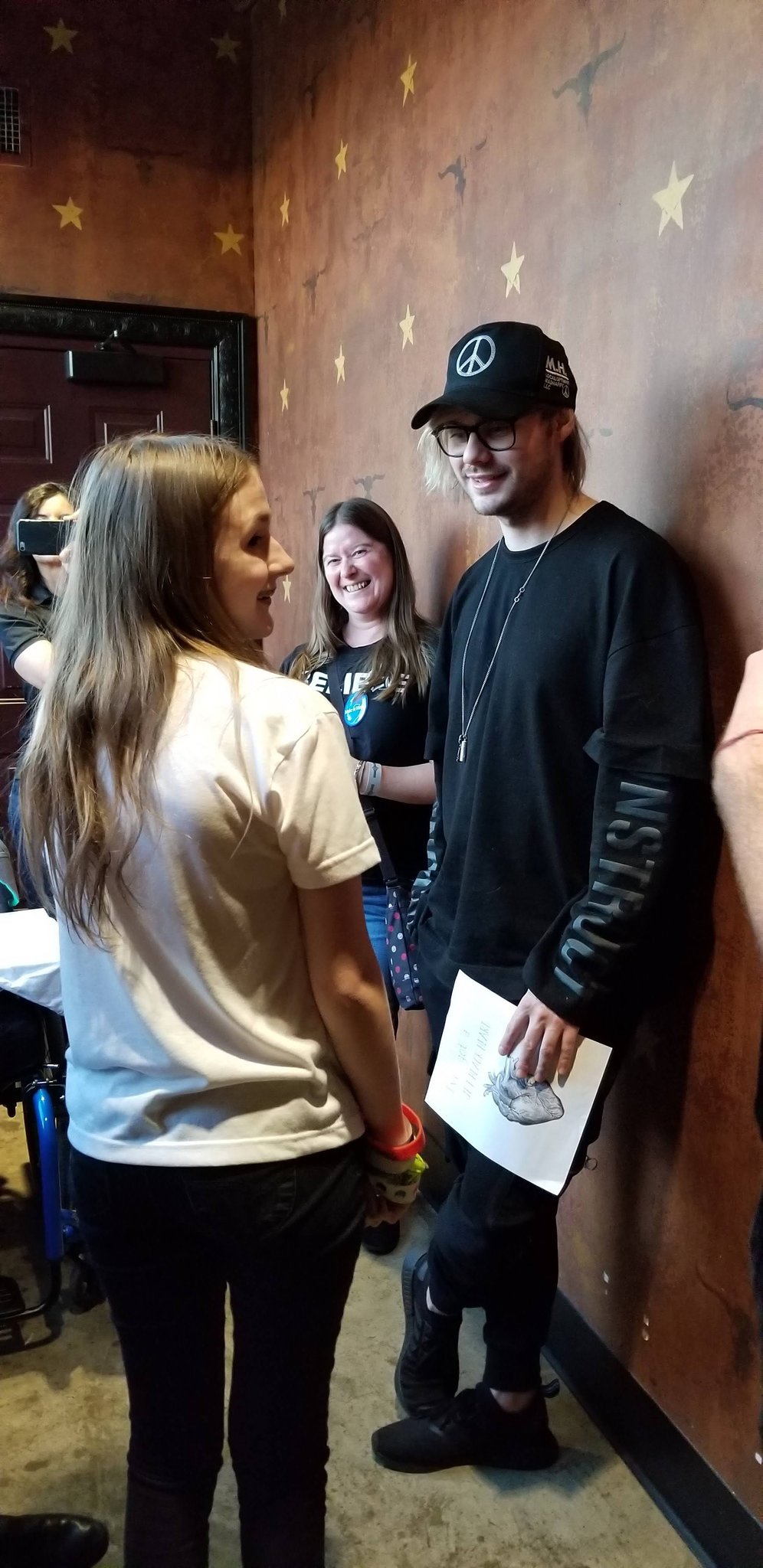 10. Basically Every Time He's Affirmed Us
This one is self-explanatory. Michael has always taken it upon himself to remind the fandom how loved we are. He affirms us in any way he possibly can, like in this tweet:
As you can tell, Michael is very loved and adored by us at The Honey POP. You can read more about Michael here! If you love Michael as much as we do, tweet us @TheHoneyPOP or let us know on Instagram and Facebook!
TO LEARN MORE ABOUT MICHAEL CLIFFORD:
FACEBOOK| INSTAGRAM|TWITTER
TO LEARN MORE ABOUT 5SOS:
FACEBOOK| INSTAGRAM| TIKTOK| TWITTER| WEBSITE|YOUTUBE
Featured Image Source via Michael Clifford on Instagram