Kim Seokjin. What a guy! Wbk that BTS is just as incredible individuals as they are in a group and today we're gonna be simpin' over the eldest member and give a detailed analysis on why we all need someone like Seokjin in our lives. Why? Because we can.
He's incredibly charismatic
Jin is someone who can light up a room. The party doesn't start until he walks in. He has a warm, charismatic personality and can surely make you feel special when in his presence. Heck, you can even feel it through the screen when watching him in interviews or performances! He has that cheeky air about him but still seems like he's really easy to have a conversation with and honestly, that's exactly what we need.
He's a foodie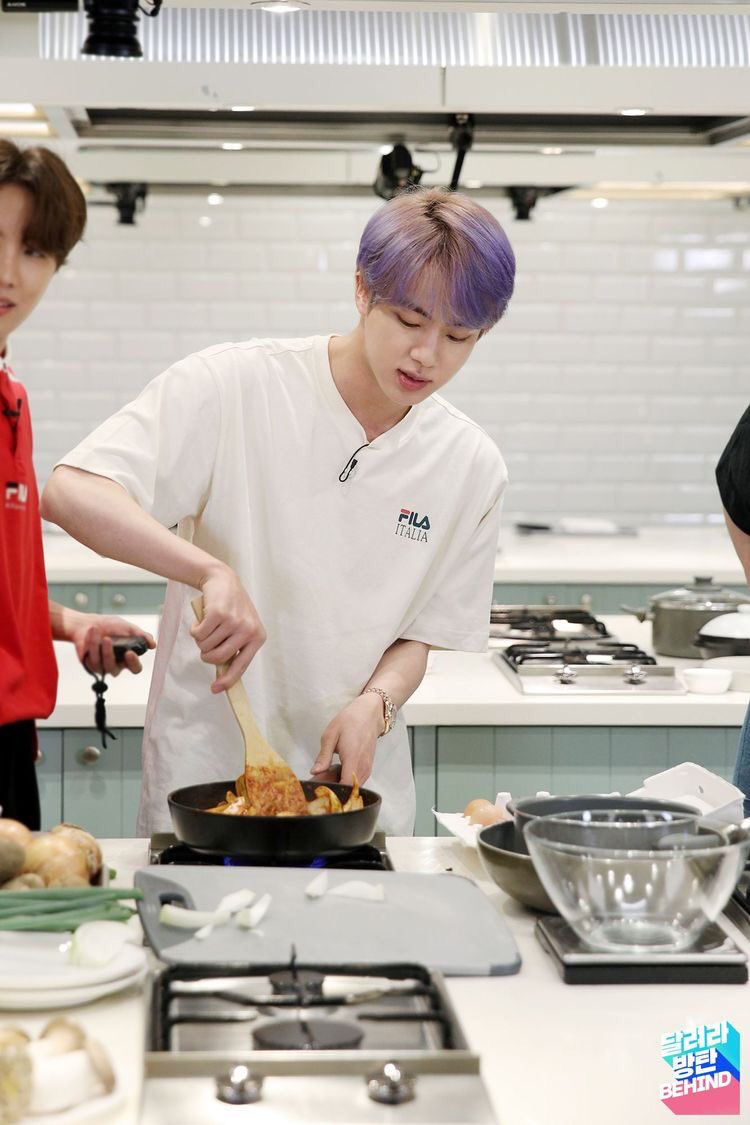 Not only does he love food, but he's quite the chef, too! There's nothing quite like someone who can talk to you about food and having the ability to take your tastebuds on a magical experience of exploring new dishes. That's exactly one of Seokjin's many talents and from what we've heard, he's pretty damn talented too. We envy anyone who has been blessed in life to try some of his cooking. Whatever he makes always looks mouthwatering even through a screen. We have to make do with our instant noodles and our mediocre takeout. Sigh.
He's hilarious AF
From his timing to witty comments to so-bad-they're-good dad jokes, stanning Mr. Kim Seokjin means your frown often turns upside down! Everyone could do with a comedic genius in their lives because laughing is good for the soul and so is Jin. Go on, prove to us that he isn't hilarious. We know you can't.
He always offers the most comforting words
Seokjin has always been someone that ARMY can lean on and go to when they need encouragement! He always knows just what to say. Lately, we've been looking back on this quote from Jin when explaining the concept of his room for his BE concept photo, "Have you perhaps forgotten along the way that each and every one of you is a unique and precious gem? Never forget to cherish yourself and always remember you are a sparkling gem, always remember to sparkle with confidence just like me," reminding ARMY that while we may forget sometimes that we are all special and unique. That we should always strive to have confidence.
We also have Jin's solo songs to listen to when we need to feel encouraged or reminded of how amazing we are. Most notably, his song 'Epiphany' carries this self-love message and is always there when we need to feel better. 
He has a real heart of gold
Seokjin may be an idol that has one of the biggest hearts. Not only do we see this in his words of encouragement for fans, but also in his relationships with his members. While many may associate Jin with his fun personality, there is also the very caring side of him that goes along with this. Jin has always been a member to step up and make sure that his members are comfortable in interviews (even if he might be shy himself), very much takes on the big brother role in his own way. Just take a look at his relationship with Jungkook and you'll know exactly what we mean. 
He's such a hard worker

We have to point out the hardworking side of Jin. He is an idol who has always strived to improve himself by getting in extra hours of practice and giving it his all when it comes to performing. We see how hard he works to improve himself each year, and his hard work has paid off.

The kind of love he has which reflects in his music
We briefly mentioned Jin's solo song 'Epiphany' before, but all his solo songs need to be talked about more. Each song is beautiful and carries important messages. In 'Awake,' Jin sings about his fears and insecurities, yet he will continue to fight them as he dreams of the future. 'Epiphany' is a self-love anthem and a realization that we are the ones that we should love. We are shining and beautiful. 'Moon' is a very special song and Jin's song to ARMY; in it, Jin is the moon and ARMY is the Earth. There is a special relationship between the two in which they work together, much like how BTS and ARMY work together. There is also the song he released during FESTA 2019 called 'Tonight,' which is a beautiful and meaningful song about his pets who have passed away. Jin has a song for every mood, and we can truly feel all the emotions he feels when we listen.
He is the best big brother
" Don't worry, hyung will do it " 🥺🤍
pic.twitter.com/LjHT9kj76U

— ᴮᴱ FerielLar⁷ (@FerielLar) December 2, 2020
He may be a younger brother in his family but Seokjin is the older brother to his six adopted brothers of BTS. His role as their hyung is definitely important to the beautiful relationship that the Bangtan Boys have. Having left their families to pursue their dreams at a young age, Jin stepped up as the eldest and has always been there for the boys since day one. He will even tell you he had a hand in raising maknae Jungkook and honestly, we agree! On top of caring for them and offering advice, he's also been playful with the boys, whether play fighting, teasing, or causing mischief with them. He has a real brotherly-like personality trait that must have helped make the group feel more like a family – whether that was Jin's intentions or not, we guess we'll never know.
Kim Seokjin, we love you! Never change.
What's your favorite thing about Jin? And what's your favorite Jin solo? Let us know down in the comments below or by tweeting us @TheHoneyPOP!
Need more K-Pop in your life? We gotchu.
TO LEARN MORE ABOUT BTS:
FACEBOOK | INSTAGRAM | TWITTER | WEBSITE 
Words: Jazmin Williams & Rachel Collucci
Featured Image Source: Big Hit Entertainment