Welcome to Fanlanthropy – a new series here at The Honey POP where we shine a light on incredible stans who are using the power of fandom to do good in the world and help out important causes. Fandoms are super powerful in sharing information and working on projects, so using those impressive skills for a good cause ends in some really great results.
Homelessness is an ongoing crisis that affects millions of people around the world. It's devastating, dangerous, and isolating. There are many causes of homelessness, such as social causes due to lack of affordable housing, poverty, and employment, as well as life events that can push people into homelessness such as losing a job, a breakdown of a relationship, mental or physical health issues or substance misuse. DePaul International is a charity that makes a difference to people around the world who are disadvantaged and experiencing homelessness. Their vision is of a society in which everyone has a place to call home and a stake in their community, and their mission is to end homelessness and change the lives of those affected by it. Depaul International celebrates the potential in people, as they empower those affected by homelessness to make decisions, set goals, take risks, and learn from their mistakes.
We recently came across a Swiftie earlier this month who chose to fundraise for Depaul International in honor of pop sensation Taylor Swift's 31st birthday. We were moved by their decision and decided to have a chat with the fan behind the fundraiser.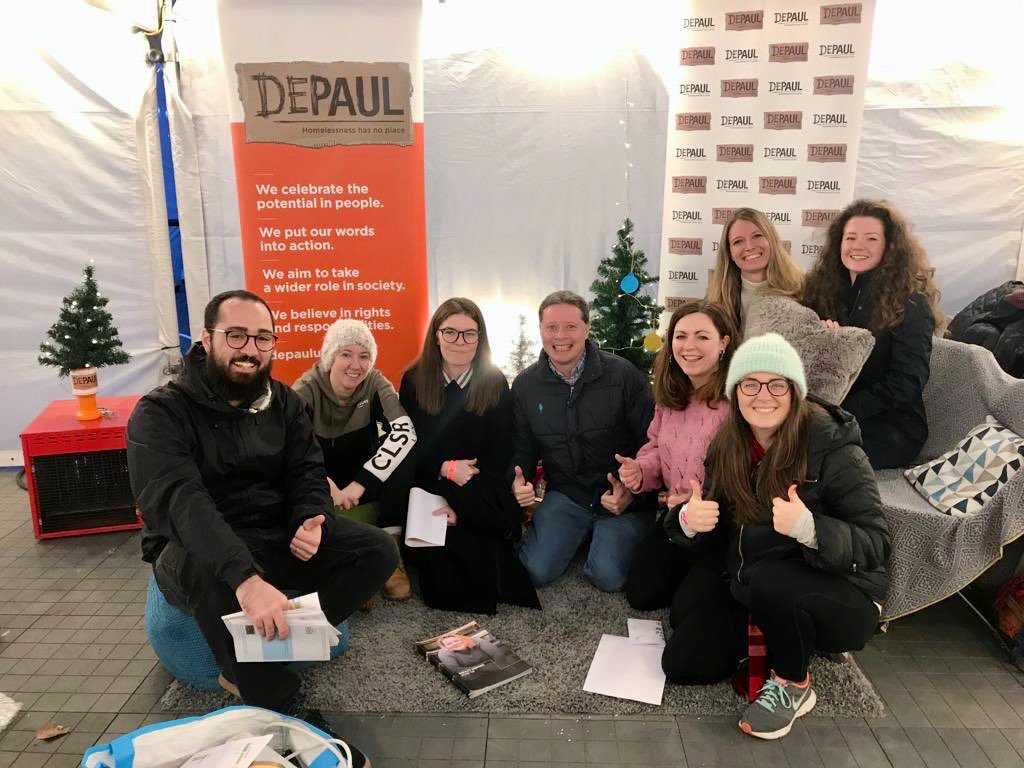 Hey Alessia! Can you introduce yourself to our readers?
I'm Alessia, and I've lived in Italy for the most part of my life. Growing up as a black woman in a mostly-caucasian country was a bit hard for me. When I was little, my so-called friends would touch my hair and compare my skin to any black object they could think of at that age. This made me feel really uncomfortable, and I think that's why I found comfort in music. When I started listening to Taylor, I was really young and hadn't experienced love yet, but I loved the way she would tell a story through her music and the fact that these stories were so personal that it seemed I had witnessed their development. At that time, Taylor was really the closest thing to a friend that I had. Whenever I felt like I was being somehow wronged by someone, I would listen to 'Mean' and 'Better Than Revenge' and plan the pettiest revenge I could think of. Whenever I was lonely, sad, or confused, I would listen to 'Tied Together' with a smile and a place in this world to remind myself that my feelings weren't odd or permanent. Luckily, I became more confident, and I began to have more friends, but Taylor's music still has an important place in my life.
You're fundraising with other Swifties in aid of Taylor Swift's birthday – what made you choose Depaul International?
I was looking for a charity that wasn't operating only in the US. My plan was to actually have different charities so we could help people from different countries. Depaul is only the start of the charity mission. I don't think that there is any perfect charity but I liked that they were working in different parts of Europe and in the US. Hopefully, we will get to fundraise even for charities based in Asia or Africa once we reach or are close to our goal with Depaul.
Can you tell us a bit more about the work Depaul International does?
Depaul International is a group of homelessness charities supporting people across the UK, Europe, and the USA. Their work ranges from providing safe shelter, accommodation, food, and health services to helping people affected by homelessness receive the education, employment, and social services they need. The pandemic has only emphasized the effects of homelessness and the governments' ineffectiveness in providing appropriate solutions, which means that many people can only rely on charities such as Depaul to survive. I still recommend engaging in any campaign asking national governments to increase the scope of the help they provide to accommodate the needs of more people.
How will the donations benefit the charity?
Any contribution will go towards the provision of shelter and food to the homeless. This is particularly important because freezing temperatures during winter put more people at risk of catching the virus. Having a safe place to call home shouldn't be a privilege.
Taylor is someone who has participated in a lot of philanthropy, how would you say she has inspired you?
When it comes to helping others, Taylor has always been a role model. Most of the time, we only got to know about her donations because the people she donated to spoke about it. I still remember her going around hospitals without a camera crew. I was a bit surprised by that because celebrities usually want people to know they are doing something good. I think that's what I like about Taylor; she isn't as far as one would think. During the pandemic, she was sending out money to people who were unable to carry out their business or work, and five of those people happened to be my friends. Taylor is inspiring. I'm not sure whether I need her to remind me to help others, but it's surely a very useful reminder.
Swifties are a pretty powerful fandom – what do you think about fandoms and the importance of using that platform for important causes?
I still can't wrap my head around the real power that big fandoms can have. Twitter sometimes seems to either overstate it or undermine it. For instance, we sometimes look at the numbers of retweets, likes, or comments on a post supporting our idol and think that's the emanation of the power we wield as a fandom. But I've learned that those numbers are just elusive, when in the last two years, we started having meaningful conversations about human rights and politics. Many Swifties were probably surprised to learn about the hardships faced by their fellow Swifties.
As Taylor began to be more politically vocal, Swifties became more aware that action against any unjust development should not be confined to one country. Twitter has always been a ground for political activism, but I think that what we are experiencing now is fandoms being ready to fundraise and organize campaigns. We still have a lot to do, but we are going the right way. When fandoms stop engaging in petty fan wars and plots against other artists, when they start using their platform for good causes without asking anything in return, I think that in those moments, fandoms are wielding real power. They are having a real impact on people's lives. Any big artist has a platform because of their fandom, so if that fandom can support a person with such great privilege, it should be able to help those in real need.
How can people support your fundraiser?
Everything can help us. I think that the pandemic has had a great impact on people's ability to help others. So, I'm not expecting everyone to donate, but even just sharing the fundraiser on Twitter, Facebook, Instagram, or other platforms would be very useful, as it could help us reach people who are able to contribute.
Thanks, Alessia! We're so proud of your hard work and know Taylor would be, too!
You can learn more about Depaul International here, and donate to the fundraiser here.
Will you be supporting the fundraiser? What fandoms do you know that are currently doing good? Let us know down in the comments below or by tweeting us @TheHoneyPOP!
TO LEARN MORE ABOUT DEPAUL INTERNATIONAL:
FACEBOOK | TWITTER | WEBSITE | YOUTUBE
TO LEARN MORE ABOUT TAYLOR SWIFT:
FACEBOOK | INSTAGRAM | TWITTER | WEBSITE 
Featured Image Source: Bibi Lara