Every BLINK knows that BLACKPINK has a serious style game, and our girl Jennie is a super fan of the deluxe brand Chanel. Like for real, that gal cannot get enough of the brand, and we don't blame her. So much so that she's now a brand ambassador for them because she captures their essence so well! We thought we'd share with you our favorite Jennie looks that prove she is the human Chanel.
Airport Fashion
When jet-setting around as an idol, it's very important to be comfortable, but that doesn't mean you can't look like a page out of a luxe fashion magazine! Wearing comfortable floaty pants topped with a cozy Chanel logo sweater, Jennie looks effortlessly fashionable, and we are here for it.
Covergirl Couture
When on covers and features of magazines, you don't have to look too hard to see Jennie rocking her favorite brand. Here's our fashionista photographed on the streets of Paris – the fashion capital – decked out in Chanel and looking like a real boss. We wish our office outfits looked as good as this.
Front Row Fashionista
It's no surprise that Jennie has attended a Chanel show at Paris Fashion Week! She sat next to none other than Cardi B and Vogue's editor-in-chief Anna Wintour, so you know she has a place of importance to be sitting pretty with big names. We really love the spring look she was wearing with cute colors for the season.
Securing The Bag
Even if not kitted out in the clothing, you can often just look at what bag she's carrying, and it'll almost always guarantee to be a Chanel bag. Adding a bit of high-end to a high street look helps a little go a long way, and honestly, it's a pretty fabulous fashion tip if you can afford that kind of thing. Catch us looking at a discount designer outlet for any sales.
Feelin' Festive
Okay, but how gorgeous is this? It looks like she's co-ordinated her look with the weather and looks like a real ice princess! This is such a luxe look, and it's perfect for any holiday party, date night, or pretty much any important event where you need to dress up, and that logo belt lets you know our style queen means business.
Drab To Fab
Moments before Jennie arrived, this was just some boring old building with some cars strewn around. Suddenly it becomes the backdrop for one of Korea's it-girls in her high-end Insta outfit capture where we're all ogling over this cute little co-ord outfit. Just proof that you don't need an aesthetically pleasing background if everyone is going to be too busy focusing on your lewk.
A Real Crowd Pleaser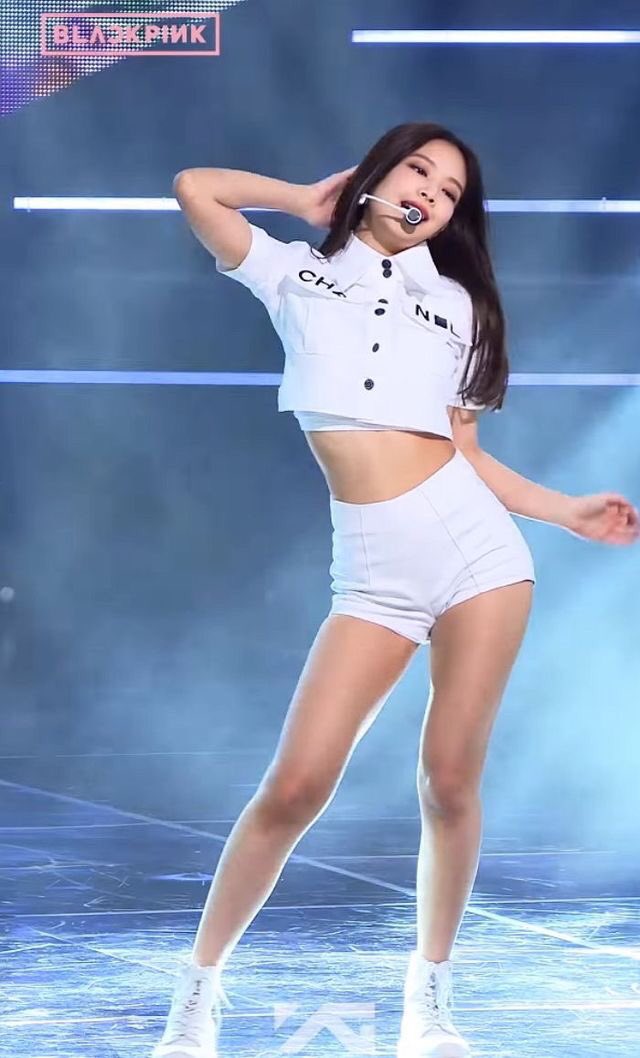 Even in her stage outfits, Jennie is known to rock her fave brand, and honestly, if it helps her feel herself when performing, we're here for it! Chanel really does seem to have something for every occasion, and Jennie styles it out to the best of her ability.
Time For Tea
Even when stopping for a cup of tea (or coffee), an afternoon tea outfit can't go wrong with the French brand's logo as the focal point of the cute yet minimalistic look. Jennie wears Chanel like how we wear merch, and we really aren't mad at it. Stan Chanel. Stan Jennie. Stan taste.
How you like that? Jennie is a real fashionista, and her heart probably has the infamous logo tattooed in the center. We love our little human Chanel and will never get enough of the looks she serves us.
What's your favorite Jennie look? How much Chanel do you think she owns? Let us know down in the comments below or by tweeting us @TheHoneyPOP!
Looking for more BLACKPINK? We gotchu
TO LEARN MORE ABOUT BLACKPINK:
FACEBOOK | INSTAGRAM | TWITTER | YOUTUBE
Featured Image Source: Naver
Jazmin Williams
Creative Director of The Honey POP. Disney and pop culture enthusiast.