Get ready to meet your favorite new artist, Alex Frew. He is a Canadian singer-songwriter who has signed with Warner Music. His lyrics make it clear that his music comes from a personal place, and you really can feel that he puts his all into his craft. 
His newest song, 'Something To Hold Onto,' shows what a unique artist Alex is. We mean that in the best way in case that isn't clear. His way of making a track that definitely feels like a dance track while still having deep, meaningful lyrics? We have no choice but to stan. The beat is so unbelievably fun, and we have had it on repeat since first hearing it. 
We can't stop thinking about the line, "I can hijack your emotions, and I'll drive them like I stole it." After this quarantine, we are ready to let a stranger we meet in a club hijack our emotions, that's for sure. Another lyric we instantly became obsessed with is "I'm your fix, just take a hit." It's such an immensely relatable thing to have someone be your "fix" and essentially the thing you're addicted to. It can be all-consuming in positive and negative ways. Alex is the real deal when it comes to writing. Just check out his track 'Get Out Alive' if you need further proof.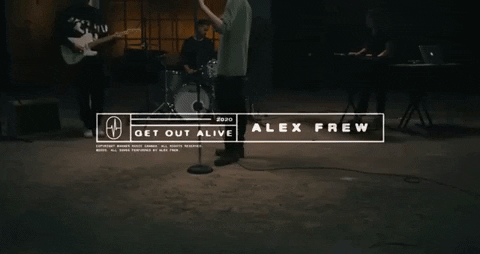 Here at The Honey POP, we are forever supportive of young artists like Alex making it big in this business, and it's clear he's got the ability to do so. We can't wait to see what 2021 brings for Alex. Fingers crossed that we get a lot of new music!
Check out the lyric video visualiser below!
You can also stream this bop on other platforms here!
We would love to hear from you! What do you think of 'Something To Hold Onto?' Let us know by commenting down below or tweeting us @TheHoneyPop! We are also on Facebook and Instagram!
TO LEARN MORE ABOUT ALEX FREW:
FACEBOOK|INSTAGRAM|TWITTER|WEBSITE|YOUTUBE
Featured Image Source: courtesy of Warner Music