Welcome to Fanlanthropy – a new series here at The Honey POP where we shine a light on incredible stans who are using the power of fandom to do good in the world and help out important causes. Fandoms are super powerful in sharing information and working on projects, so using those impressive skills for a good cause ends in some great results.
It's common knowledge that Harry Styles is someone with a big heart and a caring soul. His mantra "treat people with kindness" encourages people to think of others, and he's often doing good deeds himself, so it's no surprise that he has inspired his fans. Harries have come up with the idea of the Fine Line 5K, an innovative way for the fandom to work together even during a pandemic and support important causes. We spoke to the creator of the project to learn more.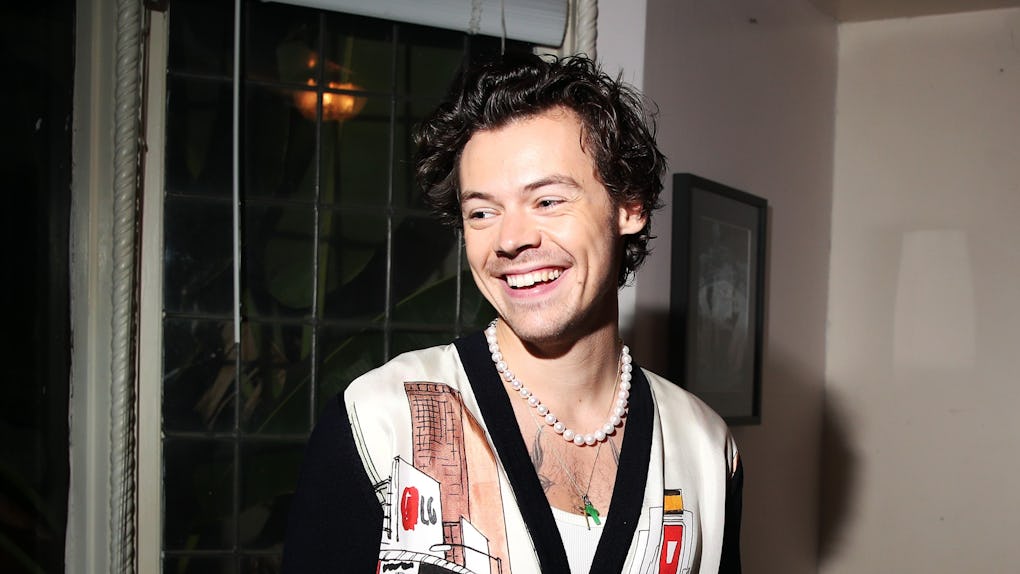 Can you introduce yourself to our readers?
Hi! My name is Ellie-Mae and I'm a 26-year-old avid Harry Styles fan from Liverpool in the North West of England.
You've created the Fine Line 5K project in honor of Harry Styles! Can you tell us a bit about it?
The Fine Line 5K is a year-long charity event with aim of raising as much money as possible for a different charity every month, as well as bringing together Harry Styles fans all over the world. By completing a 5K every month, fans can keep physically healthy, and by sharing our successes, hopefully, we can give each other that much-needed boost during a time that has been incredibly difficult for all of us.
How did you come up with the idea for this project?
In December last year, I was involved in a similar event. I ran a sponsored 5K to raise money for a children's hospice and when I saw the turnout for the event, I was so inspired to see all those people come together and raise so much money in such a simple way. I've seen firsthand, how giving the Harry Styles fandom is, and during a time when charities are really struggling with fundraising, I figured now would be the perfect time to try and lend some support. Doing this, we stick to COVID restrictions, but get our exercise and support people who really need it.
The current charity you've chosen to support is Girl Out Loud – can you tell us a bit about the charity?
Girls Out Loud are a charity based in Manchester in the UK. Their aim is to provide support for teenage girls across the UK, to help guide them down a path that will help them make the best choices for later life. They run several programs, for example, the Big Sister program, which pairs a volunteer Big Sister with a young girl who needs support and gives them the facility to mentor their little sister and develop their self-confidence as well as providing a shoulder to lean on and an ear to listen should they struggle with mental health or other worries that they may face as a teenager.
This project will support several charities. How did you decide on which charities to support?
When I first began this in January, I had the first two charities planned, but since I wanted as many Harry Styles fans as possible involved, I opened up the floor and asked them to suggest types of charities they'd like to donate to. I had an amazing response which allowed me to go ahead and research causes that matched what people would like to donate to. I've tried to pick smaller charities, but also charities whose cause I really connected with when I read their mission statement.
What are the benefits of getting involved with the Fine Line 5K?
The obvious benefit is that you'll be donating money to charity, but I believe there are some great physical and mental benefits too! It gets you out in the fresh air for however long it takes you to complete the 5K, and personally, I feel a great sense of accomplishment afterward! I also offer reward packs as incentives and for the opportunity to donate a little extra. The special edition reward pack includes an exclusive acrylic medal, designed by me and inspired by a song from the Fine Line album, that changes every month with the charity.
We all know Harry Styles has been involved with philanthropy work in the 10+ years he has been in the industry. How does he inspire you?
He inspires me in so many ways. The biggest thing is that he supports and gives back without question. No matter who you are or where you come from, Harry Styles gives his love and support and it's a lesson I have tried to carry with me in my life too. Kindness costs nothing and I think Harry has been the number one advocate for showing that. In recent years, he's helped me to be kinder to myself, but also to think about who else might need that little bit of kindness.
We know how powerful fandoms are, what do you think about fandoms and the importance of using their platforms for vital causes such as this one?
The aim is always to support causes like this. Without supporters, it wouldn't be successful and I think when you create something in honor of someone, such as this one being inspired by Harry Styles, instantly people can connect to it. A fandom's reach on social media is huge which allows something like this to be seen worldwide instead of just being a fun idea I cooked up in my brain one night. You only have to look at what fans did in honor of Harry's birthday to see the power they have and how generous they are with their support. It's astounding, and I think they're the best people to spread the word about any cause whether it be big or small. We want to make Harry proud when you get down to the nuts and bolts of it. We want him to see that his message is being listened to and that we love him. I think the same can be said for any fandom coming together to support a cause.
How can people get involved with the Fine Like 5K?
To see all the ways in which you can get involved in the Fine Line 5K, you can head to the website. You'll have options to join a 5K, or if you don't fancy the 5K but still want to show your support, you can simply donate to that month's charity. To keep up to date with everything going on and see all the successes or if you have any questions, you can follow @fineline5k on Instagram. I'm always available and will do my best to help you out.
Thanks, Ellie-Mae! Harry would be over the moon!
Will you be getting involved with the Fine Line 5K? What fandoms do you know that are doing good? Let us know down in the comments below or by tweeting us @TheHoneyPOP!
Craving more Harry Styles? Here you go!
TO LEARN MORE ABOUT HARRY STYLES:
FACEBOOK | INSTAGRAM | TWITTER | WEBSITE
Image Source: Bibi Lara
Jazmin Williams
Creative Director of The Honey POP. Disney and pop culture enthusiast.