Julia Michaels has been taking us by storm for years, and she just keeps getting better and better. With her latest release, 'All Your Exes' as soon as we saw the visuals, we noticed a pattern. Julia always puts out the most incredible music videos!
So, of course, we had to break down some of our absolute favorites for you guys! Each of them fits the tone of the song perfectly, which is always what we're looking for. We simply can't wait to nerd out with you guys about these videos!
In even more exciting Julia Michaels news, her album will be dropping on April 30!! So close yet so far! We honestly can hardly wait to have a full album worth of music!
Let's get into all things music videos!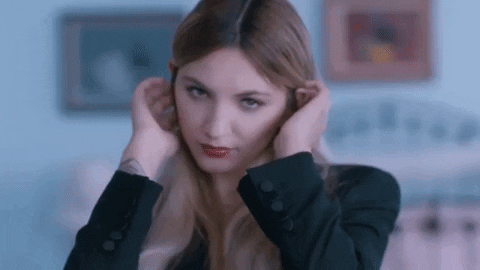 'All Your Exes'
We were dying at all the photos of her and her real-life boyfriend JP Saxe all over the mirror! We love the personal touches that you don't get with a casted love interest. The whole crazy girlfriend vibes are just gold. We truly can't get enough of the aesthetic of the video. It truly feels like a movie where you get to watch Julia Michaels complete her agenda: wanting all the exes dead.
You can stream 'All Your Exes' here!
We just have to point out how good Julia Michaels looks here! She's killing the looks through the entire video! We are obsessed with it just being her and different backgrounds. It allows Julia to shine, and we can focus on her without too much of a storyline. Plus, on top of all of that, this song is just incredible.
'Apple'
This music video is watching Julia Michaels shoot promo shots for the EP Inner Monologue Part 1, however, it fits. The whole vibe for the album makes perfect sense with 'Apple.' It's all flowers and bright colors, and we couldn't love it more.
'Uh Huh'
We are taking it back to the og project Nervous System. This is one of if not our number one favorite track from the record and the video did not disappoint. The vibes are all immaculate and it's so cutesy. It's hard to be cutesy without crossing the cheesy line, but Julia Michaels has mastered it here.
'If The World Was Ending' With JP Saxe
Now, this is technically JP's song featuring Julia Michaels, however, we had to include it. Knowing they are truly the person the other would want to be with 'If The World Was Ending' is just too precious to handle. It adds so much emotion to this track and video. Everything about this video makes us feel so warm inside.
We would love to hear from you! What is your favorite Julia Michaels music video? Let us know by commenting down below or by tweeting us @TheHoneyPOP! We are also on Facebook and Instagram!
Need more? Of course, you do!
TO LEARN MORE ABOUT JULIA MICHAELS:
FACEBOOK | INSTAGRAM | TWITTER | WEBSITE | YOUTUBE
Featured Image Source: Vince Aung