How's everyone doing? Are you freaking out as much as we are? Cause our queen Ashe just dropped her new single 'I'm Fine,' and we are far from fine after listening to the latest masterpiece of her upcoming debut album Ashlyn.
'I'm Fine' was something that went higher than expected! Using a new sound, Ashe has released the fifth of one of the year's most expected albums: Ashlyn. Letting us appreciate her angelic voice, the song 'I'm Fine' talks about the one person we all have that always knows when we are not feeling like ourselves. The person that knows you so well can tell you when you are faking being fine… Ashe, we love you.
"I try to say I'm fine but you don't believe me."
Ashe has proved to us again that she is one of the best songwriters of the century. She founded a way to express exactly what we feel when we want to seem okay, and we aren't. "We all need someone there for us sometimes" … Throughout all the song, she tells her own experience through her life, letting us connect with the feeling and with her. Cause we all know we need those people in our lives.
Listen to Ashe´s latest single HERE !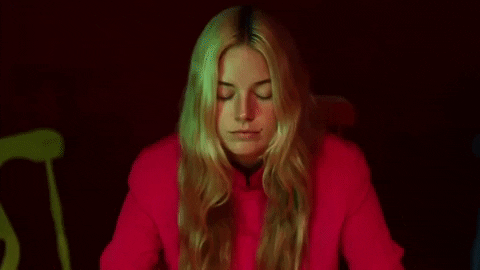 We Stan Her ASHEsthetic!
Besides the beautiful song she released, she also blessed us with a music video for her single! In a homemade recording studio, Ashe has taken us on the journey of making 'I'm Fine,' showing us her incredible vintage studio and some funny and adorable moments that make all of us melt our hearts. Also, let's not ignore the iconic way the video was recorded. The video presents a vintage-kind of camera that allows us to see the video as if it was made in the late '80s, making us feel that we have time traveled with our favorite musician. Again, Ashe has reminded us that she is the pure essence of the retro style in the 2020s.
If you haven't watched her music video, don't worry cause we got ya!
The Countdown Still Continues…
Ashlyn is just around the corner! We cannot wait to finally hear our queen's debut album and what she has been preparing for us! The track list for her album Ashlyn has been revealed, letting us know that we are expecting 14 songs in it, of which 5 of them are here previous releases 'Save Myself,' 'Till Forever Falls Apart feat. FINNEAS, 'Moral of the Story, 'Moral of The Story REMIX' and her newest single 'I'm Fine.' This album is going to be the end of us, we already know!
Get ready to be blessed with Ashlyn this May 7! But in the meanwhile, let's all stream the excellent new release from Ashe 'I'm Fine'!
What did you think about the new single? Tell us everything in the comment and reach us out on our Twitter, Facebook and Instagram to be updated on everything about Ashlyn!
Want to know more about new releases? Buzz with us.
TO LEARN MORE ABOUT ASHE:
FACEBOOK | INSTAGRAM | TWITTER | WEBSITE
Featured Image: Danna Tripper