Can you believe it's been a year since BTS held their first BANG BANG CON? If you're reminiscing over the memories where ARMY around the world united together to watch their favorite seven boys on stage from some of their iconic tours and shows, then you're in luck as BANG BANG CON 21 is here and happening this weekend!
As a gift from BTS, BANG BANG CON offers free access to past concerts and fan meets. The event kicks off with 2015 BTS LIVE TRILOGY: EPISODE I. BTS BEGINS, before continuing with the fan meet event BTS 5TH MUSTER [MAGIC SHOP] which was held in 2019, and concluding with BTS WORLD TOUR 'LOVE YOURSELF: SPEAK YOURSELF From the 2019 São Paulo, Brazil date.
Last year's first-ever BANG BANG CON took place on April 18 & 19 and racked up a whopping 50.59 million views in a span of 24 hours and 2.24 million concurrent viewers. It was regarded to have set a new norm for online concerts in the wake of COVID 19 putting a halt to in-person live music events.
To prepare for this weekend's event, we've created a checklist of things to enhance your experience as an ARMY.
ARMY Bomb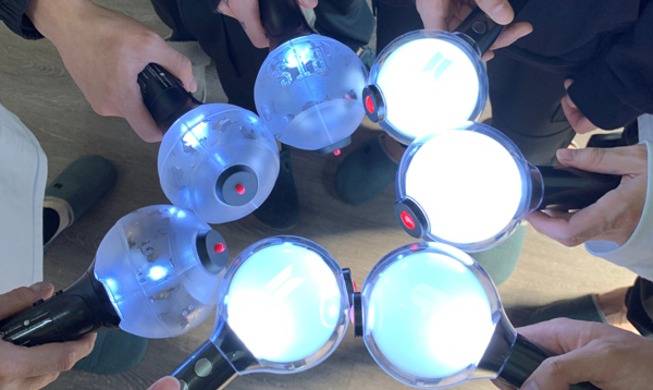 If you own an ARMY Bomb, this is the perfect time to put it into use! While it's unconfirmed if the event will connect to Weverse like last year, which allowed the lightsticks to connect with the content, it's still great to have with you to create an authentic concert experience. And make sure you have batteries, too, because 12 hours is a long time, right?
Any and all merch
If you have any t-shirts, hoodies, hats, or blankets, get them all and kit yourself out! And yes, DIY merch is welcome if you don't have anything official. Or if you have any clothes matching the BTScore aesthetics, that's also a great inspiration for your outfit. And don't forget to do your pre-concert selfies!
A comfy place to tune in
12 hours is a long time so make sure when watching BANG BANG CON 21 you're as comfortable as possible! Pillows and blankets are the perfect aid, but make sure you've got enough room to bust a few moves – we don't need any injuries or accidents, plsandthx.
Snacks, snacks, snacks!
Make sure you're fueling your energy for BANG BANG CON 21 with plenty of snacks! From pizza fingers to popcorn, or chips and dips, snacks are great to keep you going without the commitment of sitting down for the full meal. Oh and don't forget to stay hydrated, ARMY! And if you've been planning to keep it BTS-themed, you can find plenty of their well-known fave snacks like banana milk or honey butter chips on Amazon Prime.
ARMY to keep you company
Enjoying concerts is far more exciting with friends! If you haven't got any ARMY residents at your home or in your safe bubble, make sure to invite your fave moots into a group chat or join a Discord to keep connected during the event. Because you need someone to freak out over those high notes and flawless moves with, right?!
Printable freebies
BANGBANGCON21💜💛
my version of the tickets for the bang bang con 21 @BTS_twt @gvfxarmy
#BANGBANGCON21 #ARMY #BTS #BTSARMY #방방콘21 #방탄소년단 pic.twitter.com/YnvN39WBfZ

— francisca oceana⁷ (@dosmelocotones) April 13, 2021
We usually get to keep things like tickets or pieces of confetti as special memoirs from concerts but since we're tuning in at home, creative fans have been making things like free printable tickets for keepsakes of this sure-to-be-memorable event. We've attached this amazing one by @dosmelocotones, but there's plenty on Twitter to find and print, and the perfect freebie to commemorate BANG BANG CON 21 with!
ARMY, ARE YOU READY?!
BANGBANGCON 21 takes place on April 17th and kicks off at 3PM KST on BANGTAN TV
Will you be tuning into BANG BANG CON 21? What will you be doing to make the event extra special? Let us know down in the comments below or by tweeting us @TheHoneyPOP!
Need more BTS in your life? We gotchu.
TO LEARN MORE ABOUT BTS:
FACEBOOK | INSTAGRAM | TWITTER | WEBSITE
Featured Image Source: BigHit Music
Jazmin Williams
Creative Director of The Honey POP. Disney and pop culture enthusiast.