Dear readers, we have been saved from a black and white life into a rainbow one thanks to COIN. The colorful trilogy has finally been completed, making us have the complete collection of our precious Rainbow Mixtape.
After a long way, we have finally seen the rainbow, but it has been the most precious and flawless rainbow we have ever heard.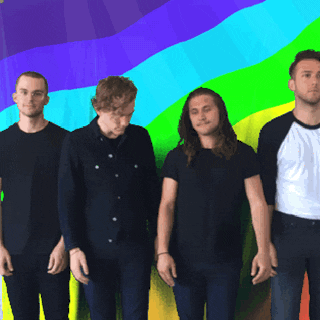 Red-Orange Are The Perfect Colors To Close The Mixtape!
We were already in love with how the Rainbow Mixtape was going with the previous release of two-thirds of it. But now, the three songs that helped the collection be completed make us wanna kiss COIN's brain. Not only adding their mind-blowing single 'How it Feels', but also adding to the tracklist our new favorite songs 'Hypnotica' and 'Dream House', we really feel we are in dreamland with the band, and we never want to leave here. It is just too damn beautiful!
There's Something In It That Makes It ICONic!
For some time, we have been gathering gifts that COIN has left us to get to the other side of the rainbow to find the gold pot. But we found something truly better, we found the Rainbow Mixtape to brighten our days.
Listen to Rainbow Mixtape HERE!
We have said it before, but COIN's sound is something so magical that nothing in the world compares to it. It is a fact! The gentle, fresh, and catchy music of the band is full of joy and energy, helping us to go through each day. They truly make us show our best colors.
Rainbow Feelings All Over Us
The mixtape indeed is a masterpiece! Since the release of the first third of the mixtape, Indigo Violet, COIN was showing us how special this collection would be. But it went above our expectations.
Songs such as 'Different Moons,' 'Earth to God,' and 'Dream House' have special places in our hearts. And the Rainbow Mixtape owns us. We love every second of it and the way it makes you feel free and like ourselves. We are still trying to sort out how can three people be so talented! There's no way this collection is from Earth. There's no way we are gonna 'Make It Stop', COIN is on loop all day! Thank you COIN for blessing our ears.
We Found Our Dreamland
We are feeling alive with COIN and we know we are going to feel in another world when we hear them live. Don't worry because we are near! With the release of the artwork, the band has released the tickets for their tour! We are trying to get a ticket for every concert cause this is going to be something special. Our FOMO is so big for these concerts, that we are searching for money under the couch to get enough for every concert!
We want to be in the Rainbow Dreamland, a fitting tour name, and feel that we are over the rainbow, finding the color in our life next to the wonderful and lovely band, COIN.
What are your thoughts on the colorful Rainbow Mixtape? Are you planning to go to any tour date? Tell us everything in the comments and tune with us on our Twitter @TheHoneyPop!
Need more music to make your day more colorful? Buzz with us!
TO LEARN MORE ABOUT COIN:
FACEBOOK | INSTAGRAM | TWITTER | WEBSITE
Featured Image Source: David O'Donohue