We've had 'Butter' on repeat since it dropped just hours ago. It's a clear future hit that's set to take the world by storm. The second English single by K-POP legends BTS has the music industry and fans alike buzzing with excitement and intrigued to see what can be expected from the septet. Following the release of the single, BTS sat down in a press conference which we were lucky to attend to chat all things buttery and Bangtan.
It's been a whirlwind of a year for the Bangtan boys. As the world entered a global pandemic and seeing a decline in many areas, it didn't stand in the way of the continuous BTS global domination, even if it wasn't actually their plan. Last summer saw the release of their spontaneous English single 'Dynamite,' released as a pick-me-up for their dedicated fans, only for it to exceed their expectations, gaining global traction and landing them with a GRAMMY nomination. Now, BTS has released their second English single 'Butter' – an addictive dance-pop banger that is sure to take the world by storm once more and has every potential to be crowned song of the summer 2021. But are they expecting a repeat of last year's success?
When asked if they're aiming for a second GRAMMY nomination with this song, lead rapper SUGA says: "I can't say that it's not [a goal.] Of course, we continue to want to receive a GRAMMY Award. 'Butter' will be another try and I hope we can have good results." We have every faith in them!
Of course, with BTS being a phenomenon it has definitely been a helping hand on the growth of K-POP's international reach. Being asked as to whether or not they categorize themselves in the K-POP genre, leader RM gave a new perspective of the commonly asked question. "When we hear them [questions about K-POP and the American market], we do a lot of introspection… but I think K-POP is not so much a music genre but should be categorized as an industry."
When it comes to genre, BTS really don't fit one simple label. Having an eclectic sound in their entire catalog, it's impossible to contain them in just one genre, thus leading to their own genre, simply BTS. Originally debuting as a hip-hop group, the Bangtan Boys have pretty much dabbled in every genre you can think of. So when asked if they would return to those origin roots, SUGA pointed out how their latest album BE actually had hip-hop components and when it comes to their sound, they "don't really think about genre divisions when creating music."
They may be on their ceaseless incline and winning the hearts of the world, one thing that never leaves BTS's mind is, of course, their ARMY. Their dedicated fans who they love so much that they even got a shoutout in the new single. With just weeks to go until their eighth anniversary, Jimin shares: "For the last six months we've been contemplating our team's future, relationship with fans and how we can satisfy them with new sides of us. Personally, I've been thinking about how to express myself in this one song, in terms of vocal, performance, and visuals." Don't look at us, our eyes are sweating.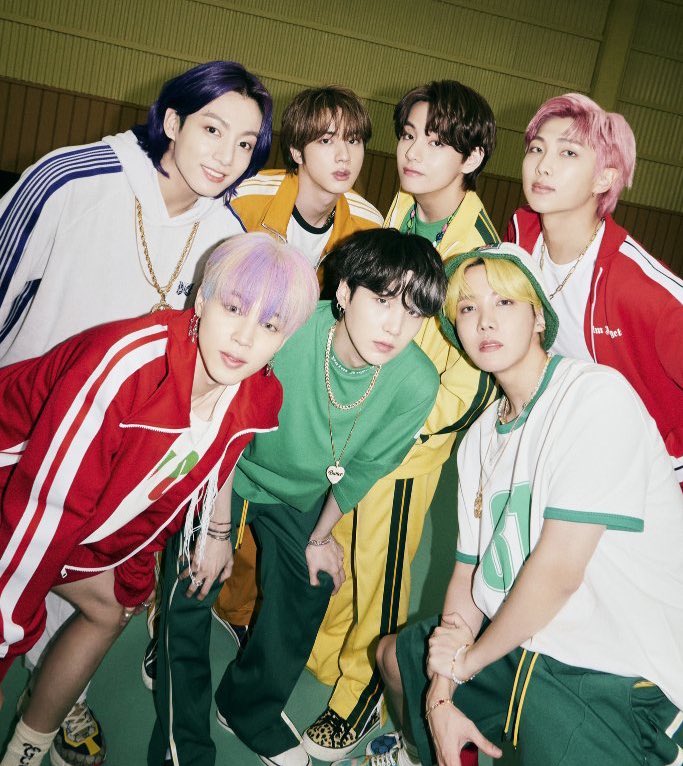 Amongst the millions of fans are some famous faces. Just a few months ago, Coldplay gave rare permission to BTS for them to cover their song 'Fix You' on MTV Unplugged, and most recently the legendary Queen showed their love for the new single ahead of its release, sparking discussion that 'Butter' would sample one of their iconic songs, or perhaps even a future collaboration between the two history-making groups. While nothing is currently in the works, it's definitely something BTS is game for. "Queen, call us. We're always waiting," urges Jin. And we second it!
With the first half of 2021 rapidly drawing to a close, there's still much of BTS to experience this year. While they have to remain tight-lipped on what else is to come in the next few months, we know we can expect a cameo in the upcoming Friends reunion ("if we spoil anything, we could get in trouble!" shares RM, who also confirms they've shot everything already.) and their anniversary celebrations next month. We're also set to get the first-ever live performance of 'Butter' this Sunday at the Billboard Music Awards, where the septet are nominated in four categories ("We're honored to be nominated in four categories, especially in categories we haven't been nominated in before" shares Jungkook.)
If you're wondering what to expect, J-hope teases that "the performance showcases the unique energy of BTS." But rest assured, there is a lot more coming from the Bangtan boys before the year is out. "We have been very busy even if you haven't been able to see that," V informs. "We've been working on our album." We already know it's going to break records!
'Butter' is out now
Are you melting over 'Butter?' What do you think is next for BTS? Let us know down in the comments below or by tweeting us @TheHoneyPOP!
Craving more BTS? We gotchu
TO LEARN MORE ABOUT BTS:
FACEBOOK | INSTAGRAM | TWITTER |  WEBSITE
Featured Image Source: BigHit Music