Congratulations, BTS!
This is all you will be hearing everywhere on the internet right now. And why wouldn't you? One of our favorite K-POP supergroup BTS is on a roll by proving their world domination and we are cheering our lungs out here and celebrating their latest achievements with them!
[apple_music_ad artist="BTS"]
Grammy-nominated global phenomenon, BTS, continues to take the world by storm by delivering bangers and setting new music records. And as we are currently watching their newest release 'Butter' sweeping away every record, words aren't enough to express how we are feeling right now, but maybe this gif can give you a glimpse of our excitement level!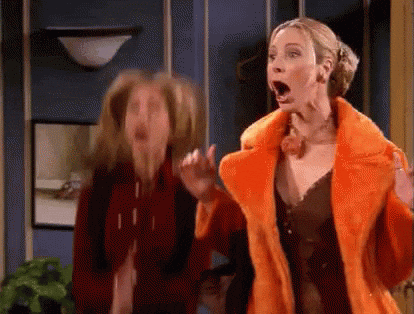 After their 'Dynamite' English language debut single release in 2020, Bangtan Boys aka BTS unveiled their latest single 'Butter' and left fans in a frenzy on social media. This smooth as 'Butter' megahit single is smashing most of the band's records and has one-upped its own previous 24-hours record. According to the streaming website YouTube, the official music video for the single has set a new all-time record for the biggest YouTube music video premiere by amassing over 3.9 million peaks concurrent viewers. The video also garnered approximately 113 million views within the first 24-hours of release by midnight ET. BTS has set the previous record with the release of 'Dynamite' in 2020, racking up to 101.1 million views in the first 24 hours according to official figures registered by YouTube.
While K-pop legends BTS have put their 'Blood, Sweat & Tears' to work their way up to be where they are today and got the entire music industry buzzing around them, their fans aka ARMY are an unstoppable force and their devotion is not hidden from the world. The current public views counter shows a total of 188,327,791 views as of now and the numbers are rapidly increasing. So it's safe to say, they are not too far from setting new global records soon. Well, we don't doubt ARMY's ability and support for their idols but it would be interesting to see how they are going to break their own record the next time!
Though however they accomplish it, sure our minds will be blown away!
And this is not all. 'Butter' has also set a new Spotify daily streaming record. It garnered 20.9 million global streams on Spotify within 24 hours of its release and set a new opening day record for streams in the history of Spotify.
We've been jamming to 'Butter' on repeat since its release. It is indeed the perfect seasoning for this summer. While the days are getting warm and pool parties are coming closer, this summer anthem makes a perfect addition to your music playlist. An upbeat, vibrant, and groovy dance-pop number that will make you put on your dancing shoes and burn up the dance floor! And we witnessed a similar vibe when BTS performed 'Butter' for the very first time at the Billboard Music Awards 2021.
It was very interesting to see them performing live after a long break and that made us emotional. And as thrilled as the fans and ourselves were, the boys were equally thrilled to go back and set the stage on fire. Guess we all are missing the thrill and charm of live music; and our favorite concerts, gigs, and music festivals in our lives aren't we? And with their first-ever butterful performance, Bangtan Boys danced their way into our hearts!
But the celebrations do not just end here. Our heartiest congratulations go out to our favorite lads for snagging multiple awards on the 2021 Billboard Music Awards last night. They took home Top Duo/Group, Top Song Sales Artist, and the fan-voted Top Social Artist awards. And of course, the entire ARMY, around the globe, celebrated their excitement together while trending on social media and showered their wishes and love on the lads.
Following the release of their another massive hit single 'Butter,' BTS sat down with Zane Lowe on New Music Daily on Apple Music 1 to chat all things buttery! They discussed their newest record-breaking single 'Butter' and the inspiration behind creating this summer anthem. They also talked about making music to reflect the times, streaming success, global recognition, and their strong and beautiful bond with their fans aka ARMY around the globe. (Courtesy of Zane Lowe on Apple Music 1.)
BTS On 'Butter'
Well, the global pandemic has really shifted the functioning of the world and there's nothing that's not affected by it. But we are glad that BTS came to our rescue with this sexy number; a vibrant summer song that brings a smile to our faces and makes us want to go out. (but hello, wear your mask and don't forget social distancing people!)
Firstly, we never actually expected that we were going to release another single, but the virus is getting longer and longer so we thought we need another summer song. We thought we needed another summer number, and 'Butter' was perfectly fit for that. And now we're here.

– RM on 'Butter' with Zane Lowe on Apple Music 1
BTS On Making Music To Reflect The Times
Just like all of us, the boys are missing the charisma of live music and we feel them on every level. But hey, life goes on no matter what. With 'Butter,' BTS gave us an endearing hope that the sun will shine again and things will get better!
We've done kind of like a calm and serious vibe like 'Life Goes On,' and maybe something with consoling vibes like 'Dynamite.' Now, what we can do is just release a cool summer song and make people dance in their rooms or houses or anywhere to just give them energy and help them survive. I think it helps us, too.

– – RM with Zane Lowe on Apple Music 1
BTS On Missing Their Fans During The Pandemic
The bond between the boys and ARMY makes our hearts warm. And not just the boys, their fandom is a strong and close-knitted family. They have shared all the good and bad moments together and this separation is making them long for each other more than ever. But on the flip side, the boys got a chance to spend more time with their families, which is otherwise difficult due to their hectic schedule throughout the year.
BTS On Their Streaming Success
BTS feels grateful for all the love they have been receiving from their fans around the world even while being away from them. Their whirlwind success with big numbers, awards, and records sometimes feel overwhelming. Don't worry ARMY, the boys will return very soon to give you bigger and better experiences. We absolutely can not wait for that day to come again when we can all cheer loud together in sold-out arenas.
Our hearts are melting like 'Butter,' don't know if it's the growing summer or our love for BTS, maybe both! Are you loving the song? Let us know down in the comments below or by tweeting us @TheHoneyPOP! You can also connect to us on Instagram and Facebook!
'Butter' is out now
Need more BTS in your life? Of course you do! Wanna join ARMY? Let us help.
TO LEARN MORE ABOUT BTS:
FACEBOOK | INSTAGRAM | TWITTER |  WEBSITE | YOUTUBE
Featured Image Source: BigHit Entertainment
Khushboo Malhotra
Khushboo Malhotra works as a freelance journalist, digital marketing & media strategist, and content marketer featured in various global and national media publications and works alongside B2B, B2C, and eCommerce brands. A wide range of her work spans music and entertainment culture, sustainable lifestyle (including sub-niches), and SaaS. She enjoys writing novels and designing screenplays, grooving at concerts, or exploring new fashion and cuisines that tickle her taste buds when she is not working. Have a story? Get in touch: khushboomalhotra24@gmail.com