It's not even been a week since BTS dropped their new single 'Butter,' and it's already proving to be an absolute smash. Having dropped the song back last Friday, the Bangtan boys have already accumulated a number of records both with the music video and the song itself, and it's already surpassing the success of their GRAMMY-nominated 'Dynamite.'
Following the live premiere of the music video, the boys broke their own record with 3.9 million concurrent viewers for its premiere on May 21st. The previous record – of course, held by themselves – was for the music video for 'Dynamite' with 3 million concurrent peak viewers. We love to see it!
Within 24 hours after its release, 'Butter' also broke the record for the most-viewed YouTube music video in 24 hours with 108,200,000 views, breaking the most-viewed YouTube music video in 24 hours by a K-pop group. And it's not just the music video making waves, either. After the single dropped on Spotify, it accumulated 11,042,335 global streams in a single day, breaking the record for a most streamed track on Spotify in the first 24 hours.
The success of the hot new summer single isn't just within streaming, as it's making radio impact, too. BTS has now become the first international group to close 100% of the US Top 40 radio panel on release week. 'Butter' is listed as having 180 adds in Mediabase. The single achieved 2,217 spins at the Top 40 format during the week.
So, with all this success so fast and more anticipated, what is it that makes 'Butter' oh so irresistible?
With summer on the horizon, the hot new hits for the season are dropping and setting us up for a soundtrack to remember. 'Butter' takes on the fun and flirty feeling encaptured in a light-hearted and groovy beat that is too irresistible to ignore, yet it's nothing too complicated. Sometimes less is more when it comes to art. "'Butter' is very simple. It's getting warmer and will get hotter, and we hope that you can spend a fun summer with BTS," Jungkook explained at their press conference last Friday.
"If you hear the title 'Butter,' you know immediately that we tried to prepare a song that's easy listening, instead of [something with] a really heavy or profound message," Jimin elaborates. "This is a little embarrassing, but it's something smooth like butter that melts into and grabs hold of you. It's a very cute song, sort of a confession." Never embarrassing, Jimin! We love being schmoozed by you boys, so no complaints over there. Carry on.
An undeniable trend in music for the past year has been modern retro, which brings nostalgia that feeds into our need for simpler times – especially during hard times – yet is something new and fresh. 'Butter' is a captivating dance track that follows reminisce of music our parents, grandparents, and elders would have likely had us listening to when we were at the root of our love of the auditory art, but before we discovered our own taste in music. So it's a sense of comfort for many while bringing elements of more current music that is proving to be popular. It's enjoyable for your parents as well as your little siblings, making for a widespread audience.
Summer screams out for feel-good vibes. It's essentially the season that brings the best out in us, and with music being such a necessity for many, a good soundtrack is always searched out for and BTS bottle up those vibes in a song which we can't help to swig from when feeling so upbeat. It's a similar formula to what made 'Dynamite' a big banger which, even a year on, is so widely loved, and yet it's still so different at the same time. And with the world still in a pandemic, any positivity is greatly needed, so 'Butter' truly offers those fun feelings to help shine some light during dark times.
Every layer of this BTS banger, from lyrics to production and eye-catching choreography to accompany, is truly charming and beguiles us. It has every element that pulls us in as an audience and is proof that Bangtan are truly talented artists. Songs like 'Butter' are the perfect introduction for newbies and have the grip to pull you into discovering their eclectic discography. We're obsessed and so glad the general public is able to finally see just why BTS are so successful and are continuing to rise, with no plans of stopping for the foreseeable future.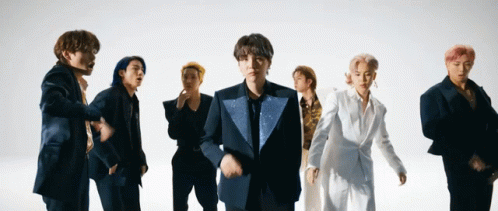 Are you loving 'Butter?' What's your favorite lyric from the song? Let us know down in the comments below or by tweeting us @TheHoneyPOP!
Craving more BTS? We gotchu!
TO LEARN MORE ABOUT BTS:
FACEBOOK | INSTAGRAM | TWITTER | WEBSITE
Featured Image Source: BigHit Music
Jazmin Williams
Creative Director of The Honey POP. Disney and pop culture enthusiast.