A week ago, if you asked us what our dream collaboration would be, Kelsea Ballerini and LANY would be on that list. Kelsea and Paul's voices sound like they were always meant to come together. What a rare and beautiful collaboration we are witnessing. 'I Quit Drinking' is easily in our top five songs from each of these artists.
Stream 'I Quit Drinking' here!
[apple_music_ad song="I Quit Drinking"]
'I Quit Drinking' perfectly blends the styles of Kelsea Ballerini and LANY. You hear a bit of that classic country feel but then are hit with the signature LANY sound. LANY's music makes you feel like you're somewhere on a beach every time without fail. We can already see this song being a main part of the soundtrack to our summer.
The whole concept of this track is wrapped up in the line, "you're the reason I quit drinking." At first, it sounds like a good thing that perhaps this partner has saved them from alcohol. However, towards the end of the song, it feels like it shifts. It makes it sound like more of a somber thing than a blessing. Of course, music is up to interpretation always so that could be way off.
What we do know is that that this song is a runaway hit. We can see this being a favorite of Kelsea Ballerini and LANY fans and bringing in a whole new group of listeners.
Kelsea Ballerini ft. Paul Klein of LANY – 'I Quit Drinking'
Yes, we're going to gush about this live performance. We could talk about everything we loved about it for a solid week. It's just that good. Kelsea Ballerini looks incredibly stunning as per usual, and Paul Klein of LANY looks as handsome as ever. Both of them sound like they're vocally at the top of their game right now. There's no telling where they go from here! We're hoping these two work together again in the future. We could go for an entire album of the country-soft pop sound.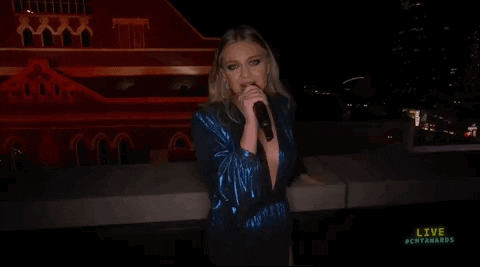 We would love to hear from you! What do you think of this Kelsea Ballerini and LANY collaboration? Let us know by commenting down below or by tweeting us @TheHoneyPOP! We are also on Facebook and Instagram!
Check out more of our new music coverage here!
TO LEARN MORE ABOUT KELSEA BALLERINI:
FACEBOOK | INSTAGRAM | TWITTER | WEBSITE | YOUTUBE
TO LEARN MORE ABOUT LANY:
FACEBOOK | INSTAGRAM | TWITTER | WEBSITE | YOUTUBE
Featured Image Source: John Shearer