Welcome to Fanlanthropy – a heartwarming series here at The Honey POP where we shine a light on incredible stans who are using the power of fandom to do good in the world and help out important causes. Fandoms are super powerful in sharing information and working on projects, so using those impressive skills for a good cause ends in some great results.

COVID-19 has been and continues to have a significant pressing impact on the world right now. As the world's disruption carries on, essential businesses and projects are struggling to operate or have had no option but to completely cease operating altogether. Charities which many areas are dependent on are facing an ongoing battle to meet the continuously growing demand for food. With numerous families losing their jobs and being forced to live on the streets, there are millions going hungry right now.
We have been introduced to community-run food pantries this year and the latest fandom to come together to use their powerful platform for a crucial cause is none other than Mamamoo's Moomoos. These pantries offer free food to those in need and show no sign of fizzling out. In honor of Mamamoo's seventh anniversary, Philipino Moomoos have created the CoMOOnity Pantry Project. We spoke to the organizers to learn more.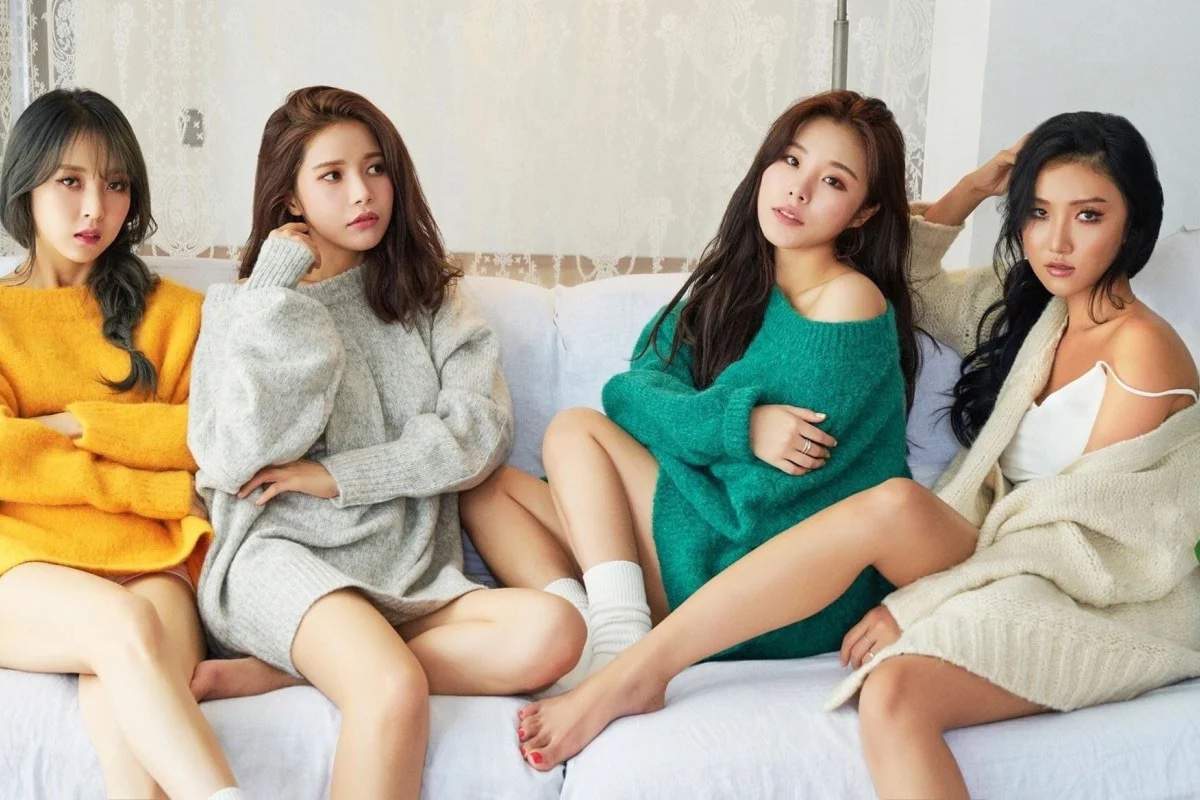 Can you introduce yourself to our readers?
Hi, we are Mamamoo Philippines (MMMPH), the first and only fan club for Mamamoo in the Philippines affiliated with Philippine K-pop Convention Inc (PKCI). We have been active since 2014, Mamamoo's debut year. Ever since its establishment, it has been our practice to be a fan club that is dedicated not only to Mamamoo but also to Filipino moos as well. This is why we have conducted events like anniversary fan gatherings and cup sleeve events and participated in local K-pop happenings like Philippine K-pop Convention and overseas projects such as rice wreaths and subway ads for Mamamoo. This is in addition to our activities for Mamamoo like streaming parties and group orders.
This year, Mamamoo Philippines started with fun activities for Solar's birthday like the Sip It Out cup sleeve event, Moomoosido Project, and online fan gathering event via Zoom. We also had a cup sleeve event for Wheein's birthday titled Coffee, Whee or Tea, and conducted giveaways and promotion for her Redd solo comeback and Where Are We Now comeback.
To celebrate Mamamoo's 7th anniversary, you're hosting the CoMOOnity Pantry Project – can you walk us through the project?
During this pandemic and to celebrate Mamamoo's 7th anniversary, Mamamoo Philippines decided to have a charity project in the form of a CoMOOnity Pantry. This is under a collaborative project called MOOKabayan, an ongoing merged project with our 7th Anniversary Gift Fundraising for Mamamoo members.
Basically, the idea of CoMOOnity Pantry Project is connecting helpful Moos together into one organized project that will make a short-term but memorable impact on a chosen community. That being said, we have posted calls for donations and call for partner community pantries on all our social media accounts.
The partner pantries were organized by people with the concept related to Mamamoo and can be anywhere in the Philippines. Currently, we have one partner with a successful community pantry setup which you can check out here. We plan to continue this project until July of this year with a target monetary donation of Php 20,000, and we are halfway in reaching our goal. We also have a team of MMMPH staff who canvasses goods, scouts for community pantries, create engaging posters, and markets our posts extensively.
What inspired you to create this project? 
This CoMOOnity Pantry Project was inspired by the community pantry wave in the Philippines. We have heard suggestions that MMMPH and moos should work together to set up a pantry from the fandom. We were really interested with the idea and formulated this big project that took us months to prepare, organize and implement.
We also want to give a special thanks to our CoMOOnity Pantry organizer and partner, Kristine Camille Sulit for the efforts of setting up the pantry in Angono, Rizal. She has been actively setting up pantries in Rizal since April 2021 during the wave of community pantries in the Philippines, and has organized calls for donations and set up pantries at Binangonan, Pag-asa, Taytay and Angono, Rizal. She even held a donation drive for the PGH when they were hit by a fire in May 2021. She is one heck of a charity worker who deserves praise! A Moomoo and an overwhelmingly good neighbor to the community.Kudos to you! 
It may interest you to know that MMMPH has been very active in organizing and implementing projects that help Filipino communities because moos (both Filipino and international Moos) have been very supportive of our causes and generous of their donations. We participated in PKCI's fundraising projects last year and were able to give more than Php 15,000.00 for their pandemic project and more than Php 61,000 for the victims of Typhoon Ulysses. These will not be possible without Filipino Moos and their compassion for helping.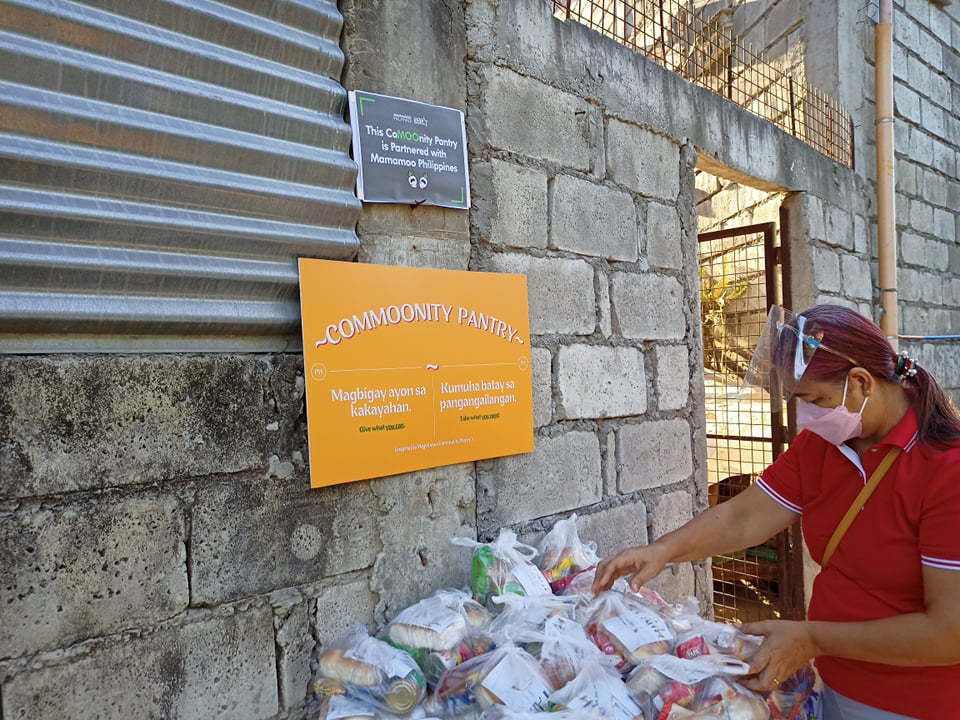 How will the CoMOOnity Pantry Project benefit people?
We like to think that all community pantry benefit people, whether a giver or a receiver. As the motto of community pantry goes, "Kumuha ayon sa pangangailangan, Magbigay batay sa kakayahan".
Community pantries were set up to make the community come together and help each other. This is also the idea of MMMPH's CoMOOnity Pantry. We, Moomoos, have been coming together ever since to help out communities and as a result, we have become stronger as a fandom who implanted in our hearts compassion, generosity, and thoughtfulness for our fellow Filipinos. For the beneficiaries of our chosen community, our partner has set up a pantry in Angono, Rizal that aims to provide the necessities of anyone who needs it. You can check this link for more info.
We know Mamamoo has done some amazing things such as recently donating proceeds from an online charity auction to low-income families affected by COVID-19. How would you say they inspire you?
Mamamoo has always been our inspiration, not only because of their music, but because of their personality and positive influence. With their words that are followed by their actions, Mamamoo has always been good role models to their fans from the start, and we do take pride in being a peaceful and loving fandom. As a result, we are taught to do good in everything no matter how small or insignificant it seems. We sure hope that Mamamoo themselves and Filipino fans will be proud of these projects we are doing for the fandom.
We know how powerful fandoms are, what do you think about fandoms and the importance of using their platforms for vital causes such as this one?
It has been very heartwarming and amazing that K-pop fan clubs, especially in the Philippines, have evolved from a group of fans connected by their love for their idols to a community that is always ready to help and contribute in any way that they can. We would like to believe that as a fandom with a big following in social media, MMMPH is given a platform to spark inspiration to fans, and advocate positive impact in their communities and every aspect of life. It is already embedded in our fan club and we always aim to spread this influence to Filipino fans as well. In every opportunity that arises where we can help, fandoms and fan clubs should use our platforms and our voice to engage K-pop fans to make a difference. We aim to continue this endeavor and our initiatives with these goals and perspectives in mind.
How can people support your project?
Donations may be in the form of money or in-kind goods and if they are interested, they may fill out this form. The compiled monetary donations will be used to buy food and grocery items for our partner pantries while donated goods will be pledged and coordinated by donors to be sent to partner pantries as well.
Another way of supporting is donating any K-pop merch that they own, which will be used as raffle prizes for donors. We have already collected various merch, most of them are official and sealed, and will raffle them to donors by the end of June and July. The Mamamoo Philippines fanclub is a non-profit organization so rest assured that all donations will be turned over to beneficiaries and all merch are given to the fandom.
Thanks, guys! We know Mamamoo would be thrilled to hear about this!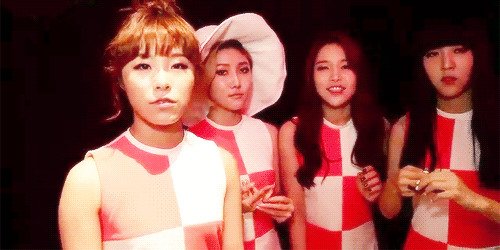 Will you be supporting this project? Do you know of any other fandoms doing good? Let us know down in the comments below or by tweeting us @TheHoneyPOP!
Want more Mamamoo in your life? We gotchu!
Want to see what other fandoms are doing good? Over here.
TO LEARN MORE ABOUT MAMAMOO:
FACEBOOK | INSTAGRAM | TWITTER | YOUTUBE
Featured Image Source: Bibi Lara
Jazmin Williams
Creative Director of The Honey POP. Disney and pop culture enthusiast.