So, honey bees, it seems this summer would have been the 27th annual Vans Warped Tour! Starting in '95, the Warped Tour created a space and scene for kids who never felt like they could fit in to run amok with outcasts and punks alike! Its cancellation was downright soul-crushing. Die-hard were the fans, who once found solace in the crippling sunburn, and drinking Monster Energy at 10 in the morning. A rite of passage for the self-proclaimed hardcore. What better way to relive the glory days than a playlist of quintessential pop-punk tracks? From '01 to '15, live from the scene, we present: Warped Tour Revival!
Stay tuned at the end for a list of bands taking on the scene today!
'The Taste of Ink' – The Used
The Used are no strangers to the Warped Tour scene. Having played the event a riveting eight times throughout their fruitful career (first show: 2002!) they've cemented themselves as one of the few original rock bands responsible for cultivating the sound and energy of Warped. Stemming from humble beginnings, the band experienced bouts of homelessness and drug use before managing to sign a deal with Reprise Records (home of Green Day).
Where are they now? The Used enjoyed releasing Heartwork, an album with features from Mark Hoppus and Travis Barker. (These guys collaborated with Blink-182 without actually collaborating with Blink-182. Impressive, honestly). Lead singer Bert McCracken has also worked with YUNGBLUD and Machine Gun Kelly on 'body bag,' a song off MGK's latest album, Tickets to My Downfall.
'Secrets' – State Champs
On the newer side of the scene comes State Champs (…the state champs of what, exactly?) Their debut album arrived in 2011 but the band only played their first Warped show in 2014. Derek DiScanio's vocals are right on par with the high-stake, highly-intimidating standards of the Warped Tour rock scene. Not to get all technical but vocal-fry is pure bliss when done correctly (and Derek knows exactly how to utilize it). The opening guitar riff in 'Secrets' is synonymous with pure adrenaline. A call to the ears of punk kids everywhere.
"You caught me in the right place / At the right time, so I'll just dive right in / Say you've got a blank space in your right mind / Well, here's my second wind!"
'Fixed at Zero' – VersaEmerge
Sit back. We need to talk about VersaEmerge. These guys didn't get the credit they deserve within the Warped Tour scene. Sierra Kay is an explosive powerhouse vocalist with cut-throat lyrics that pack a punch in your mouth. She allows you to humble yourself for even attempting to sing along to her high notes. Versa released their debut (and only) album Fixed at Zero in 2011 during a time when being a female-fronted rock group meant getting your knees, elbows, forearms, and chest bruised. Literally and figuratively.
Unfortunately, as it sadly too common in the industry over the years, Versa parted ways with their record label, and never got to release their second album, despite it being fully written and recorded. But one thing still remains true, VersaEmerge had fans going hard as hell.
Where are they now? Black Harnage (guitar and programming) went on to produce for other bands in the Warped Tour scene (PVRIS, All Time Low, Hands Like Houses). And Sierra started a shoe-gaze band! As of recent, she has been going by the moniker Bad Daughter and released three heavenly songs thus far.
'Anthem Part Two' – blink 182
There is something known to be plentiful and rich within the pop-punk community: guitar riffs you can recognize in a nanosecond. We think blink-182 is responsible for one out of every four of these. It says a lot about a band when their entire essence can be captured and recognized within the very first two seconds of a track. blink-182 is right up there with the Warped Tour pioneers of pop-punk, basically carrying the entire scene on their backs. They are solely to blame for raising a generation of kids who took absolutely no condemnation from anyone. And we're kinda glad for that backbone, actually. Thanks, Mark Hoppus. (Blink played Warped six times!)
Where are they now? The real question is who doesn't know what Blink is up to nowadays. Only a few artists still have their fanbase as in touch as they do, and we think that's quite admirable.
'Quicksand' -The Story So Far
We try not to be biased here, but The Story So Far is straight-up one of the best hardcore bands to have come out of the Warped Tour. Their self-titled third album is known within the community as one of the most iconic LPs out there. Its cover art is so iconic that even if you don't listen to them, we're confident you've seen it somewhere (see vinyl below!) The Story So Far earned their place on our revival playlist.
'Fire' – PVRIS
A beam of white light and unapologetic energy revealed itself in the form of PVRIS in 2013. No one was doing it like this band. Warped Tour and the scene were chock-full of uniform four-piece punk bands all looking to start the same riot. Enter: PVRIS. Heavily inspired by the legends VersaEmerge, Lynn Gunn gave the scene a taste of what dark-synth pop-rock music can do to a crowd (spoiler alert: people went crazy). Blake Harnage of Versa even wound up producing PVRIS' first two albums. And now, Lynn and Sierra Kay are perpetually inseparable close friends. They even have matching tattoos! The story of PVRIS is a heart-warming one and we love telling it. Lynn Gunn, we offer you our hearts.
These were just a few highlights off our revival playlist (because honestly, it simply goes too hard to list in full). For a trip down memory lane with our good friend, nostalgia, you can access the full 24-track playlist below. From pop-rock goods to the classics, you might just find some of your favorite bands not mentioned in the article!
The State of the Scene Today
Let's not equate the absence of the Warped Tour to a "Punk is Dead" movement. Don't get it twisted. Since Warped's last full run in 2018, hundreds of alternative rock artists have debuted their music, and many bands found themselves climbing to the top of the Alternative and Billboard Top 100 charts.
Today, countless pop stars are utilizing pop-rock production in their albums/singles, including Olivia Rodrigo and WILLOW. The essence of the 2000s is still alive and well. Sure, it's not the same as it was in '04, but musicians are still continuously inspired by Warped Tour artists and the scene today.
It's not even remotely nonsensical to say that the scene is dead. We won't stand for it. With that being said, here are a few bands worthy of your time currently releasing music that probably would have played at the Warped Tour!
Stand Atlantic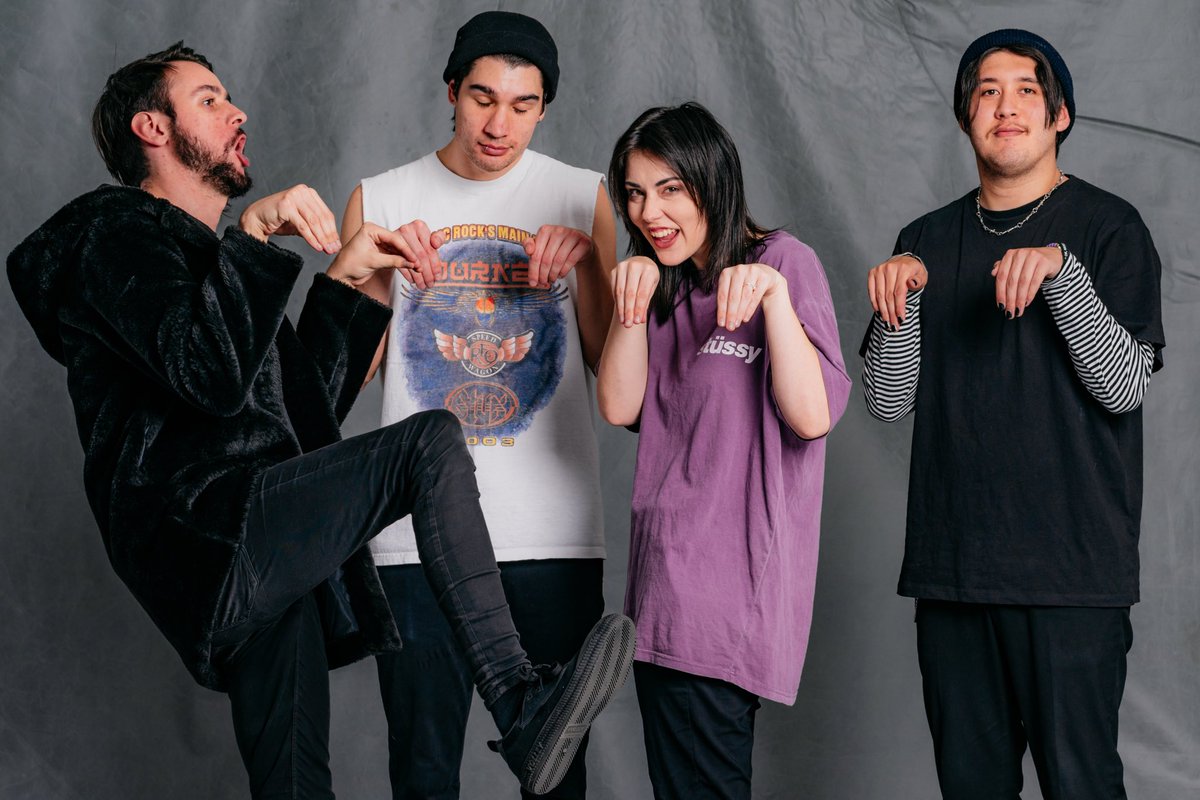 [apple_music_ad artist="Stand Atlantic"]
Aussie pop-punks iron clad in sass and a resilience for those that look them over. Stand Atlantic is the best thing to ever come from down under. Bonnie Fraser, we love you.
TO LEARN MORE ABOUT STAND ATLANTIC:
FACEBOOK | INSTAGRAM | TWITTER | WEBSITE
The Dead Love
[apple_music_ad artist="The Dead Love"]
Aussie representation is where it's at apparently. These guys are the perfect blend of grunge and pop-punk and have done an exceptional job at cultivating a 90's rock sound in their music. If you're a fan of The Smashing Pumpkins then look no further, The Dead Love is here.
TO LEARN MORE ABOUT THE DEAD LOVE:
FACEBOOK | INSTAGRAM | TWITTER | WEBSITE
VIAL
[apple_music_ad artist="Vial"]
A self-proclaimed "Minneapolis honk rock" band, VIAL takes the riot grrrl sound and runs like wild to create their own indie-punk fever dream!
TO LEARN MORE ABOUT VIAL:
FACEBOOK | INSTAGRAM | TIKTOK | TWITTER
Yours Truly
[apple_music_ad artist="Yours Truly"]
Australia's really been out here saving pop-punk by the teeth huh? Yours Truly is reminiscent of a young Tonight Alive, with all the goodness of their own unique sound. We just know they would've commanded the Warped Tour stage.
TO LEARN MORE ABOUT YOURS TRULY:
FACEBOOK | INSTAGRAM | TWITTER | WEBSITE
Have you ever attended Warped Tour? Which year and who did you see, let us know! Tweet us @TheHoneyPop or comment on your experience at Warped, we'd love to hear it.
Need more punk sounds to feed your soul? Head on over here!
Featured Image Source: Afnan Acharki for The Honey POP Graphic Team