We all know about the incredible voice, talented judge, and musician that is John Legend. What about the Brazilian star ALOK? The producer has worked with some of the biggest names in pop too. The pair released such a fire collaboration this week! Who's ready to fly high like a bird and enjoy the smooth tones of John Legend and ALOK in 'In My Mind?'
Meet ALOK!
It's time to feel our aura. John Legend and ALOK's 'In My Mind' is that sweet piece of EDM that we can take as a booster pill. Like Alesso, Zedd, and many producers who do original work and remixes, ALOK is a magician. He mixes the acoustic and supersonic layers so naturally that it creates dreamy flows. Are you curious to know more about him? As far as we know, he is the second most followed DJ on Instagram. His fanbase counts more than 20 million listeners. We believe that hard work pays off. We discovered him with some amazing melodic tracks.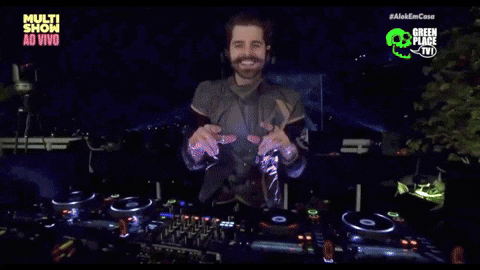 Sweetened Covers!
His cover of 'Can't Get You Out Of My Head' from Kylie Minogue in June, got him near 2 million views. He pumps the beats to the max aside the new sensation Dynoro, with 'On & On.' His wonderful track featuring Tove Lo is just phenomenal. Single after single, his creativity surpasses reality. We can't get enough of his jam percussions and synths. Whether the pace is fast or slow, there's always a way to dance! Check out ALOK and Ilkay Sencan's collab below!
Love Is Strong!
Peaceful and harmonious, you're going to appreciate John Legend and ALOK's 'In My Mind.' The title itself serves the purpose of the song. It's hypnotizing and so meditative with the vocals that haunt our dreams positively. "Somewhere deep inside of me/No distance between us, nothing to break us," the R'n'B singer croons flawlessly in the poetic verses. When we bond with someone, as pure love or friendship, it's stronger than ever. Our minds are so engulfed in finding each other. The melody is smooth and captivating throughout the track. The Voice coach's velvety tones melt with ALOK's crafted electronic superposition. Do you feel romantic? This is the perfect fit for you! Stream 'In My Mind' from the service platform of your choice here.
What's driving your mind now? Any thoughts about this new thrilling song from ALOK and John Legend? Let us know on Twitter @TheHoneyPOP, Facebook, or Instagram.
Do you want to fill your weekend with tons of extraordinary new tracks? THP got it sorted for you here.
TO LEARN MORE ABOUT ALOK:
FACEBOOK | INSTAGRAM | TIKTOK | TWITTER | WEBSITE
TO LEARN MORE ABOUT JOHN LEGEND:
FACEBOOK | INSTAGRAM | TIKTOK | TWITTER | WEBSITE
Featured Image Source: Courtesy of B1 Recordings/Warner Records