Our little marsupials are back! After teasing new material with 'Method To The Madness,' The Wombats Fix Yourself, Not The World is coming early next year. Let's celebrate the fifth album in the works with the Liverpool trio new single 'If You Ever Leave, I'm Coming With You.' Are you dependent? Scroll down and you'll learn about it!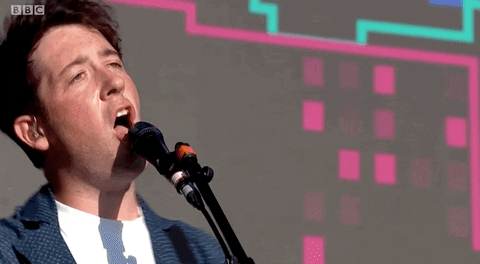 Long Distance? No Problem!
The Wombats' Fix Yourself, Not The World drops on January 7th that explores new musical avenues and is recorded from various places in the world. From Oslo to Los Angeles and London, the trio wrote a new Guide To Love, Loss And Desperation in a much more modern way. Inspired by lockdown and interpersonal relationships, the bold guitar bop vibes are still there, along with some new elements like electronics and more ballads. Of course, there will be some great 'Greek Tragedy' anthems on the new record and we jump around because we can't wait for months to hear it! Speaking of that track, raise your glass! The song from Glitterbug has just been certified gold in the US. Congrats boys!
The Romantic Type!
"You know I'll do/Whatever you want me to/Throw a banquet in a mosh pit/ I'll get out of bed Stop listening to Radiohead," sings The Wombats on the romantic indie waves of their new single 'If You're Ever Leave, I'm Coming With You.' Upbeat and catchy, fans of The Vaccines or Tegan And Sara would love the guitars' riffs that climb to new energetic heights. Get outside your crystal box and jam to the hazy melodic notes.
An Idyllic Stage!
The idyllic soundscape feeds our dependence on The Wombats music. It's a love relationship we have with them. Their songs bewitch us from the beginning and it'll never stop. What about hearing it live? Catch them on their UK tour next Spring and click here for more details and updates! Don't forget to preorder The Wombats' Fix Yourself, Not The World too! Click here to get your copy! Download or stream 'If You're Ever Leave, I'm Coming With You' here.
How would you fix the world? Do you have ideas popping in your mind to make this planet a better place? Share your thoughts on Twitter @TheHoneyPop, Facebook, or Instagram.
Summer bops are at our feet! Get some more by clicking here!
TO LEARN MORE ABOUT THE WOMBATS:
FACEBOOK | INSTAGRAM | TWITTER | WEBSITE
Featured Image Source: Phil Smithies / Sarah Louise Bennett / Pete Novosel / Signe Luksengard