Here at THP, we stan Doja Cat. Many of us were first introduced to her by her viral 2018 song 'MOOO!' We all know that one. Since then, she has released numerous albums and Billboard hits such as 'Juicy' and 'Say So.' Her recent 2021 album Planet Her has also received lots of love from fans (and TikTok). It seems like Doja Cat is constantly releasing new music, yet it just keeps getting better. We could go on and on about this girl's iconic music career and the reasons we love her but let's narrow it down, shall we? Today we are going to list the five reasons why you should stan Doja Cat.
1. Her Choreography Is Actually Bomb!
While it might seem like a given that pop/rap stars should have good choreography, this isn't always the case. No shade but, we have seen that just because an artist is very talented vocally doesn't mean they know how to move. Doja Cat, however, is a choreography queen. She brings her A-game every single time and, it shows. From her music videos to her live performances, this girl kills it. Some standout performances are the 2020 MTV VMAs and the 2021 GRAMMYs, plus extra props for her performing in that patent leather jumpsuit.
2. She's Hilarious
Okay, so we cannot talk about Doja Cat without talking about her sense of humor. She is the quintessential embodiment of online meme culture. Even the single 'Mooo!' which put her on the map for a lot of people, was originally created for humor. Nowadays though, she has completely exploded on places like TikTok and Instagram for her hilarious and relatable posts. One of our favorite memes here at THP is her infamous TikTok Princess Peach impression. "I may be a Princess, yes. But I'm the Queen of my f****** business. I'm the manager." This meme won't ever be not funny.
3. Her Style Is On Point
Talk about turning out looks! Our queen Doja can do no wrong in the fashion department as far as we are concerned. From wild and wacky to full glam, Doja Cat has a look for everything. She loves to experiment with style and aesthetics and always keeps things interesting. We admire this girl's confidence to strut her stuff in every outfit she wears. From her famous online gamer girl outfits to her iconic red carpet looks, Doja Cat knows how to make a statement.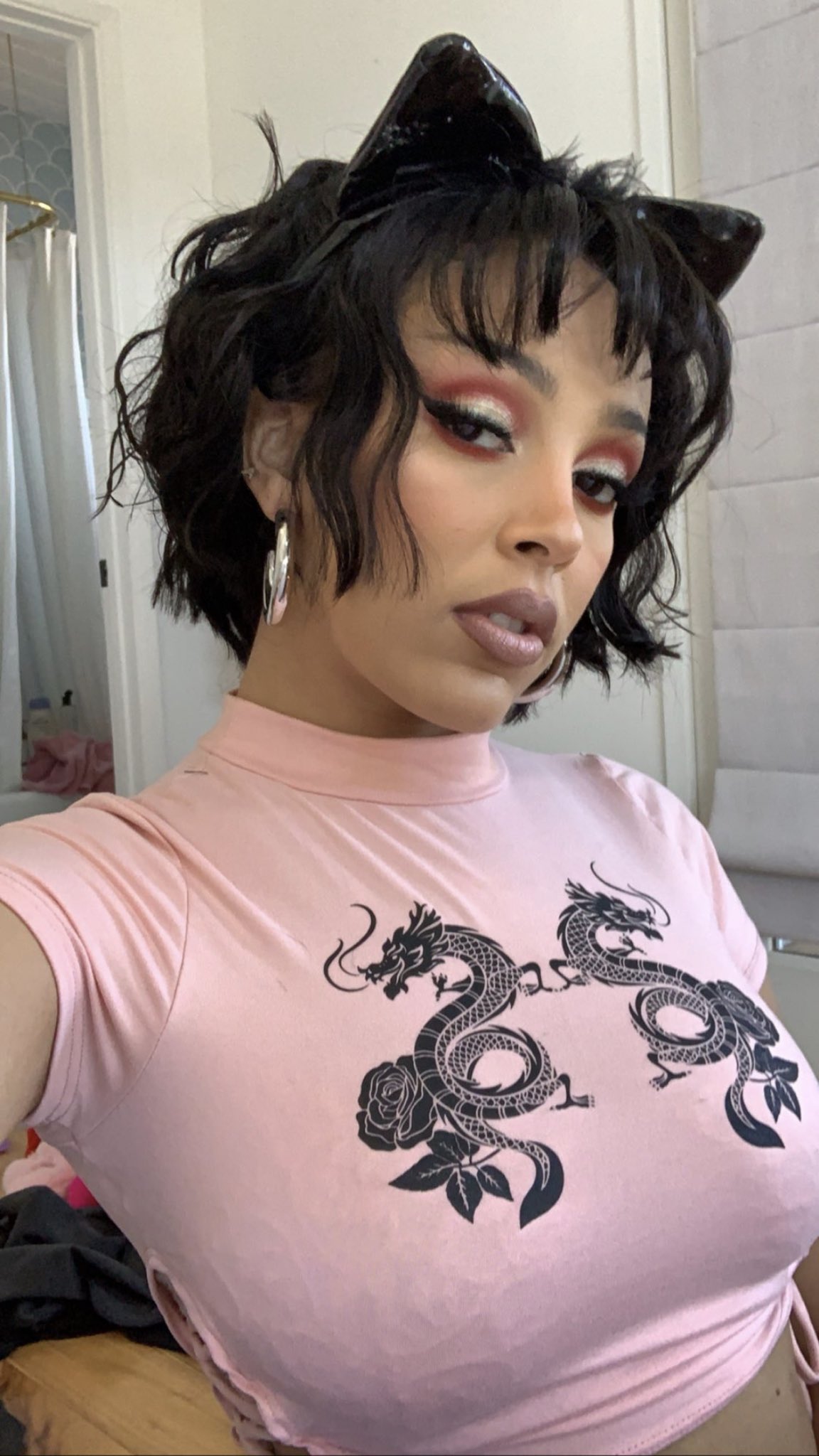 4. She Has The Best Collabs
We stan a music artist who is not afraid to open up and collaborate with other talented people. In the past, we have seen that some artists steer clear from too many collaborations because they fear it could take away from their individuality and power as a singular artist. And yet, the ever-confident Doja has proved that this is not the case and has been a part of some of the most iconic collabs ever. She has worked with artists such as The Weekend, Megan Thee Stallion, Saweetie, Bebe Rexha, Cardi B, and Nicki Minaj, to name a few. Talk about a star-studded resume. We love that she makes her own rules and does what works for her.
5. Her Music Videos Are Awesome
There's nothing better than knowing that whenever your fave releases a new music video, it's going to be amazing. Doja Cat never lets her fans down when it comes to making larger-than-life releases. The amount of creativity and artistic range that her music videos have is mind-blowing. From seventies vibes to fantasy lands to galaxies far, far away, her final product always packs a punch.
So there it is five reasons why we stan Doja Cat. If you arent already a Doja Cat stan we hope you give her a listen and check her out sometime soon. If you're already obsessed with Doja Cat, what started your obsession? Did we mention it in this article? Let us know in the comments below or even on our Facebook or Twitter!
Looking for more artists to check out? Look here!
TO LEARN MORE ABOUT DOJA CAT:
FACEBOOK | INSTAGRAM | TIKTOK | TWITTER | WEBSITE | YOUTUBE
Featured Image Source: Doja Cat Via Twitter