VERRERs! Minchan! Is! Back! VERIVERY is seven a g a i n! Excuse us while we cry happy tears, but it feels like 100 years have passed since we last saw one of our favorite groups as seven. And all that comes along with new VERIVERY music, we can't believe our luck! VRVR just dropped 'Trigger' and we were not ready. Talk about a bombastic chorus, VERIVERY got it down!
'Trigger' is the title song of VERIVERY's sixth mini-album SERIES 'O' [ROUND 2: HOLE] and has a stunning music video accompanying it. Truly, have you watched it? We can't stop rewatching and theorizing about what is actually going on. One thing is for sure, Minchan is here and he looks amazing, as do the rest of the boys. Also, we never knew we needed VERIVERY to go full-on horror, honestly who is doing it like them? This time around our boys are discovering their inner darkness yet again but unlike 'Get Away,' they will face it together as seven, as they should tbh!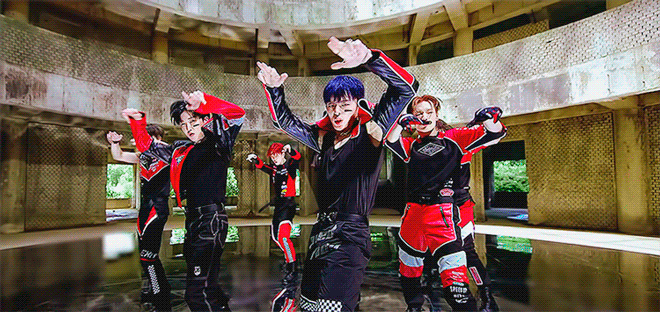 While we recover from 'Trigger"s impactful vocals brought to us by Yongseung, Yeonho and Minchan, (that bridge, whew!), powerful raps by Dongheon and Hoyoung, and killer ad libs by Kangmin, and Gyehyeon, let's take a look at the three other songs VERIVERY have in store for us on SERIES 'O' [ROUND 2: HOLE].
'Underdog'
'Underdog' is a whole bop and a half! This is the VRVR we love fun, upbeat, strong raps, and full of attitude. This song gives us the perfect soundtrack to fun times while we recollect ourselves after 'Trigger.'
'Prom'
Oh yes! We love the whistle that starts off and continues throughout this absolute jam! 'Prom' gives us all the school prom heart fluttering feelings. VERIVERY have fantastic vocalists and this is where they really get the time to shine!
'Heart Attack'
That key change is quite frankly the best thing we have heard all day! How does VRVR surprise us every single time? Is there anything they can't do? This electro dance bop is going straight to our stress relief playlist!
We can't pick a favorite from this new mini-album! VERIVERY just always deliver. What's your favorite song on the album? What do you think about 'Trigger?' Let us know in the comments below or tweet us @TheHoneyPOP!
Want to keep up to date on K-pop news? We got you!
TO LEARN MORE ABOUT VERIVERY:
FACEBOOK | INSTAGRAM | TWITTER | WEBSITE | YOUTUBE
Featured Image Source: Jellyfish Entertainment