https://www.instagram.com/p/CBUUvXKAQ-S/?utm_source=ig_web_copy_link
https://www.instagram.com/p/B92TA2ABf2a/?utm_source=ig_web_copy_link
https://www.instagram.com/p/CLuh7peMBHO/?utm_source=ig_web_copy_link
https://www.instagram.com/p/B8t89aohGj-/?utm_source=ig_web_copy_link
Lizzo is a certified Queen and bonafide force of nature! We, at THP, recognize the sheer power of this unstoppable artist. Also, we are waiting impatiently for L4 to drop. But, why should we strive to emulate Lizzo? Here are 5 reasons why we need to be more like Lizzo in life because we love her:
1. Lizzo Is A Champion For Body Positivity
Lizzo extols the virtues of being a goddess, regardless of dress size. In her song 'Tempo,' featuring fellow Queen Missy Elliott, Lizzo gleefully refers to herself as a "thick b*tch." Also, in her everyday life, Lizzo reminds us all that we should proudly celebrate our bodies. However, there are always negative people out there. Lizzo's clap back to haters who tried to claim she was unhealthy was epic, of course!
2. Lizzo Reminds Us That We Deserve To Be #1, Not #2
In her #1 smash song, 'Truth Hurts,' Lizzo says she will never be a side chick. Also, in one of our faves, 'Soulmate,' Lizzo preaches self-love, declaring, "I'mma marry me one day!" We should always put ourselves first, of course. Fostering positive self-esteem is definitely something we, at THP, try to emulate. Check out 'Soulmate' below:
3. Lizzo Is A Fashion Icon…PERIOD!
Ever since she became an award show staple, Lizzo has been serving look after look. Her Instagram account is full of trend-setting fashion. Our personal favorite look from Lizzo was when she transformed into a human Hershey's bar. Shoutout to Jeremy Scott for designing that incredible dress for Lizzo's Brit Awards appearance in February 2020.
4. Lizzo Doesn't Take Herself Too Seriously
We've all tried to get our crush's attention. But, how many of us have slid into the DMs of CAPTAIN AMERICA?? Also, Lizzo had an adorable interaction with Golfing Hero Niall Horan, when he was the guest host of Jimmy Kimmel Live! in August. Aren't they adorable together?! But, what would their celebrity couple name be?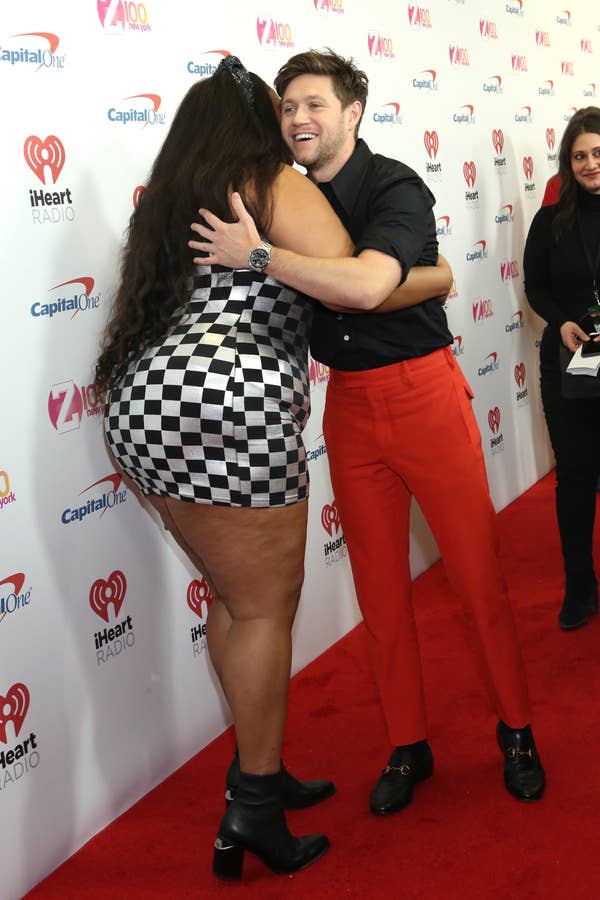 5. Lizzo Plays The Flute!
We, at THP, stan a versatile Queen! Lizzo effortlessly blends pop and R&B. But, did you know Lizzo plays the flute, too?! Because she is a trained flutist, Lizzo flexes her skill whenever she can! For instance, she can even play the flute while twerking!
In conclusion, we, at THP, want to be like Lizzo when we grow up. But, what about you? Let us know in the comments why you want to be more like Lizzo. Additionally, you can tell us via Facebook or Twitter! Also, make sure you check out Lizzo's new song 'Rumors,' featuring Cardi B!
TO LEARN MORE ABOUT LIZZO:
FACEBOOK | INSTAGRAM | TIKTOK | TWITTER | WEBSITE
Featured Image Source: The Honey Pop Graphics Team Momodou Sonko