Looking for the best in what's new in pop music? Look no further than the lead single 'Future Starts Now' from Kim Petras' debut album!
[apple_music_ad artist="Kim Petras" song="Future Starts Now"]
We've known since 'Heart To Break' that Kim Petras was destined to be a staple in the industry, 'Future Starts Now' is all the further proof we needed. As are getting back to clubs we can already tell this disco-synth pop track is going to be on repeat.
Stream 'Future Starts Now' here!
We've been waiting for this almost '80s mixed with EDM track from Kim Petras forever, and man, has she delivered! Knowing that this sound is what we have to look forward to from an entire debut full-length project gets us beyond stoked! If how we feel about this track is any indication, you're about to see Kim Petras catapult to main pop girl status, as she should!
We love the fact that 'Future Starts Now' can't really fit into one genre bubble. You can define the track within so many realms and we think that's by design. Kim Petras isn't allowing herself to be boxed in, which ultimately allows for more creative freedom on this long-awaited full-length project.
Kim Petras sat down with Brooke Reese, of The Chart Show, on Apple Music, to talk about all things 'Future Starts Now!' We loved how Kim Petras picked the name for the single, she explained how 'Future Starts Now' came out of the first lockdown when life truly turned upside for so many people. She said "So that's why it's the 'Future Starts Now.' Whatever you make right up, right now becomes your future." We think that is such a beautiful way to go into creating, knowing that whatever you make will be your next chapter and essentially your future.
From the first listen of 'Future Starts Now,' we could tell it was the ultimate dance track. And Kim Petras agrees! She talked to Brooke Reese about the importance of dance in her life and we think this segment is just beautiful.

Since the beginning of the year, I've been learning to vogue and learning more choreography and just learning to dance because it relaxes me. It's something I like doing. And so I got this amazing dance teacher, Noel. And we just started voguing for fun in the beginning and then it turned into choreographies for the songs. And then I got dancers and so it was my first time doing all of that on stage with my new move vocabulary. I love dancing, I love voguing and waacking. And I really feel like I learned how to fly. I learned to use my body and I love pop music and dance music, and I always want to make that, and I want to put it with this kind of dancing because that's my personal culture. I grew up in gay clubs, I'm trans, I've been around that style of dance my entire life and that kind of music. So yeah, just emphasize my love for that and how much I appreciate it and how much joy it gives me.

Kim Petras on The Charts Show With Brooke Reese on Apple Music 1
Listen to the full discussion here!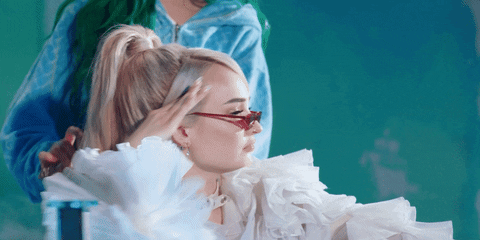 We would love to hear from you! What do you think of 'Future Starts Now' by Kim Petras? Let us know by commenting down below or by tweeting us @TheHoneyPOP! We are also on Facebook and Instagram!
Check out more of our new music coverage here!
TO LEARN MORE ABOUT KIM PETRAS:
FACEBOOK | INSTAGRAM | TWITTER | WEBSITE | YOUTUBE
Featured Image Source: Steve Klein