Welcome to Fanlanthropy – a heartwarming series here at The Honey POP where we shine a light on incredible stans who are using the power of fandom to do good in the world and help out important causes. Fandoms are super powerful in sharing information and working on projects, so using those impressive skills for a good cause ends in some great results.
Deforestation is having a majorly damaging impact on our planet right now. With the loss of trees and other vegetation, issues occur such as climate change, soil erosion, desertification, fewer crops, flooding, increased gases in the atmosphere, and numerous problems for indigenous people. It can occur for a number of reasons, with 80% of deforestation being the result of substantial cattle ranching, and logging for materials and development.
One of, if not the most threatening effects of deforestation, is the loss of plant and animal species due to the loss of habitat. It has been reported that forests are home to 70% of land animals and plant species. The lack of trees also allows a considerable amount of greenhouse gases to be released into the atmosphere. Healthy forests absorb carbon dioxide from the atmosphere, which acts as important carbon sinks. They also help control the level of water in the atmosphere and assist in regulating the water cycles. There is less water in the air in deforested areas to be returned to the soil, which causes the inability to grow crops.
For the past few years, Kim Namjoon PH has been running an ongoing project in honor of the birthday of BTS's RM. This year they will be continuing their project to plant even more trees to the already planted 800 trees in Sierra Madre, the longest mountain range in the Philippines. We spoke to the organizers to learn more.
[apple_music_ad artist="BTS"]
Could you introduce yourselves to our readers?
We are Kim Namjoon PH, a fanbase in the Philippines for RM of BTS. We are a group of fans who eventually became friends after meeting up at a concert in Manila in 2017. Since then, we have had multiple projects initiated in the name of BTS, which include outreach programs and tree planting. We had previously initiated One Love Namjoon (a charity and education under the bridge program), Plant Today, Save Tomorrow (Tree planting), and, Sharendipity with Jimin (a community outreach collaboration project).
In honor of RM of BTS's birthday, you're planting trees in Sierra Madre and it's something you first started in 2018. What inspired you to create this project?
Just like any other fan, we wanted to celebrate RM's birthday in a meaningful way. Since BTS has been really huge in giving back through charity and philanthropy, we also wanted to be able to do something which will be beneficial and will make an impact on the local community.
We had a lot of ideas coming when deciding which projects to pursue. In the end, we decided on something based on things we have seen a lot from RM – his interests, social media posts, and insights about things around us. We came about planting trees for a lot of reasons. First, him calling himself 'Namu'(나무, which means tree in Korean) as his birth name is Namjoon(남준). Second, being a lyricist and producer, he talks a lot about nature to express emotions and messages in his lyrics. 'Sea' and 'Spring Day' are some examples. He also seems to commune with nature a lot. He would share random photos while enjoying nature – crabs, small frogs, a walk through a nearby mountain, and cycling at the Han river.
In 2018, we completed our first tree planting project in the name of RM. The second planting came a year after. Thanks to ARMY all over the world, we have been able to plant trees in the protected area of Sierra Madre, the longest mountain range in the Philippines and an important biological site due to its flora and fauna diversity.  
How will planting trees be beneficial and why is it so important for a project like this to do so?
Deforestation has been rampant and the effect is killing people, destroying properties, and displaces the wildlife if not leaving them completely homeless. In adding trees that are endemic to the area, we wanted to be able to plant hope for the days to come.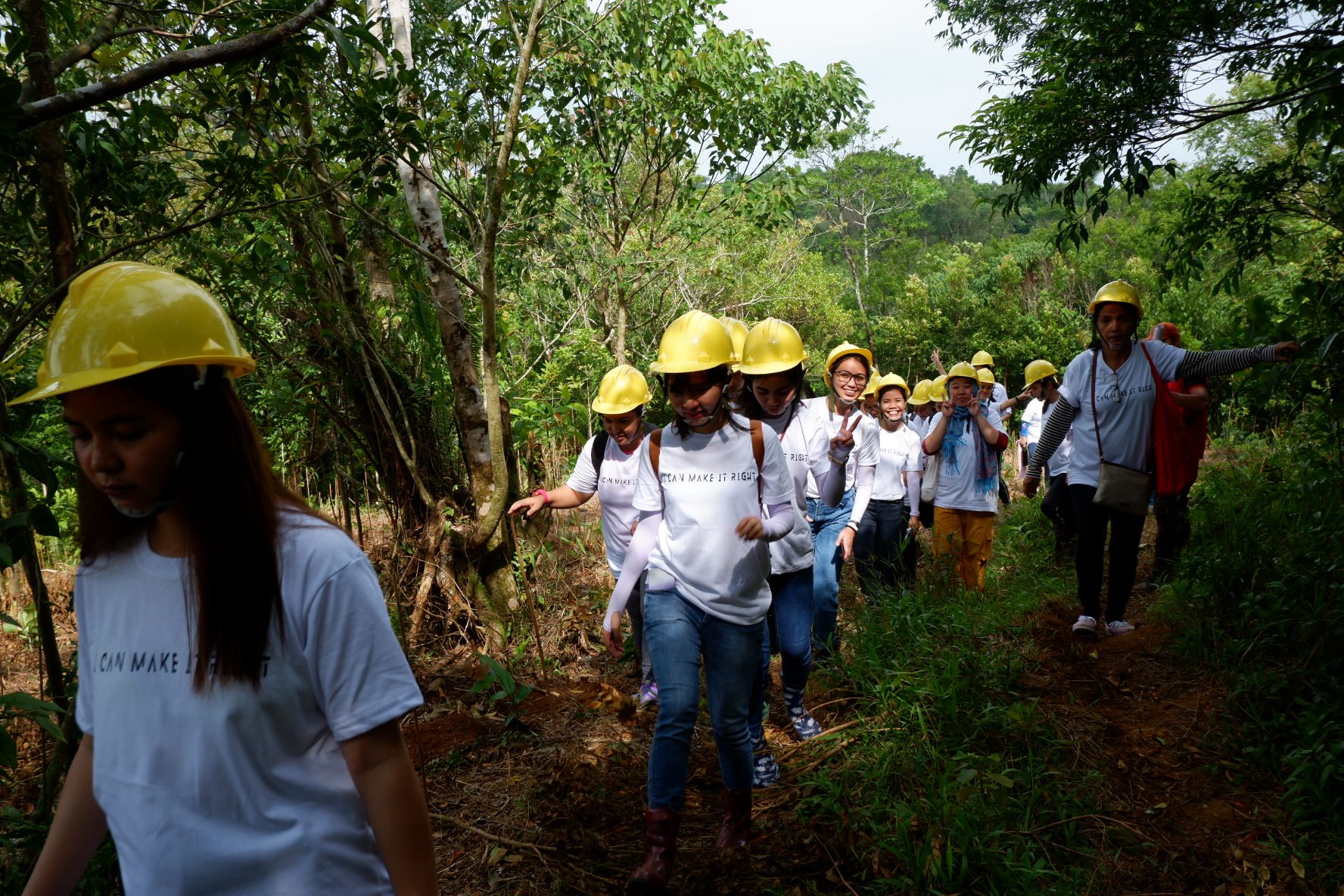 We know RM has been heavily involved in charity and philanthropy work both on his own and along with BTS. How would you say he inspires you?
RM himself had made multiple donations which include a donation to music education for hearing-impaired students and a donation to the National Museum of Modern and Contemporary Art Foundation, Korea, towards the production of the museum's art publication that will be donated to public libraries and schools across the country. BTS have also recently renewed their commitment with UNICEF for the Love Myself campaign to end violence toward children and teens around the world, with the hope of making the world a better place through music.
We know how powerful fandoms are. What do you think about fandoms and the importance of using their platforms for vital causes such as this one?
Being a fan and using your platform to spread positivity and awareness should come hand in hand. Platforms bridge fans but the success of a project heavily depends on the willingness of fans to participate and be involved. ARMY had been really enthusiastic when it comes to showing love for BTS and creating an impact on society. Multiple fanbases had been organizing varying activities such as adopting wildlife, charity programs, donating books, funding schools, and sponsoring other training programs. It's amazing how people from around the world are using their platform to reach out to the community. 
How can people support your fundraiser?
We are now in our third year of the tree planting project. We are currently accepting donations through multiple platforms: Paypal, Simply Giving, and local bank transfer. They can visit our social media accounts to know more or make inquiries. We hope that this project would be able to encourage other fans to think about our environment and take an action to protect it.
Thanks, guys! We know RM would be so proud!
Will you be supporting this project? Do you know of other fandoms doing good for a worthy cause? Let us know in the comments below or by tweeting us @TheHoneyPOP!
Need more BTS in your life? We gotchu, bb.
Wondering what your fandoms are doing for good causes? Find out here
TO LEARN MORE ABOUT BTS:
FACEBOOK | INSTAGRAM | TWITTER |  WEBSITE
Featured Image Source: Bibi Lara