We get to talk to and write about so many creative and concept-driven artists here at The Honey POP and we're back to share them with you! This time, we bring you We Are Scientists. The indie-rock vets have a new album coming out soon and were nice enough to chat with us about it, and more! We Are Scientists' 'Handshake Agreement' is a perfect way to get us pumped up for Huffy, the upcoming album.
We Are Scientists – 'Handshake Agreement'
We were absolutely blown away by the song and couldn't get enough of the video when we first saw it! You're definitely gonna wanna check this one out before diving into the interview. 'Handshake Agreement' is a great commentary on social media and the inflammatory discourse that often goes with it, but we'll let We Are Scientists chat more about that!
All of your music videos are so creative and unique, including the 'Handshake Agreement' music video, how did the concept for that one come about?
I think the concept started because we'd noticed that a bunch of our videos were being featured in response videos, which just seemed like a crazy genre of entertainment, to us. We figured that we might as well get in on that action ourselves, and then the concept sort of got out of hand, and ended up involving Chris spray-dying his hair blonde.
What is your favorite part of the creative process for music videos? How involved do you like to be?
Well, we pretty much demand to be the driving force behind all of our videos. With only a couple of exceptions, we've come up with the concepts for all of them, historically, and we're always really hands-on about how to execute them. We've been lucky to have great directors like The Lonely Island and D.A.D.D.Y. as friends, so it's always nice to be able to trust them to take the reins on our ideas, since making videos is a real pain in the ass, especially when, like us, you've made approximately 20,000 of them, already.
If you had to describe your band to someone who had never heard of you before, what would you say?
I'd say, "Imagine dancing to the world's greatest poetry while getting a massage, and also Jason Statham is hanging out, beating up some bad guys in front of you, and also there's an all-you-can-eat sundae buffet, there." That's our music.
What made you decide to include sticker sheets with the Huffy vinyl and make it customizable?
We really enjoyed the muralist, collage-type vibe of the artwork for Helter Seltzer. Harvesting that artwork for posters and t-shirts and tour ads and stuff was really fun, so we thought to ourselves, "What if this album served that purpose for everyone involved?" Like, not only can we pick and choose random bits to use in various media, but so can anyone who buys the record. They can stick our artwork on the album, or their phone, or their dog, or onto the crappy artwork that other bands use as their covers.
'Handshake Agreement' talks about social media and the pitfalls of arguing with strangers. How did you know that this was something you wanted to write a song about?
I very rarely sit down with the intention of writing about a specific subject. The arc of my lyric-writing is usually more like a long conversation — I'll generally start someplace random, and then eventually land on a topic that begins a rant, and then that will end up being the ultimate topic of the song. But, yeah, the whole band is pretty interested in new and old media, and we spend a lot of time arguing over communication. I tend to be the least generous in my readings of other people's output on social media. Chris is more willing to give people the benefit of the doubt, whereas I often ascribe the worst intentions to the villains who live on Twitter or Substack or wherever.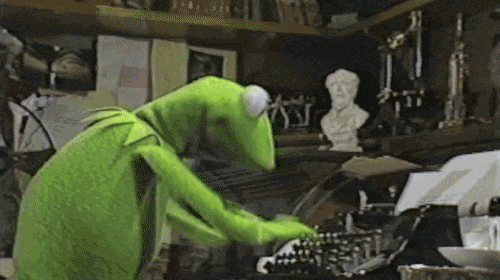 What is something you'd want to tell your younger selves about where you are today?
I'd have definitely encouraged myself to become a good producer earlier on. I used to absolutely loathe the recording process since it generally meant sitting around doing nothing while producers set up microphones or edited takes or rolled up cable or whatever the hell they were doing while we were their prisoners in those windowless rooms. Now, when we produce ourselves, we have to do all of that boring crap on our own, but it also gives us to chance to play around with every facet of the process, and it makes recording the albums way more interesting and, I think, makes the output even more personal than our earlier recordings.
Is there anything you can tell us about your upcoming album? What are you most excited about?
Well, when putting together the tracklist for Huffy, we pointedly chose the songs that would be the most fun to play live. I don't think we've made an album that I'd be as excited to perform end-to-end, so that, combined with the fact that we haven't played a show in almost two years, makes me VERY excited to get back on the road.
How have you been managing the frenzy of dialogue that is social media? How important do you think the platforms are for artists today and what do you do to stay connected to your fans? What's your favorite platform?
As I said before, I hate social media. The qualities that tend to produce the most popular online voices tend to be my least favorite human characteristics — solipsism, lack of humility, a penchant for being nettlesome. Chris is more pragmatic about that stuff. I'm more easily riled up.
What do you hope fans gain from your music?
Wisdom, vigor, and sex appeal.
What's something you really want to accomplish in the next few years?
I mean, if we could get our picture on a cereal box — a box of any cereal, really, like Count Chocula, or whatever — that would really feel like a pretty monumental achievement.
You know, a box of cereal would be pretty cool. Actually, this interview was pretty cool too. We absolutely loved hearing these answers, we could never describe their music as well as they did. Not to mention, the different perspectives of social media. Great stuff, 10/10 would love to interview again. If you wanna pick up a copy of the customizable Huffy vinyl and stream We Are Scientists' 'Handshake Agreement' (which you should) then head on over!
What are your thoughts on We Are Scientists' 'Handshake Agreement?' Did you love this interview as much as we did? Sound off in the comments or hit us up on Twitter!
Check out more interviews right this way!
TO LEARN MORE ABOUT WE ARE SCIENTISTS:
FACEBOOK | INSTAGRAM | TWITTER | WEBSITE
Featured Image Source: Flore Diamant and Afnan Acharki – The Honey POP Graphics Team