"Here we are now, entertain us/I feel stupid and contagious!" Does this phrase ring a bell to you? Probably if you grew up in the 90s or going to throwback rock songs parties! 'Smell Like Teen Spirit' is the song of a generation and the late band Nirvana's Nevermind celebrates the 30th anniversary with a special boxset with vinyl, Blu-Ray/DVD from classic performances, and more! Who's ready to feel the heat?
[apple_music_ad artist="Nirvana"]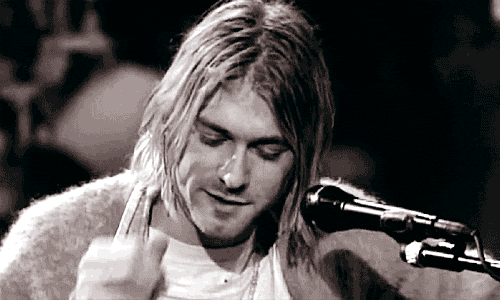 'Smell Like Teen Spirit'
Is it the origin of Blur 'Song 2' with the iconic "who-oooo?" Well, Nirvana's Nevermind centerpiece 'Smells Like Teen Spirit' is the voice of a lost generation that wanted to get back on track! It's a true classic that will live forever in our minds! Relive a classic performance from Reading Festival in 1992 below.
'Come As You Are'
"Come as you are, as you were/As I want you to be
As a friend, as a friend/As an old enemy,"
Kurt Cobain kicks in on the song 'Come As You Are.' Meanwhile, he pointed out that society wants us to live by a certain standard. Can we go beyond that and accept who we are as an individual? With the classic intro electric guitar riffs, this song influenced so many artists of our generation like YUNGBLUD and Royal And The Serpent! Nirvana's Nevermind is still an actual piece of art!
'Lithium'
"I'm so lonely, that's okay, I shaved my head and I'm not sad/And just maybe I'm to blame for all I've heard, but I'm not sure" sings Kurt Cobain with a cracked emotional voice on 'Lithium.' Mental health was an issue in the past and is still actual! We are all vulnerable and have a life-saving battery in expressing ourselves through music. The song begins quietly to become a huge chaos rock symphony of drums and raw guitars. Grunge movement at its best!
'Polly'
One of the most iconic moments in Nirvana's career is their performance at MTV Live Unplugged. Their acoustic set was on fire with the dual harmonies of Kurt Cobain and Dave Grohl. On 'Polly,' the Seattle poets' inspiration came from a real-life drama that marked them in Washington back in the 80s. In a very emotional twist, the addition of cellos in this acoustic live version adds a magic touch to the original sound.
'In Bloom'
There are so many interpretations going on with this song. 'In Bloom' showcases the intricate writings of Kurt Cobain. Once, the lyrics could mock the people who attended their shows but didn't fit the underground music crowds. Otherwise, it can be about growing up "We can have some more/Nature is a whore/Bruises on the fruit/Tender age in bloom" as a young teenager or adult, still trying to find their own identity. The slow-paced heavy ballad resonates with big drums and deep harsh melodies. Watch below the live version at Hollywood Rock Festival and you'll be mesmerized!
Relive so many memorable moments of the 90s from Tokyo to Melbourne in different versions of the record. Celebrate with us and preorder your copy of Nevermind 30th Anniversary Edition here! Tell us what song means a lot to you! Reach us on Twitter @TheHoneyPop, Facebook, or Instagram.
Is the grunge energy glow around you? No problem, we got some more tunes for you here!
TO LEARN MORE ABOUT NIRVANA:
FACEBOOK | TWITTER | WEBSITE
Featured Image Source: Niels van Iperen/Getty Images