https://www.instagram.com/p/CTxU6d2F1Dt/?utm_source=ig_embed&ig_rid=add84922-bc68-4b2d-b380-cb7a613c9834
GRAMMY Award-winning songstress and global music icon Alicia Keys has unveiled her latest sultry track, 'LALA (Unlocked)' featuring American recording artist Swae Lee via RCA Records. They have joined forces for their first collaboration ever, and our hearts are dancing to its rhythm. Here is your chance to get inside the world of Alicia Keys, and here's your key. Experience the sensual atmosphere and get ready to lose yourself in the 'LALA' land with Swae Lee and the star-studded crowd!
[apple_music_ad artist="Alicia Keys Ft. Swae Lee" song="LALA"]
"I'm Still Low, Smokin' Zaza,
Light The Incense, Lose The Tension,
Feel Like Heaven,
Lust Mixed With A Vodka,
La, La-la, La, La-la, La, La"
Alicia Keys announced the single on social media on September 1, posting a snippet of the song and its artwork. It is jointly written by Alicia Keys, Darryl Ellis, Khalif Brown, Michael L Williams II, Paul Richmond, and Ruben Locke and produced by Alicia Keys and American record producer Mike Will Made It!
'LALA (Unlocked)': World of Glamour!
"Light the incense
Not to mention
Skin like whiskey
She's cold like on the rocks!"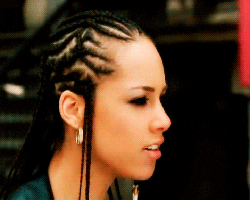 American singer-songwriter and classically trained pianist Alicia Keys recently released an official music video for her single 'LALA (Unlocked)' featuring Swae Lee, which transports you to her world of glitz and glam! This music video, directed by Sylvia M. Zakhary and Sing J. Lee, is a spectacular production that showcases a gracious evening affair of elegance and luxury. It features cameo appearances by Swae Lee, Snoop Dogg, Lucky Daye, Khalid, Swizz Beatz, Russell Westbrook, and Gunna. Imagine a beautiful evening bustling with energy and sparkles, surrounded by a star-studded audience, witnessing a dreamy performance by a diva performing to their hearts' content! Everyone is seemingly having a good, glamorous time, and the night is still young!
It is true we wish to be there, just as much as you are eager to see a glimpse of it right now. Your wish is our command! Check out this lush music video below:
Additionally, this iconic duo performed this new track live for the first time at the 2021 MTV Video Music Awards in New York City. Watch below:
The Ultimate Diva: Alicia Keys
Alicia Keys has captured the hearts of millions for years with her extraordinary artistry, musicianship, and captivating beauty. She is known for her versatility as a singer, songwriter, instrumentalist, arranger, and producer. The GRAMMY-winning songstress made headlines with her debut album Songs in A Minor, which became a commercial success and garnered rave reviews, and numerous award nominations and wins. The singer has actively pursued a wide variety of musical styles within her works. As a recipient of multiple GRAMMY Awards, the NAACP Image Award, the ASCAP award, and numerous other accolades in her career, she has led an ultimate diva lifestyle and is an inspiration to all!
Alicia Keys also launched her skincare line called Keys Soulcare, encompassing face, neck, and body care products. Having her own insecurities and concerns about appearances prompted her to develop an affordable line of body and skincare products that caters to all skin and body types! Alicia Keys also released the trailer for her upcoming intimate performance docuseries for YouTube Originals, NOTED: Alicia Keys The Untold Stories, which debuts on September 30. 
We're not holding back! I'm just inspired to be completely uninhibited in all of my glory and greatness. Looking back, I was always holding back something. Even if I felt good, I was holding it back. I was definitely afraid that it was all never gonna happen again.

Alicia Keys
Check out a trailer for her upcoming documentary series NOTED below:
Stream/purchase 'LALA (Unlocked)' here!
We enjoyed the lush night experience with the elite guest lineup! Alicia never ceases to amaze us, and we always look forward to more from her! What do you think of this captivating music video? What do you hope to see from her in the future? Share your thoughts with us in the comments section below or tweet to us @TheHoneyPOP! Want the daily drip? Get the latest pop culture news and inside scoop by following us on Instagram and Facebook.
Searching for more poppin' tunes for your ears? Buzz over here!
Want to be exclusive? Join our exclusive 'The Hive' community- by fans for fans!
TO LEARN MORE ABOUT ALICIA KEYS:
FACEBOOK | INSTAGRAM | TWITTER | YOUTUBE
Featured Image Source: Alicia Keys via Official Twitter
Khushboo Malhotra
Khushboo Malhotra works as a freelance journalist, digital marketing & media strategist, and content marketer featured in various global and national media publications and works alongside B2B, B2C, and eCommerce brands. A wide range of her work spans music and entertainment culture, sustainable lifestyle (including sub-niches), and SaaS. She enjoys writing novels and designing screenplays, grooving at concerts, or exploring new fashion and cuisines that tickle her taste buds when she is not working. Have a story? Get in touch: khushboomalhotra24@gmail.com