Now that it's officially the spooky season, we're ready to plan our costumes for Halloween! Luckily, if you're a K-POP fan, you know that idols have worn a plethora of elaborate, and of course, spooky costumes over the years that get us all in the spirit.
Don't worry! We're here to help give you some inspo for this season! Take a look below at some of the past looks of idols like V, Tzuyu, Taeyong, and more! Let's get spooky…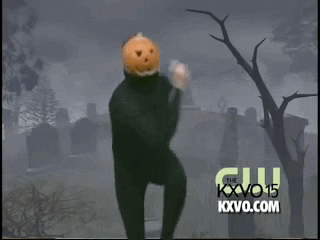 1. BTS' V as The Joker
Taehyung as The Joker remains a cultural reset to this day! This costume left its mark on the internet and is still brought up every Halloween as one of the best idol costumes ever.
2. EXO's Baekhyun as a mummy
Baekhyun went all out for an SMTown Halloween party, complete with white eye contacts, smudged black makeup, and even lights! He was borderline unrecognizable. Jinwook Bang, a manager for EXO, even commented, "No wonder there was no toilet paper in the dorm's bathroom. Put it back!"
3. TWICE's Tzuyu as Maleficent
Tzuyu's Maleficent costume went all out, completed with the horns! Her makeup was on point, and even with such a large headpiece, she still managed to totally own it.
4. SEVENTEEN'S THE8 as Jack Skellington
THE8 as Jack Skellington was the serve we never knew we needed. As if his jawline couldn't get any sharper, his dramatic skeleton makeup only emphasized his handsome looks. He completely embodied the costume, and we loved every minute of it.
5. MAMAMOO'S Hwasa as Harley Quinn
With a modern take on iconic villain Harley Quinn, Hwasa was stunning in this costume. It's casual but still perfectly on point, and we are still obsessed!
6. Stray Kids' Hyunjin as Draco Malfoy
Hyunjin showed us all how to work with what you've got in this simple but effective Draco Malfoy moment. He perfectly captured the energy of the most notorious Slytherin house member and absolutely nailed this look.
7. BLACKPINK's Jennie as a sailor
Jennie said: let's combine Halloween and fashion, and that she did! This chic costume was an adorable take on a throwback sailor in 2020. We especially loved the details, such as her red nails, red tights, and her vintage curls!
8. SHINEE's Key & Onew as Ronald McDonald and Colonel Sanders
SMTown Halloween parties have a reputation for showcasing some of the most iconic idol costumes, and this one was no exception. We never imagined we'd see a fight between Ronald McDonald and Colonel Sanders, but SHINEE's Key and Onew brought it with these hilarious costumes! Plus, Key gave us one of the most well-known, most relatable memes with this costume.
9. Red Velvet as Winnie the Pooh
What's cuter than matching costumes? Red Velvet wearing matching costumes! They made the cutest versions of Winnie the Pooh in 2014 in these cuddly, comfy one-pieces!
10. NCT's Taeyong as Jack Frost
Although Taeyong didn't have to go to great lengths for this costume, that doesn't make it any less iconic! If there is ever a live-action remake of Rise of the Guardians, we'd cast Taeyong right away. He perfectly utilized his frosty white hair by dressing as Jack Frost, and we had to stan.
11. BTS' SUGA as Chucky
Last but not least, Yoongi's Chucky costume has had us in awe ever since he wore it! Every detail is perfect for the character, down to the red spiky hair and untied Converse shoes. Not to mention the makeup was on point as well. Even though Chucky is supposed to be a scary costume, SUGA as Chucky is too cute to spook us!
What are your favorite idol Halloween costumes? Let us know on Twitter @TheHoneyPop or on Facebook and Instagram!
If you want more spooky season and music content, don't worry, we gotchu!
Featured Image Source: Edit by Afnan Acharki from THP Graphics Team