Sam Fender has released the fourth single titled 'Spit Of You' from his upcoming album Seventeen Going Under. Produced by Bramwell Bronte, Sam illustrates the relationship between parent and child by navigating his own relationship with his father in a warm, poignant, and heartfelt lyricism that depicts their closeness. The song follows previous releases from the forthcoming album, including 'Aye,' 'Get You Down,' and the title track 'Seventeen Going Under.'
"They say I'm the spit of you
And they're not wrong
Bury my head too
Stomach hurts all the time"
'Spit Of You' is described as a song about "boys and their dads." The British singer-songwriter takes an intimate look at his own relationship with his father, reflecting on the joys and struggles they have been through that we all experience in our own relationships with our parents. It is a stunning and heartwarming piece of art by Sam Fender that somehow can be relatable to all of us at some point in our lives. We realize that we are perhaps not so different as we first thought as we see our own reflections in them in the past, present, and future. Additionally, the song accompanies a lyric video featuring father and son fishing together on a pier, and the lyrics appear on the bottom of the screen.
Watch the video below:
Sam Fender recently joined Zane Lowe on Apple Music 1 to discuss his new song, saying it's "really just a declaration of love for my old man." He said,
It's based around my own relationship with my old man and how we both struggle as blokes to sort of communicate in a way that doesn't result in we're wanting to punch each other's heads in. It's kind of about how the apple doesn't fall far from the tree and how there's so many different similarities between me and him. And especially as I've got older in my twenties, I've kind of realized that I've become more and more like him as I've got older, especially when it comes to being stubborn.

Sam Fender
"'Cause it was love, In all its agony
Every bit of me, Hurting for you
'Cause one day that'll be your forehead I'm kissing
And I'll still look exactly like you!"
The second half of the song describes his father's relationship with his grandmother, who unfortunately passed away last year. At that moment, he experienced a beautiful dynamic of seeing his father as a son and witnessed his beautiful relationship with his mother. Moreover, he said, it highlighted how little time each of us has and that there is no tomorrow promised, so we should make the most of our time with our loved ones and live in the present. We were profoundly moved by the powerful message San Fender delivered. We will definitely be playing this song all weekend long.
Seventeen Going Under follows his debut album Hypersonic Missiles and has been produced with Bramwell Bronte. The upcoming album is a coming-of-age story that illustrates the musician's growth as an artist and reflects as a celebration of life and survival following certain hardships. Seventeen Going Under is set for release on 8th October via Polydor Records and is currently available for pre-order!
See Also
Listen to and stream 'Spit Of You' here!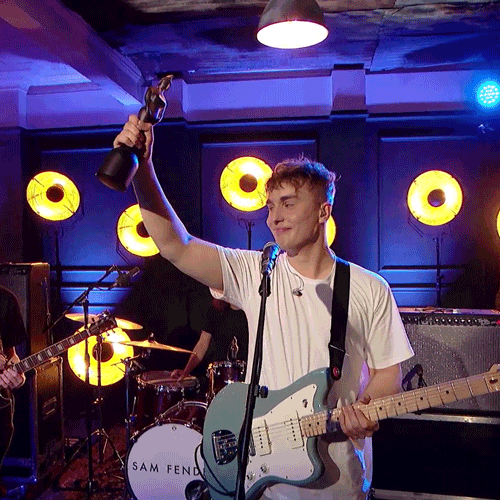 Do you have a favorite single by Sam Fender among the ones we've heard so far? How do you feel about the latest release 'Spit Of You?' Share your thoughts with us in the comments section below or tweet to us @TheHoneyPOP! Want the daily drip? Get the latest pop culture news and inside scoop by following us on Instagram and Facebook.
Searching for more poppin' tunes for your ears? Buzz over here! Want to be exclusive? Join our exclusive 'The Hive' community- by fans for fans!
TO LEARN MORE ABOUT SAM FENDER:
FACEBOOK | INSTAGRAM | TIKTOK | TWITTER | WEBSITE
Featured Image Source: Sam Fender via Instagram
Key Quotes: Zane Lowe on Apple Music 1
Khushboo Malhotra
Khushboo Malhotra works as a freelance journalist, digital marketing & media strategist, and content marketer featured in various global and national media publications and works alongside B2B, B2C, and eCommerce brands. A wide range of her work spans music and entertainment culture, sustainable lifestyle (including sub-niches), and SaaS. She enjoys writing novels and designing screenplays, grooving at concerts, or exploring new fashion and cuisines that tickle her taste buds when she is not working. Have a story? Get in touch: khushboomalhotra24@gmail.com