https://www.instagram.com/p/CUfIZdEh-OH/
You're in for a treat because our favorite girls are serving us all 'The Feels' today. Want to know what makes this so awesome? Well, it's TWICE the fun!
[apple_music_ad artist="Twice" song="The Feels"]
Feeling 'The Feels'
The K-pop girl group TWICE released their first full English-language single, 'The Feels,' via Republic Records, and we can't get enough of it. This global K-Pop sensation continues to make waves around the globe with its enthralling and eclectic music and amazes its audience. Each release continues to reveal the group's artistic evolution, highlighting the multidimensionality of its musical approach. 
'The Feels' embodies the radiance that TWICE exudes, and it's the perfect gift for all their fans while still coping with the pandemic. It is a charming and delightful performance that is sure to lift everyone's spirits. 'The Feels' is a modern disco-pop sound with catchy melodies, big choruses, bouncing basslines, and dynamic instrumentals infused with synthesizers. With its brilliant songwriting and production, the artist revealed their inexplicable feelings of love through affectionate and soaring lyrics with a cutesy emphasis. This sensation feels similar to plunging into a pool of cotton candy and swimming through a sweet rush. A nostalgic feeling of candy floss and bubblegum fills our hearts with all the foaming from our youth!
This latest single, 'The Feels,' is another significant milestone for the K-Pop powerhouse that received some astounding achievements in this remarkably successful year. Earlier this year, the band performed on TIME 100 Talks and then appeared on The Kelly Clarkson Show and The Ellen DeGeneres Show for their debut U.S. broadcast appearances. The band gained popularity with their debut melancholy pop song 'Like OOH-AHH,' but they sprang to fame with their 2016 blockbuster singles, 'Cheer Up' and 'TT.' Within the last six years, TWICE has become a global phenomenon, sweeping the U.S. and beyond. With chart-topping albums, singles, music videos, award nominations, and massive sales, K-pop group TWICE is gaining international acclaim and recognition among highly recognized international media outlets.
The group debuted their new song on The Tonight Show Starring Jimmy Fallon, and they will be performing on GMA3 on October 6th. Watch their first-ever live performance below! 'The Feels' is available on all popular streaming services worldwide. Listen to and purchase the single here! 
It's prom night, y'all!  
This music video concept is very bright and cheerful, as it revolves around a beautiful prom night influenced by American culture. This music has a strong sense of teenagers enjoying themselves with friends on prom night. Prom culture is predominantly popular in America and not so prevalent in Asian countries, so watching the girls live out their dream of a fun prom night was an enjoyable experience. 
With its visually appealing retro flair, the music video opens with a mysterious letter received by the nine-member group. It passes under the door of the dressing room where they are hanging out. It turns out that it is a gracious invitation for a big prom night to all the girls, Sana, Tzuyu, Momo, Nayeon, Mina, Jihyo, Dahyun, Jeongyeon, and Chaeyoung, who are thrilled about this proposal. A flutter of excitement fills the girls' hearts as they prepare to head out on the evening, fawning over their romantic prospects. As the video progresses, we see the girls' prom fantasy coming to life. The girls are getting dressed up, along with some elaborate dance moves, before heading to the party. The prom venue has a sea blue theme, balloon arches, decorated tables, and a giant throne for the prom queen. During the festivities, the TWICE members dance to the song's rousing chorus and become the life of the party. 
"You have stolen my heart, oh, yeah
Never let it go-oh-oh
No, never let it go-oh, oh-oh, oh-oh, oh
Lightning straight to my heart, oh, yeah
I got all the feels for sure/ Yeah, I got all the feels for ya,"
Towards the end of the video, the girls invite fans to join them at the band's upcoming 10th anniversary, then the release of their third album in November 2021 and their upcoming fourth tour. It is an innovative way of announcing their forthcoming projects, and we are all invited. We are going, will you be joining us?
For a bonus, watch the video for exclusive behind-the-scenes moments shared by TWICE below!
In Conclusion…
Among the Korean music industry's stars are some musicians who have gone on to achieve international fame. The popular K-pop girl group TWICE has accomplished the same feat in its homeland. TWICE is one of the most popular K-pop acts, and their vision for expanding into the western market is laudable. However, the industry still adheres to stereotypical norms and is reluctant to give Asian acts and female groups the same opportunities as western groups. In general, international fans often gravitate toward darker, edgier, and thought-provoking ideas, as opposed to the group's generally soft and peppy music style, which exacerbates the negative stereotype of K-pop music held by a skeptical audience.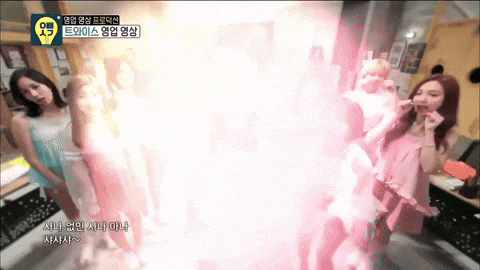 However, the music landscape is evolving as music lovers discover and embrace new vibrant music from worldwide. As evident from the massive success of TWICE in Japan and overseas, it is only reasonable that they will gradually rise with future English-language releases. TWICE has captivated audiences with their flawless vocals and unabashed performances, and they have dominated charts, sold-out arenas, and broken records in their homeland and abroad. The love and positivity they exude with their music touch fans' hearts. Their ability to grow is great, and their desire for success is something we appreciate and encourage. We wish them all the best in their future endeavors!
Have you heard the new single 'The Feels' and watched the music video? How would you describe the video? Which lyric stands out to you? Share your thoughts with us in the comments section below or tweet to us @TheHoneyPOP! Want the daily drip? Get the latest pop culture news and inside scoop by following us on Instagram and Facebook.
Want to be exclusive? Join our exclusive 'The Hive' community- by fans for fans!
Want more TWICE? Don't worry we got you covered!
TO LEARN MORE ABOUT TWICE:
FACEBOOK | INSTAGRAM | TWITTER | WEBSITE | YOUTUBE
Featured Image Source: JYP ENTERTAINMENT
Khushboo Malhotra
Khushboo Malhotra works as a freelance journalist, digital marketing & media strategist, and content marketer featured in various global and national media publications and works alongside B2B, B2C, and eCommerce brands. A wide range of her work spans music and entertainment culture, sustainable lifestyle (including sub-niches), and SaaS. She enjoys writing novels and designing screenplays, grooving at concerts, or exploring new fashion and cuisines that tickle her taste buds when she is not working. Have a story? Get in touch: khushboomalhotra24@gmail.com