GRAMMY-winning singer Alessia Cara recently released her latest single, 'Shapeshifter,' as the start of her new musical era. Compared to her previous releases, this song is more jazzy and mellow, combined with lush harmonies and captivating vocals. 'Shapeshifter' demonstrates her growth as an artist with a mature perspective and a dash of flair. This song track is a clear homage to Amy Winehouse, one of Alessia's biggest influences.
[apple_music_ad artist="Alessia Cara"]
"I can't quite put my finger on you, you shapeshifter
I don't even know if you believe you, you mind drifter"
Alessia Cara discussed her love for Amy Winehouse in the latest episode of 'At Home With' conversation with Zane Lowe on Apple Music 1. Her admiration for the legendary musician is undeniable, as is evident in her musical works thus far. Since childhood, she has followed her musical career closely and admires her rawness, authenticity, and honesty.
I loved how open she was. I felt like I was always listening to a diary or something that I was not supposed to be seeing. And I think just being in that space allowed me to tap into myself into that unapologetic nature and sort of say what I needed to say without worrying about the repercussions in a sense and just letting go.

Alessia Cara
Alessia met Salaam Remi in 2019, with whom she had been dreaming of working for quite some time, and finally got the chance with the latest single 'Shapeshifter.' Salaam Remi is a multi-instrumentalist, composer, and record producer known for his reggae-influenced production style. Salaam has produced Amy Winehouse on several occasions, so it was a full-circle moment for Alessia to work with him. 'Shapeshifter' emerged from a sudden connection between Alessia Cara and Salaam which felt like being plucked out directly from old Italian films. The song describes itself as a monologue of sorts combined with breathtaking and captivating instrumentals. Alessia embodies the indomitable confidence she saw in women in the Italian movies she watched as a child, whose elegance, charisma, and swagger she admired. We feel drawn to her inner power through her song and can relate to it.
Alessia entered the modern pop landscape very young, and it profoundly altered her life, which can sometimes be daunting and scary. The music industry moves at a fast pace, where one learns things quickly and feels like growing up very quickly, but at the same time, other aspects of their lives seem to be slowing down as they don't find enough time to process things as effectively. The experience is similar to Alessia's as she says that it feels like you seem to be growing up too quickly, but then you are also growing up too slowly.
Alessia Cara grew up listening to different musical artists who influenced her and acted as her role models. Her inspiration comes from artists like YEBBA, Lorde, Drake, Remi Wolf, Paramore, and many more whose styles, sounds, and songwriting helped her develop her own sound. Alessia is a massive fan of global sensation YEBBA. She feels inspired by how YEBBA expresses her pain and experiences through music and lyrics that touch everyone's hearts instantly. In her performances, she emotes so powerfully that one feels the pain that led her to write the songs she does intensely, thus rendering her performances incredibly powerful and moving.
Global sensation Lorde's success impacted Alessia's self-confidence and deep understanding of pop music and what a pop star can become significantly! Following Lorde's success and diverse vocal abilities, Alessia recognized her potential and knew what she wanted to do. Lorde's breakthrough opened the door for young women who dream of becoming pop stars from their bedroom and hope to carve their own space in the music industry.
Remi Wolf is one of the best and most colorful songwriters in our industry, and Alessia agrees. According to her,
She gives you such an amazing melody and then never gives it to you again. It never comes back in the song, which I love. All her verses are different. I just think it's so interesting because she gives you a taste of it, and then she doesn't give it back, which applies to that unapologetic side, which I love.
She is also a huge fan of fellow Toronto native Drake, who has elevated the city to new heights. It can't be emphasized enough how supportive and dedicated Drake's fans are to the artist. It's exciting to discover that she is also one of his biggest fans. During a recent interview with Zane Lowe, she discussed Drake's new album Certified Lover Boy and how she listened to it until the early hours of the morning with her brother. No worries, Alessia, we were too hyped up in excitement to sleep either! As Drake fans, we know what it feels like to experience his magic.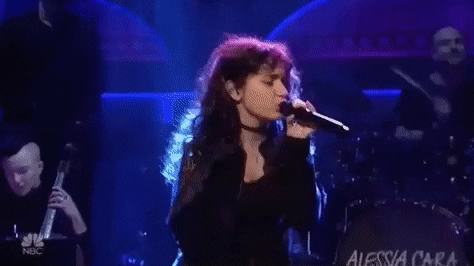 Have you heard Alessia Cara's latest song, 'Shapeshifter?' What do you think of the new music, and what do you expect next from her? We'd like to hear from you! Share your thoughts with us in the comments section below or tweet to us @TheHoneyPOP! Want the daily drip? Get the latest pop culture news and inside scoop by following us on Instagram and Facebook.
Do you want to stay up to date on lifestyle and fashion content? Here's the buzz! Searching for more poppin' tunes for your ears? Buzz over here!
Want to be exclusive? Join our exclusive 'The Hive' community- by fans for fans!
TO LEARN MORE ABOUT ALESSIA CARA:
FACEBOOK | INSTAGRAM | TWITTER | WEBSITE
Featured Image Source: Courtesy of Zane Lowe on Apple Music 1.
Khushboo Malhotra
Khushboo Malhotra works as a freelance journalist, digital marketing & media strategist, and content marketer featured in various global and national media publications and works alongside B2B, B2C, and eCommerce brands. A wide range of her work spans music and entertainment culture, sustainable lifestyle (including sub-niches), and SaaS. She enjoys writing novels and designing screenplays, grooving at concerts, or exploring new fashion and cuisines that tickle her taste buds when she is not working. Have a story? Get in touch: khushboomalhotra24@gmail.com