Adele: The Queen of Pop Music! The Queen of Heartbreaks! The Queen of Our Hearts!
All we can hear her saying is, take it 'Easy on me!'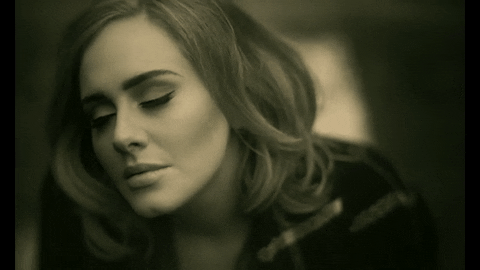 After stepping away from the spotlight for several years, global phenomenon and British singer-songwriter Adele has returned with a brand new smashing single that has everyone talking. Adele has released her new song 'Easy On Me' after six long years, which is, in a word, exceptional. With this release, it is evident that she will not go easy on any of us. The single precedes Adele's upcoming album 30 via Columbia Records, set to release on November 19. 
[apple_music_ad artist="Adele" song="Easy On Me"]
Earlier this week, Adele announced her new album release date along with its inspiration shared via a personal note to her fans letting them know she was "finally ready to put this album out."
"There ain't no room for things to change
When we are both so deeply stuck in our ways
You can't deny how hard I have tried
I changed who I was to put you both first
But now I give up!"
Adele serves up the first taste of her introspective album, 30, with this poignant piano ballad, 'Easy on Me.' The song also serves as a fitting anthem as we close out the year 2021. Its enchanting, intricate vocals and incredibly moving lyrics imbue an intimacy that feels instantly relatable. Adele explains her point of view throughout the song as she asks her loved ones to be patient with her since she knows it will not be easy. Her voice is full of regret, but it also carries some hope and determination for the future. Anyone who has gone through a difficult breakup can relate to this song as it is like a warm comforter that envelops their loneliness and pain and hides it from the world.
Co-written and produced by Greg Kurstin, 'Easy On Me' arrived with a music video that captured the spirit of the song. It was filmed last month in Quebec in the same house where Adele shot her smash hit video for 'Hello.' The video opens in black and white before erupting into vibrant autumn hues. Director Xavier Dolan decided to go from monochrome to color, showing that the singer has realized she does not have to feel guilty about putting herself first. This five-and-a-half-minute video shows Adele packing and placing a "Sold" sign in front of her house. One last look, she leaves the house and heads to the car, where she pops a cassette in the music player to play the song. As the singer hits the road, the music sheets flutter in the wind, symbolizing that she has chosen to leave the old bitter memories behind and focus on a brighter future for herself.
The songstress has always found solace in music, and her latest album is no exception. Adele is exploring new sonic and stylistic terrain and is expanding her horizons. Her album traces her journey to self-redemption through marriage, divorce, and struggles with depression. The singer has made it evident that this is neither divorce nor a revenge record. It is a symphony that weaves together her aspirations, setbacks, and hardships. Since she is known for her heart-wrenching, personal ballads, these six years have undoubtedly provided ample fodder for more in that theme. 'Easy on Me' further demonstrates her fans' unwavering support, reaffirming the fact that they will find comfort in a familiar release after waiting patiently for so long.
Aside from the heartbreak ballad 'Easy On Me,' which is the queen of heartbreak's staple, the rest of the album will showcase the more experimental side of her music. Adele will explore electro-pop, retro R&B, and other genres on her upcoming album 30, and it would be fascinating to listen to this side of her. But one thing is guaranteed: the ethereal vocals of Adele will adorn every song, so there is no doubt that this album will touch and play the strings of the hearts of everyone. Prepare your tissue stacks and your happy snacks in advance of the premiere of album 30 on November 19!
Listen and stream 'Easy On Me' here! Pre-order 30 here!
What are your thoughts about Adele's comeback single? Share your thoughts with us in the comments section below or tweet to us @TheHoneyPOP! Want the daily drip? Get the latest pop culture news and inside scoop by following us on Instagram and Facebook.
Searching for more poppin' tunes for your ears? Buzz over here! Stay exclusive and join 'The Hive' community- by fans for fans!
TO LEARN MORE ABOUT ADELE:
FACEBOOK | INSTAGRAM | TWITTER | WEBSITE | YOUTUBE
Featured Image Source: Adele via Columbia Records
Khushboo Malhotra
Khushboo Malhotra works as a freelance journalist, digital marketing & media strategist, and content marketer featured in various global and national media publications and works alongside B2B, B2C, and eCommerce brands. A wide range of her work spans music and entertainment culture, sustainable lifestyle (including sub-niches), and SaaS. She enjoys writing novels and designing screenplays, grooving at concerts, or exploring new fashion and cuisines that tickle her taste buds when she is not working. Have a story? Get in touch: khushboomalhotra24@gmail.com