Who's ready to burn the boards at the mythic Terminal 5 this fall? The Glasgow trio CHVRCHES will take the roof off the place with their synths and guitars as they embark on tour this November. While we are crazy to see them live, here's a couple of memories from their last visits in the New York iconic venue!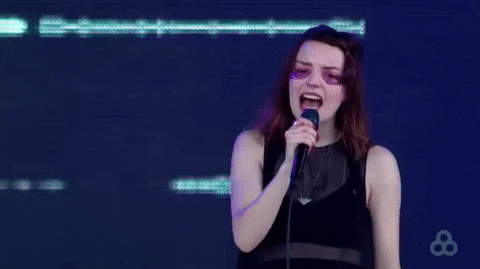 This Is Not 'Lies'
Will the CHVRCHES tour be an anthemic stroboscopic light show? Let's bet a fiver! Nobody can deny it! On stage, Lauren Mayberry delivers her falsettos like a pro. Do you want to jump into another dimension in a concert? We clearly do with the synth melodies floating around the crowd. Lauren proves she is the queen of electro-pop. There is such chemistry when she vibes with her bandmates Iain Cook and Martin Doherty and we melt! Watch 'Lies' from their Terminal 5 performance in 2016 below.
Deep In The 'Clearest Blue'
Are you ready to rave on to the techno beats? Of course, we are! The band knows how to levitate the crowds! Along with the tracks from their latest album Screen Violence, what if the setlist got a few classics? What can we expect on the electrifying setlist? We hope that 'Clearest Blue' will be on the bill! The New Order and new wave aesthetics tickle our ears and we can't resist moving to the blissful rhythms!
Be Ready This November!
Are you counting the days like us? In less than three weeks, the glamorous Glaswegians will take the US by storm and we can't wait to catch them! On November 9th, they'll start to rock all over the big cities with their impressive scenery. Curious about the massive tour? The band gave us a glimpse of their new stage era on The Tonight Show With Jimmy Fallon and they smashed it with their hypnotic visuals. New York City baby here they come! Don't miss out on their two shows at Terminal 5!
Which CHVRCHES song are you most excited to hear live? Did this little taster makes you eager to see them on the stage? Check out their US tour dates here!
Let us know where you are going to see them and your enthusiasm levels on Twitter @TheHoneyPop, Facebook and Instagram. We're so ready for it!
TO LEARN MORE ABOUT CHVRCHES:
FACEBOOK | INSTAGRAM | TIKTOK | TWITTER | WEBSITE
Featured Image Source: Sebastian Mlynarski/Kevin J Thomson