Halloween is the perfect time to watch something scary! Whether you're planning to have a full-on watch party or wanna dim the lights and enjoy being spooked by yourself, we at THP got you with the seven best movies and shows to stream that will keep you up all Halloween night.
The Fear Street Trilogy 
If you're in the mood for some good ol' fashion slasher, like a good ghost story, and are a fan of R.L. Stine (you know the author of Goosebumps!) then this trilogy is just for you! Taking place in three different periods —1994, 1978, and 1666— the trilogy follows a group of teenagers as they try to break the town, Shadyside's curse of gruesome murders put on by the witch Sarah Fier back in the 1600s. 
Each film in the trilogy does not hold out on showcasing some blood and guts, but if you're into that along with some LGBT+ rep, we highly recommend starting your Halloween night by streaming part one of the movie on Netflix.
Afterlife of the Party
If you're looking for something a little less scary but still want to see something spooky, then check out Afterlife of the Party with our girl Victoria Justice as a starring role!
Get ready to laugh with this one! The movie follows Victoria Justice as Cassie, a wild and outgoing party girl, who ends up dead one morning after hitting her head on the toilet (gross!) Now, to get into the biggest party in Heaven, Cassie has to first become a guardian angel and help out her friends and family. We won't give away too much here, but just know this movie has a whole 'lot of heart and if you're a fan of cheesy, situational comedy, this should definitely be on your Halloween watch list! Check it out on Netflix.
Madres 
Keeping it rolling with the paranormal activity here is Amazon Prime's Madres. Madres, which tells the story of a Mexican-American couple moving into their new home in California. Expecting a child, they think their new house would be the place to start their family. However, the mother-to-be Diana starts experiencing some strange visions and symptoms going on, and she's not the only one in the area who's feeling this way. This movie is a Blumhouse film, the production that gave us hits like Get Out and Paranormal Activity. Therefore, if full bloom terror is what you're looking for, then stream Madres on Prime right now!
I Know What You Did Last Summer The Series
Who says you can only watch horror movies on Halloween? Why not stretch the night a little and binge out on a series? And in that case, how about you set in and become invested in Amazon Prime's reboot of I Know What You Did Last Summer.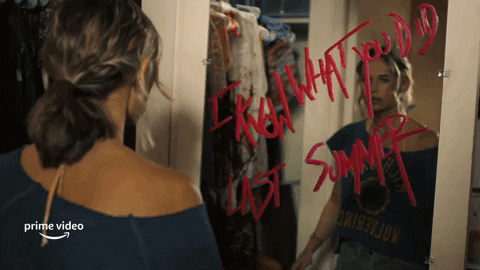 Much like the original movies, the series follows a group of teenagers with a deadly secret. And by deadly we mean murder because they're covering up that on the night of their graduation, they killed somebody. But, as they soon discover, someone out there knows their little secret. 
With the elements of crime and mystery, this series will leave you on the edge of your seat this Halloween, which is good considering that there's a new episode coming out close to the big day on October 29th. So, you have plenty of time to catch up and binge while you eat some candy over at Amazon Prime!
A Quiet Place Part II 
A Quiet Place Part II takes place right after the events of the first movie, so if you were waiting to see what happened to the Abbott family, then Paramount+ has you covered!
Like the first film, this movie will be a nail-biter as you watch how the Abbott family continues to navigate through a world taken over by monsters. How is this not the perfect Halloween creature feature film? Stream the movie over here and be sure to keep quiet while watching, just in case there are any real-life monsters around.
Bite-Sized Halloween
Not really in the mood for watching a two-hour movie or binging hours upon hours of a show this Halloween? Don't worry because Hulu got you covered with their series, Bite-Size Halloween! Literally in the title, these perfect mini-episodes deliver just enough scares, horror, and even the grotesque in around three to five minutes for the Halloween season! Every episode has something different, so you're never bored and never getting just one genre of horror. From psychological horror to creature features to dark period pieces, this series has an episode for everybody. 
Season two is already out, so you can view it now over on Hulu!
The Muppets Haunted Mansion 
This is another fun little Halloween movie to stream for all those who just can not watch anything remotely horror. The Muppets Haunted Mansion is pretty safe and pretty cute if you're looking for something more chill to stream this Halloween.
In this Muppet adventure, Gonzo is going to be spending Halloween night in the most terrifying mansion ever—The Haunted Mansion. With four new original songs and easter eggs to Disney's Haunted Mansion attractions, this movie is going to be a whole lot of spooky fun! Plus, it's the first-ever Muppet Halloween Special y'all so be a part of history and spend the scariest part of the year with the Muppets now streaming on Disney+. 
See any movies or shows you're going to for sure stream this Halloween night? Did we miss any of your personal favorite Halloween movies or shows? Well don't be scared, we don't bite! Come tell us over at our Twitter @thehoneypop or Instagram.
TO LEARN MORE ABOUT AMAZON PRIME:
FACEBOOK | INSTAGRAM | TWITTER | WEBSITE
TO LEARN MORE ABOUT DISNEY+:
FACEBOOK | INSTAGRAM | TWITTER | WEBSITE
TO LEARN MORE ABOUT HULU:
FACEBOOK | INSTAGRAM | TWITTER | WEBSITE
TO LEARN MORE ABOUT PARAMOUNT+:
FACEBOOK | INSTAGRAM | TWITTER | WEBSITE
Featured Image Source: Jeremy Yap via Unsplash