We at THP have adored phem for ages, and it's always so exciting to see what direction she goes in for new releases. She's gotten to play with so many genres on not only their own songs but on high-profile collabs with artists like Machine Gun Kelly and Tyler Posey, as well as writing tracks for jxdn and LILHUDDY. No matter what she's doing, phem brings their own unique perspective and confidence to every song she works on.
There's something special in her lyrics, often tackling topics like mental health, sexuality, and unhealthy relationships with just the right balance of poise and angst. While it's impossible to narrow their discography down to a shortlist of favorites, here are ten boppy phem songs you need in your life!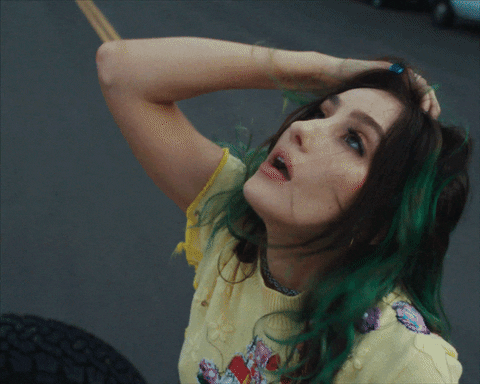 'silly putty'
phem first unveiled 'silly putty' during her sets while opening up for Waterparks, and while it killed us to have to experience it through short concert videos, it was well worth the wait! Between the punchy bassline, the cute lyrics about having a crush, and the catchy melody, you'll be in love with this song in no time.
i've nvr dropped a love song before… started playing it while on tour with waterparks and the #freesillyputty movement started so we scrambled to get the song out asap. The energy it brings to the live show is so fun. I can't wait for ppl to be able to hear the recorded version. 

phem
'Blinders'
If you're in need of a little motivation, 'Blinders' is the song for you! The track discusses staying focused on your goals no matter what others think or what struggles you might be facing. Now that phem is a bigger artist than ever, it's evident that their ambitious attitude is the way to go. 
'honest' (Featuring iann dior)
After appearing on iann's track 'Searching,' phem invited him to hop on her pop-punk track 'honest.' The song perfectly encapsulates the feeling of crushing on someone and the desperation you feel when they're all you want. phem and iann are definitely a duo we need more of!
'congratulations'
phem delivers just the right angsty post-breakup mood on 'congratulations,' a must-listen for anyone who loves Olivia Rodrigo's 'good 4 u.' It's filled with frustration, sarcasm, and a tinge of sadness, so it covers most emotions people feel after a relationship falls apart.
'flowers' 
We'll send phem all the "pink and green hearts" they want as long as we can keep 'flowers' on our playlists 4evr. 'flowers' is all about growth and development, especially in the face of things that are holding you back. Sometimes you just need a little reminder that you can push to change your life and surroundings!
'Drunk And Out Of Town' (With Elko)
The vibes are immaculate on this collab between phem and Elko! 'Drunk And Out Of Town' perfectly captures post-breakup anger over an energetic 808 that will drill its way into your mind and heart. The original 'Drunk And Out Of Town' was already a bop, but phem's remix takes it to another level. 
'PRSCO'
'PRSCO' is one of phem's catchiest songs and it's been a fan favorite since it came out in 2018. Despite its upbeat sound, the track mentions feeling lost and lonely in life, making it a comforting song for fans going through something similar without fully giving in to the sadness.
'Crypto Bitxh'
phem prophesied her path to fame (and maybe the rise of cryptocurrency) on 'Crypto Bitxh,' a song based on a real experience with a fortune-teller who predicted their success. We're so glad she's kept pushing and working hard to make her dreams a reality!
'american beauty'
'american beauty' tackles the unrealistic standards that women face when it comes to their looks, and we love phem's honesty when it comes to insecurity and social pressure! She's never afraid to say it like it is and 'american beauty' is the perfect example of her head-on approach.
'girls' (With Royal & The Serpent)
A girl-power anthem about liking girls is just what we needed! phem features on this energetic track by Royal & The Serpent, and we're obsessed with both their friendship and the song. 'girls' inspires our relationship and friendship goals.
What's your favorite phem song? Let us know in the comments below or hit us up on Facebook, Instagram, and Twitter! And if you want more song recs from fans just like you, join our Discord community The Hive!
TO LEARN MORE ABOUT PHEM:
DISCORD | FACEBOOK | INSTAGRAM | TIKTOK | TWITTER | WEBSITE | YOUTUBE
Featured Image Source: phem