If you were anything like us back in 2012, you were obsessed with The Hunger Games by Suzanne Collins. We loved following Katniss, Peeta, and the gang compete in the hunger games and fight the tyranny of the Capitol. But it's been 11 years since this amazing trilogy ended and we think we're due for a re-read! So grab your bow, and meet us at the hanging tree to see five reasons why you should re-read The Hunger Games.
Revisit Your Favourite Characters
One of our favorite things about this trilogy is the characters! Whether it's fun-loving Finnick Odair or our leading lady Katniss Everdeen, they all have so much depth. Re-reading the books allows you to dive headfirst back into the lives of these characters, where you can see them grow and develop. There's nothing more comforting than revisiting your favorite characters. You may even learn something new about them!
To Prepare You to Read The Ballad of Songbirds and Snakes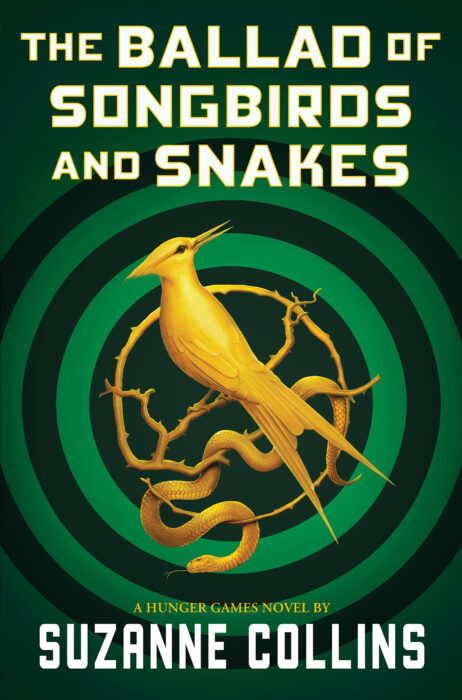 On May 19th, 2020, Suzanne Collins published The Ballad of Songbirds and Snakes, a prequel novel to The Hunger Games series. This book takes place before the original trilogy and follows our villain President Snow when he was a teenager. Have you ever been fascinated by a villain origin story? Do you find yourself trying to understand them as a person? Set in a world you know and love, this book is just what you've been looking for. What better way to prepare for this book than to reimmerse yourself in the world of Panem before diving into this new content? Then you'll be all set to understand the politics and complex world of the Capitol while reading about President Snow, or should we say, Coriolanus.
Purchase here!
Get Ready for the Upcoming Prequel Film
Speaking of The Ballad of Songbirds and Snakes, it was recently revealed by Lionsgate that the production for a movie adaption will begin filming in the first half of 2022. It also has a tentative release date in either late 2023 or early 2024. Who doesn't love a good book to movie adaptation? We can barely contain our excitement! But in the meantime, why not re-read the books to fill that void? You'll also need to refresh your memory if you're going to be able to understand all those movie easter eggs!
An Opportunity to Annotate
Another thing that's great about re-reading is that you get the chance to annotate your books and take note of your favorite quotes! You'll be able to focus on the writing and be more aware of how each scene makes you feel because you'll already know what is going to happen. Tabbing books with sticky notes is also a great way to easily find your favorite scenes when you need a pick-me-up. Also, having a list of favorite quotes is always handy to have. You never know when you'll need a beautiful quote for an Instagram caption!
To Help You Get Back Into Reading
As we mentioned before, there's nothing more comforting than revisiting a beloved series. If you're currently trying to get out of a reading slump or are just getting back into reading, re-reading books you loved before is a great way to start! Re-reading doesn't take a lot of intense focus and lets you just enjoy the reading experience. And rereading The Hunger Games is a great idea because of its engaging plot immersive world. Before you know it, you'll be sucked back into the world of reading!
Who are your favorite Hunger Games characters? What do you love most about the series? Let us know in the comments or by tweeting us @TheHoneyPOP! You can also visit us on Facebook and Instagram!
If you're looking for more book recommendations to help you out, we've got you covered!
TO LEARN MORE ABOUT THE HUNGER GAMES:
FACEBOOK | INSTAGRAM | TWITTER | WEBSITE | YOUTUBE
Featured Image Source: Courtesy of Scholastic and Canva Free Resources – Edited by Paige Lobianco for THP
Paige Lobianco
Find Paige on Instagram @pagebypaigebooks. Paige is a bookstagrammer and blogger who loves all things bookish. From fantasy to mystery she can't get enough! She's always ready to recommend you a book and she can talk about her favourites all day. When she's not reading, you can find her watching Marvel movies, playing video games, and taking bookstagram photos.