Nothing gets you in that wintery holiday feeling other than some good ol' fashion holiday movies. After all, it isn't the holiday until you start seeing reruns of seasonal classics like Rudolph the Red-Nosed Reindeer or The Grinch on TV (both the live-action one and the 1996 cartoon slaps, by the way). But, for those of us who want to mix it up a little or are already fans, we'vew got the perfect holiday animes just for you! After all, who says anime couldn't be festive?
Tokyo Godfathers
If you want to start the holidays right, Satoshi Kon's masterpiece of a film is the first thing you need to watch! On Christmas Eve, while rummaging for food in the garage, three people experiencing homelessness stumble upon a newborn baby in the trash. Now, the trio must search the streets of Tokyo to find the baby's parents. If you are into tragicomedies and dramas, in general, then you'll want to give this a watch! As the film goes on, you'll get to intimately learn about each of the characters, discovering how they became homeless. Coupled with the beautiful scoring and animation of the wintery Tokyo setting and characters, we grant this festive anime will be a part of your traditional holiday watch list every year.
Convinced? Well, give it a watch on Amazon Prime!
Neo Yokio: Pink Christmas
A fan of the weird and wacky? How about Jaden Smith? Then, go watch Neo Yokio: Pink Christmas, trust us! (And while you're at it, go catch up with the rest of the series because it's just wild!) But, we'll catch you up to speed on what this special is basically about. Rich boy and Neo Yokio's famous demon hunter, Kaz Kaan, fumble through the holiday season by taking part in the Secret Santa competition of the city, while dealing with his Aunt Angelique and Aunt Agatha clashing, fighting a demonically possessed Christmas tree, and oh, yeah, having to be in the same facility as his pretentious arch-nemesis, Arcangelo.
See, we told you this one was weird, and it even gets weirder as the special goes on! If you're into something bonkers this season, we highly suggest you catch this anime only on Netflix.
Cardcaptor Sakura: "Sakura's Wonderful Christmas" Episode
This one is for the Mahou Shoujo (or magical girls) fans out there! Cardcaptor Sakura's season one, episode 35, is the personification of a sweet little stocking stuffer as the main plot revolves around Sakura trying to find her crush, Yukito, the perfect Christmas and birthday gift. All in all, it's a pretty cute Christmas episode to see, especially if you haven't watched Cardcaptor Sakura in a long while.
You can watch the episode available now on Crunchyroll.
Lucky Star: "Various Ways to Spend Christmas Eve" Episode
Here's another anime special to watch if looking for something goofy and relatable this holiday. Episode 11 of the anime Lucky Star, titled "Various Ways to Spend Christmas," consists of a collection of shorts set near the winter and upcoming Christmas. From the main characters taking final exams to discussing when they stopped believing in Santa, you'll be laughing all the way with this episode, and technically you don't even need to watch the full anime series to understand it (although we highly suggest you do though after).
You can catch the festive anime Christmas episode over on Funimation!
5 Centimeters Per Second
Okay, so this isn't a Christmas or even a holiday movie per se, but we're still recommending this movie because a) it has such a breathtakingly beautiful wintery setting, and b) its story has hints of themes in line with the holiday spirit of love. Though be warned, this is a tearjerker. In this film, we follow Takaki Toono and Akari Shinohara, who are childhood friends but become separated when Akari moves away. Regardless of the distance, the two try to stay in contact as they grow up.
It's one of those animes that gets you to reflect on yourself (and the impact loved ones have around you), so f you watch this, we also suggest making this a family or friends holiday movie night event.
And if you want to take us up on that idea, then you can find the DVD and Blu-ray of the movie on Amazon.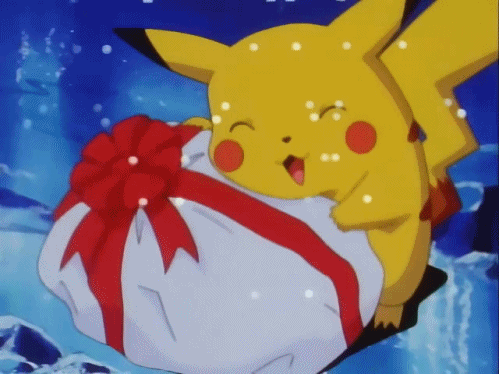 Now, with that all being said, what are you waiting for? It's time to get into the holiday spirit and start watching these festive animes! And when you're done, tell us in the comments what you thought of them. Or let us know over on our Twitter, Instagram, or Facebook because we are just in the holiday spirit as you!
Need more anime recommendations and news, then fly on over here!
TO LEARN MORE ABOUT NETFLIX:
FACEBOOK | INSTAGRAM | TWITTER | WEBSITE | YOUTUBE
TO LEARN MORE ABOUT FUNIMATION:
FACEBOOK | INSTAGRAM | TWITTER | WEBSITE | YOUTUBE
TO LEARN MORE ABOUT CRUNCHYROLL:
FACEBOOK | INSTAGRAM | TWITTER | WEBSITE | YOUTUBE
TO LEARN MORE ABOUT AMAZON PRIME:
FACEBOOK | INSTAGRAM | TWITTER | WEBSITE | YOUTUBE
Featured Image Source: GKids Films