https://www.instagram.com/p/CIv_1z6HRyf/
https://www.instagram.com/p/BwnT2J4DJCt/
Taylor Swift always knows how to rock our worlds with her outfits, but some looks are more 'Enchanted' than others. Whether it's a performance or an award show, certain outfits she's worn have an extra special place in our hearts. She's inspired countless prom dresses, party looks, and even everyday outfits, and it's about time she finally gets recognition for being such a 'Style' icon. Here's a rundown of some of Taylor's most elegant looks to date!
Let us into that wardrobe, blondie!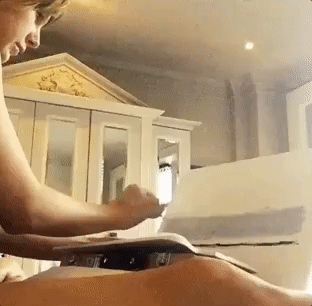 2009 CMA Awards
Taylor shined golden like 'Daylight' at the CMAs in this glittering dress by Reem Acra! She took home four awards that night: Entertainer of the Year, Album of the Year for Fearless, Female Artist of the Year, and Music Video of the Year for 'Love Story.' She also won our hearts with her stunning look!
2010 ACM Awards
We're still not over this floral look Taylor rocked on the ACM red carpet! The flower appliques and the draping were so pretty, and we think this may have been one of her earliest Easter eggs – she wore a purple dress on the cover of Speak Now, which she released just months after this appearance.
2010 Wonderstruck Commercial
Taylor looked like something out of 'Wonderland' with this show-stopping dress by Christian Siriano, which she wore in an ad for her Wonderstruck perfume! We love the contrast between the fitted, textured bodice and the fluffy skirt. This is truly one of her most unforgettable looks.
2013 Billboard Music Awards
Is anyone over this dazzling blue dress? Because we certainly aren't! Zuhair Murad nailed this sparkly look and the geometric detailing is so fun. The blue also made Taylor's eyes even more pop-y than the 1989 album.
2014 GRAMMY Awards
Taylor was the epitome of Gucci glam with this silver chainmail look on the GRAMMY red carpet! She infamously lost her Album of the Year nomination for Red this night, but she won both AOTY and Best Dressed in our books.
2014 Met Gala
Taylor looked pretty in pink at the 2014 Met Gala! This Oscar de la Renta gown was such a classic choice with an Old Hollywood feel. It was so iconic that she even wore it again in her 2017 'Look What You Made Me Do' music video.
2015 GRAMMY Awards
Elie Saab always nails his looks for Taylor! The turquoise dress she wore is still one of our all-time favorites and the ombré effect offered a cool detail. There's also the mystery of how she walked in those heel-less Giuseppe Gianotti wedges.
2018 Billboard Music Awards
Taylor looked like a fairy queen in this floral gown that took the Versace fashion house over 800 hours to create! You could listen to Red (Taylor's Version) 400 times over and that would be just a little longer than the time they spent hand-sewing these details on. Gotta say, while their teams' hands probably hurt more than the emotional lyrics of 'Delicate,' it definitely paid off!
2019 Golden Globe Awards
This custom dress by Versace was one of Taylor's most memorable looks to date! It incorporated the dark aesthetic of her reputation album without feeling too heavy, and she looked absolutely beautiful while presenting an award to Lady Gaga.
2019 TIME 100 Gala
Taylor teased the aesthetic of her Lover album in this 'Gorgeous' pastel dress she wore just days before releasing 'ME!' in April 2019! J. Mendel designed this gown, and he also made the blue dress she wore throughout her 'Out of the Woods' music video. We need him to dress her more often.
2019 American Music Awards
Pink was truly the official color of the Lover era, and Taylor's princess-like AMAs look proved both that and the fact that love is "golden like daylight." She wore the flashy gold bodysuit alone during most of her Artist of the Decade performance before adding the cape to sing 'Lover.' Where can we sign up to run around in a flowy cape with Taylor Swift?
2021 GRAMMY Awards
Taylor looked so pretty at the 2021 GRAMMY ceremony, and we're not sure if we were more excited over folklore winning Album of the Year or her stunning Oscar de la Renta dress! We love that she also had a matching mask while she was sitting down at her table.
2021 BRIT Awards
Taylor takes her role as a 'mirrorball' very seriously! She was one of the shining stars of the night when she wore this crop top and skirt combo to the BRIT Awards while accepting her Global Icon Award. The beading and color were so elegant while the midriff added a little fun to the look.
What's your favorite Taylor Swift look? Let us know in the comments below or hit us up on Facebook, Instagram, and Twitter!
TO LEARN MORE ABOUT TAYLOR SWIFT:
FACEBOOK | INSTAGRAM | TIKTOK | TUMBLR | TWITTER | WEBSITE | YOUTUBE
Featured Image Source: Rich Fury for Getty Images