2022 is finally here bookworms! And that means we have a whole year ahead of us full of new book releases! Our TBR piles just keep getting bigger and we wanted to share twelve YA books that we know you'll wanna read! The books below are ordered by release date, and we've got books covering January to May! If you're looking for something exciting to read while you wait, check out some books that we loved in 2021!
Loveboat Reunion By Abigail Hing Wen
This book comes out January 25th and is the long-anticipated companion novel of Loveboat, Taipei. The first book is all about Ever, who is sent by her parents to a study program in Taiwan. Except what they don't know is that the other kids in her program are way more interested in partying than learning Mandarin. This time we follow Xavier and Sophie who we met in Loveboat, Taipei. These two had a rough ending to their relationship but are reunited when they meet at a Loveboat reunion. Now, as they grow closer again, they're trying to take control of their futures from their controlling parents.
Pre-order the book here
Castles In Their Bones By Laura Sebastian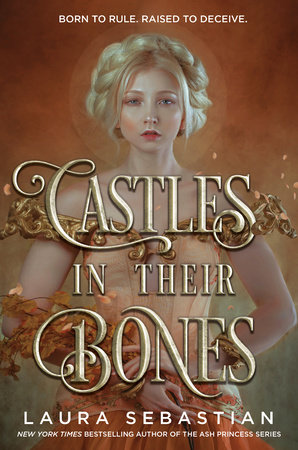 Castles in Their Bones sounds like the fantasy book we've all been waiting for! This is the first book in a new trilogy about triplet princesses. Since they were born, their mother has prepared them to be perfect brides, training them in etiquette but also in deception and violence. This is all to take down the monarchies from the inside. As the girls work toward their mother's goal to rule the whole continent, their loyalties are tested, and their relationships are strained. We can't wait for this book to release on February 1st!
Pre-order the book here
All The Right Reasons By Bethany Mangle
Coming to bookstores on February 15th, All the Right Reasons is perfect for everyone who loves reality tv! After finding out her father cheated which led to her parents' divorce, Cara posts a rant online. Which blows up! All of a sudden she's contacted by a tv studio, and Cara and her mom are cast as the stars of a new show that's like The Bachelor. In it, Cara must help her mom choose between a group of suitors. But between arguing with her mother and trying to escape the cameras, things get complicated when she starts to fall for Connor, the son of one of the contestants.
Pre-order the book here
Girl On Fire By Alicia Keys
We're always in the mood for a good graphic novel, and we also love Alicia Keys' song 'Girl on Fire' so this book is a match made in heaven! When Lola discovers she has telekinetic powers, all she wants is to protect her family. But unfortunately, the leader of a dangerous gang finds out about her powers and won't stop until she's part of his crew. Now Lola needs a lot of bravery to stand up for what is right. This book is co-written by Andrew Weiner and illustrated by Brittney Williams. We can't wait for it to come out on March 1st!
Pre-order the book here
One for All By Lillie Lainoff
We couldn't talk about books that we're excited to read without mentioning One for All by Lillie Lainoff! This book comes out March 8th and is a gender-bent retelling of The Three Musketeers! Are you already hooked? We know we are! Our main character Tania has POTS and is seen as weak by her mother, who just wishes to marry her off. But after the death of her father, a former Musketeer, she is sent to finishing school which is his dying wish. However, when she arrives, she realizes that it's actually a training school for women to become Musketeers themselves. Soon she's trying to uncover a potential assassination plot and is thrust into the action.
Pre-order the book here
Blood Scion By Deborah Falaye
Blood Scion, also coming out March 8th, sounds like an action-packed adventure! We follow Sloane who is a Scion, a descendant of ancient gods. However, she must keep her magic a secret or else it could mean her death. When she is forcibly conscripted into the Lucis army she vows to destroy it from the inside. As she rises through the ranks and gains power, she must also remind herself not to become the very monster they claim her to be.
Pre-order the book here
Wrecked By Heather Henson
Another book we are super excited to read is Wrecked by Heather Henson. This book comes out March 15th and follows Miri, a teenage girl living in rural Kentucky during the opioid crisis. Her father Poe is a drug dealer and her friend Cal is his right-hand man. Miri is starting to feel trapped in her small town until Fen moves in, unfortunately his dad is a DEA agent and he seems very interested in her family. We can already sense the drama!
Pre-order the book here
This Is Why They Hate Us By Aaron H. Aceves
Coming to bookstores on March 29th, This is Why They Hate Us is about Quique, who is determined to move on from his crush Saleem and find someone else. The problem is that he's only out to his best friend. But with lots of prospects on the horizon, things get complicated quickly and Quique is left to sort everything out. This sounds like a great read for everyone that loves a good contemporary.
Pre-order the book here
Blaine For The Win By Robbie Couch
Did you love The Sky Blues? Well, Robbie Couch is back again with an all-new contemporary book coming on April 12th. Blaine Bowers has everything going for him. He's got a perfect job, a loving family, an amazing boyfriend, and talented friends. Everything is great until his boyfriend publicly dumps him because he says Blaine is "too goofy." Now Blaine is determined to run for student president and beat his ex's new boyfriend, all to prove that he can be serious. But is Blaine willing to give up who he is to do so?
Pre-order the book here
Queen Of The Tiles By Hanna Alkaf
Do you love a good board game? What about Scrabble? Then this book could be right up your alley. Coming April 19th, Queen of the Tiles by Hanna Alkaf is about Najwa, a competitive Scrabble player. After the reigning champion (and Najwa's best friend) Trina dies, everyone is eager to take her place. But things take a more sinister turn when Trina's inactive Instagram account starts posting cryptic messages saying that someone may have been involved in her death. We are always up for a good mystery and cannot wait to follow Najwa as she uncovers secrets in Queen of the Tiles.
Pre-order the book here
I Kissed Shara Wheeler By Casey McQuiston
Another highly anticipated release in the bookish community is I Kissed Shara Wheeler by Casey McQuiston. Other works by this author are the highly acclaimed new adult romance contemporaries; Red, White & Royal Blue, and One Last Stop. This book, coming to readers on May 3rd, is their first dive into the YA genre. After her moms uprooted her life and moved her to Alabama, Chloe is determined to achieve her goal of becoming valedictorian. The only person standing in her way is Shara, the perfect prom queen. That is until a month before graduation when Shara unexpectedly kisses her and then vanishes. Now Chloe is following cryptic clues as to where she's gone, along with the help of two boys Shara also kissed.
Pre-order the book here
Once Upon A K-Prom By Kat Cho
The last book we're talking about today is Once Upon a K-Prom, coming to bookstores on May 17th! If you love K-pop like us, we know you'll be dying to read this book. Elena has no interest in going to prom and has no idea what to do when her childhood best friend Robbie (now turned K-pop superstar) comes back to town. She's even more surprised to find out that he's returned to keep their childhood promise of going to prom together. But is that what Elena wants when Robbie's changed, and he comes along with adoring fans? We are so excited to read this book.
Pre-order the book here
Are any of these books on your TBR? What are some other books you're looking forward to in 2022? Let us know in the comments or by tweeting us @TheHoneyPOP! You can also visit us on Facebook and Instagram!
Need more book recommendations? We've got you!
Paige Lobianco
Find Paige on Instagram @pagebypaigebooks. Paige is a bookstagrammer and blogger who loves all things bookish. From fantasy to mystery she can't get enough! She's always ready to recommend you a book and she can talk about her favourites all day. When she's not reading, you can find her watching Marvel movies, playing video games, and taking bookstagram photos.